Karina Seabrook is popular for her appearance in the MTV reality show, Made in Staten Island. Before fame, Karina had also given minor appearances in another reality show, Mob Wives of VH1 alongside her mother. 
Besides appearing in TV shows, Karina is also an Instagram model with more than 100K followers and earns a hefty amount of net worth. She likes to be in the limelight and is enjoying the height of popularity!
But, Karina is not only known for her reality shows.
She is also the granddaughter of infamous Salvatore "Sammy the Bull" Gravano, who is the former underboss of the Gambino crime family and is associated with Mafia.
You May Also Know: Kelsey Owens Age, Birthday, Height, Parents, Boyfriend, Dating, Net Worth
In spite of being from a family with a criminal history, Karina believes that only she can define herself. An independent impressive personality, Karina shares a close relationship with her grandpa, who has spent 17 years in prison.
Karina Seabrook Bio, Age
Karina Seabrook was born on 7 July 1999 in Arizona, United States. Her bio reveals that her nationality is American while she embraces mixed ethnicity as her father David Seabrook is African-American and her mother Karina Gravano is half Italian.
Her mother Karen Gravano is a reality TV star just like Karina and has appeared on the show, Mob Wives, which focuses on the lives of wives and daughters of families of criminals. Karen is also the executive producer of the show Made in Staten Island. Karina's father, on the other hand, is the founder of Emmploy, a search engine that searches for candidates with a focus on diversity.
Karina lived with her mom and dad, without any siblings, in Arizona until she was ten years of age when her parents split up. After her parents' divorce, she stayed with her father in Arizona for four more years, before moving to Staten Island to be closer to her mother's family. 
Karina's maternal grandfather is none other than the infamous Sammy "Sammy the Bull" Gravano, a popular mobster who admitted to the involvement in 19 murders to bring down John Gotti, the Gambino crime family's boss. Sammy was sentenced to five years in prison, but later after finding out about his involvement in drug trafficking, he was released only in 2017.
Despite her grandfather's history of crimes, Karina never judged him. Even when her grandfather was serving his time in prison, she visited him regularly and took his advice on daily matters.
Karina Seabrook Boyfriend
All the Made in Staten Island fans are well-aware of Karina Seabrook's love life. She is dating her boyfriend Paulie Fusco, a fellow reality TV star like herself. They both were on the show and even though they looked like the most violent couple, they did not split up. Many of the co-stars, including Karina's mother herself, thought that Karina's relationship with Paulie was toxic for both of them.
Similar To This: Is Kyle Christie Dating? Girlfriend, Family, Height, & Personal Life Details?
The heated arguments between Karina and her partner were regular on the show. Paulie Fusco is a very short-tempered man and once even threw a drink at Karina!
The couple almost even broke up when Karina had decided she wanted to go to college, but Paulie did not want to let her go far from him. Being the boss lady like she should be, Karina was adamant about her decision and advised Paulie to learn to respect her decisions.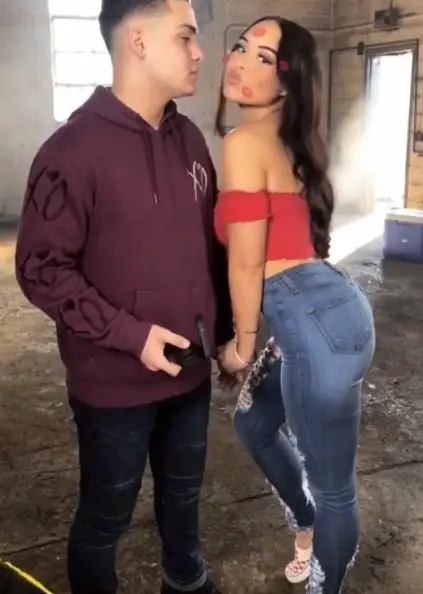 Karina Seabrook celebrates the anniversary with her boyfriend on 8 November 2018 (Photo: Karina Seabrook's Instagram)
Karina and her boyfriend are still together; they have actually grown together since the show. Contrary to what everyone thinks, the two are now in love more than ever and are relishing their love life. Karina continually posts pictures with Paulie on social media.