EJ Johnson, age 27, is an American television personality, socialite and fashionista, who joined the 2014's cast of the E! Reality television series, Rich Kids Of Beverly Hills, as a recurring cast member in its first season.
Eventually, he was hired as the main cast for the three more seasons. As the show got canceled for the fourth season, EJ commenced his own reality spin-off, EJNYC. 
Looking back and now at his present days, it is evident that EJ never had a dull moment in his life.
There always seems that a lot going on in EJ's life, be it is his coming out as a gay, his undergoing of gastric sleeve surgery, or his thought in regards to transitioning. 
EJ Johnson Coming Out As Gay
Like many others, EJ went through a tough time, and he finally decided to come out from the hole he was forever hiding in. 
The NBA icon Magic Johnson's son revealed about being gay when he was spotted holding hands with another young man in Los Angeles. 
Peek Into: Rick Mitchell Age, Wife, Salary, Family
Initially, his parents, Magic Johnson and Cookie Johnson, did not take the news well.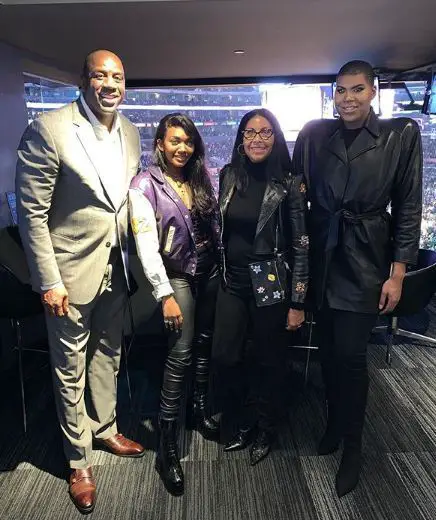 EJ Johnson with his NBA star dad, Magic Johnson, mother, Cookie Johnson, and sister, Elisa Johnson, on 10 March 2019 (Photo: Cookie Johnson's Instagram)
However, a month later, and EJ cited that his family was very supportive of the new development in his life.
Even the siblings, his sister, Elisa Johnson, and his brother were all-time on his side in his hard times. With their blessing, he got the courage he required to face the riot that his coming out had caused. 
EJ Johnson's Weight Loss
EJ, who is today known for his feminine and androgynous fashion style, is not the one to wear a modest gown in his tallest height of 6 feet and 2 inches (1.88 meters).
The red carpet favorite is totally slaying his fierce new physique for which he went through some trouble.
EJ received the gastric sleeve surgery during August 2014 after which he lost somewhere around 180 of his pounds. For now, he is all about maintaining weight loss and staying active as much as possible.
Meanwhile, at some point, he thought about transitioning, influenced by Caitlyn Jenner's coming out as a transgender woman.
Also A TV-Star: Roz Varon Bio, Age, Husband, Family, Salary
However, he decided against it, for he does not feel that he is in the wrong body. Instead, he is more than comfortable in his own skin.
Dating Boyfriend?
More to his personal life, EJ revealed that he is currently in the best phase of his life.
And, with the new era, he is looking for love, something real, which he never got to experience thus far in his life. EJ sure indulged himself in a great many relationships.
But, none of them ended up being special. It was always a struggle, he said. Some of his boyfriends even dated him for his celebrity status, especially for his dad's eye-raising net worth of $600 million. 
In the meantime, talking about the possible romance in his life, there were some headlines made as the paps captured EJ with the Love & Hip Hop star, Milan Christopher.
The couple was speculated for an alleged romance, but more facts on the matter remain at the bay.