American chef Eddie Huang co-owns BaoHaus, a Gua-Bao restaurant in the East Village of Lower Manhattan. His restaurant has received critical acclaim and coverage from The New York Times, the New York Post, CNN, NBC, CBS, the Village Voice, Town & Country, XXL, The Source, and many more media outlets. 
However, before being a chef, Eddie began his professional career as an attorney and worked in corporate law at the law firm. But due to the financial crisis, he stopped working as an attorney and turned his career direction to stand-up comedy and marijuana dealer. 
He also ran a streetwear company called Hoodman Clothing. Later, he even created clothing designs with Art Director Ning Juang, a graphic designer. 
Alongside his different jobs, Eddie also worked at his father's restaurants where he learned cooking techniques from various chefs working on his father's restaurant. With the flow of time, he began working as an expeditor and gained knowledge from his surroundings. 
Finally, in December 2009, Eddie opened his restaurant under the name, BaoHaus, a Taiwanese bun shop, following the relocation of his first shop to 238 East 14th Street in the East Village.
From his successful career as a chef, he is successfully known for the success of the cooking fraternity as of now. 
Check Out: Candice Kumai Age, Husband, Net Worth
Eddie is a multi-talented guy with a wide range of talent in different fields. With the involvement in the various area, he has garnered a net worth of around $2 million. 
Eddie Huang Age, Brothers & Family
Eddie was born on 1 March 1982 to Taiwan immigrants parents Jessica and Louis Huang. While talking about his family, his parent's ancestral homes were in Hunan and Shandong of Mainland China.
Later, they moved to Washington, DC, where Eddie grew up alongside his brothers Emery Huang and Evan Huang. Then, his family moved to Orlando, Florida where his father managed restaurants.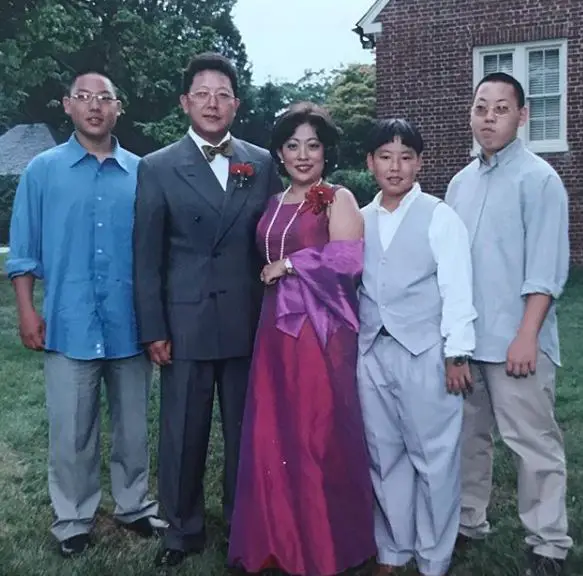 Eddie Huang posts a throwback picture of with his parents Jessica and Louis and brothers Emery and Evan on 28 December 2018 (Photo: Eddie Huang's Instagram)
While growing up, Eddie faced a lot of bullies and troubles because he was overweight for his age. His parents also made it apparent, which bothered him a lot.
Because of the bullies, he became insecure about his height, weight, and his looks. His surrounding kids were also very racist towards him due to which he frequently got into fights. 
However, despite the troubles, he did not miss to get an education. He graduated with a B.A. in English and Film from Rollins College. 
Is Eddie Gay Or Married To Wife?
Eddie Huang is not married to a wife. But once, he mentioned Lena Sanvito as his wife on his Instagram account. Other than that, he has never talked about her. 
There was a time when Eddie dated his girlfriend named Dena, born to Italian-Irish-American family in Scranton, Pennsylvania. He even got engaged with her after Eddie received the blessings from Dena's parents.
Unfortunately, before making Dena his beloved wife, the relationship ended.
As of now, he might be single, and his past relationship with women shows he might not be gay.