Fewer people have the guts to break down the stereotypes of popularity. People's preconceptions regarding celebrity fall upon the usual list of actors, singers, hosts, and some professions similar to these. 
However, there is one ideal family that has left behind these fame stereotypes and has advanced into one of the most famous families today. It is the Chapman family whose head is the Dog the Bounty Hunter's star, Duane "Dog" Chapman. 
Duane "Dog" Chapman's son Duane Lee Chapman Jr. is Duane Dog's eldest child. Duane Lee Jr. has been one of the most famous bounty hunters of the Chapman family. Besides his family profession, Duane Lee Jr. has also worked as a financial and retirement counselor in Colorado. 
There is no precise information on Duane Lee Jr.'s individual property and riches. He has worked in many fields, that must have paid him a considerable amount of salary as a whole. 
However, on the other hand, his father, Duane "Dog" Chapman, a massive television personality and a professional bounty hunter, has a net worth of $6 million. 
Duane Lee Chapman's Bio: Age, Siblings
Born on 21 January 1973, the famous Pampa, Texas-born bounty hunter, Duane Lee Chapman II, is 46 years of age. He is usually referred to as Duane Lee Chapman Jr. to avoid confusion between his father and himself as both are well known public figures. 
You May Also Like: Aaron Goodwin Bio, Wife, Divorce, Single, Net Worth, Weight Loss
Born to father Duane Lee Chapman Sr., usually known as Duane "Dog" Chapman, Duane Lee Jr. is a famous face when it comes to bounty hunting. Duane Lee Jr. is the son of Duane "Dog" Chapman and his first wife, LaFonda Sue Honeycutt. 
Duane Lee Jr.'s father has been married five times in his life. Duane "Dog" Chapman has ten biological children from four of his marriages and two step-children from his present wife, Beth Chapman.
Thus, Duane Lee Jr. has a total of 11 siblings, including all his half-siblings as well as step-siblings. Among them, Leland Chapman is his younger brother from his own parents.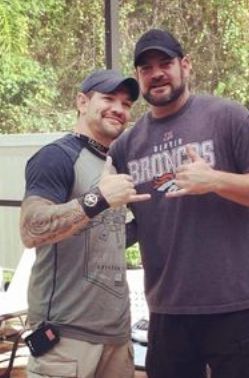 Duane Lee Chapman II poses with his younger brother Leland Chapman in June 2019 (Photo: Pinterest) 
Duane is close to not only his full biological brother but also to all of his step and half-siblings. 
His Wife & Son
Duane Lee, Jr. got married to Teresa R Roybal on 1 December 1999. Duane and his wife shared a deep bonding that kept their marriage going for about nine years until 2008 when they got divorced. 
See Also: Chance Perdomo Parents, Height, Age, Dating | Bio Reveals
Teresa already had three daughters, Jennifer, Jasmin, and Jodi before she got married to Duane Lee Jr. Hence, Duane Lee Jr. was a step-father to three daughters when he was associated with his former wife, Teresa. 
Talking about Duane Lee Jr.'s own biological children, he has a son, Dylan Chapman. His son Dylan is a 24-year-old young man born to Duane Lee Jr., and his ex-wife Teresa. 
However, Duane Lee Jr. has not opened much about his son. Whether or not is Dylan interested in their family profession of bounty hunting, is a fact yet to be revealed.