American camera operator Aaron Goodwin is famous as the co-star of the Travel Channel's reality series Ghost Adventures. Previously, Aaron worked for the Ultimate Fighting Championship as a cameraman.
Besides his on-screen professional career, Aaron has an interesting off-screen life. From being married to a divorcee, keep on scrolling to know all the facts of Aaron Goodwin!
Aaron Goodwin Married (Divorced)
Aaron Goodwin shared a blissful married life with his wife, Sheena Goodwin. However, the couple couldn't carry the after-marriage life for more, which subsequently resulted in a heartbreaking divorce.
Aaron married Sheena during his first episodes of "Ghost Adventures." However, Goodwin confessed that the mysterious ghostly happening was a significant reason that instigated him to break the vows with his wife.
Read Also:  Mikey Murphy Dating Status Amid Gay Rumors; Girlfriend, Tattoo, Net Worth, Surgery
During his time as a ghost reporter in 2011, Goodwin confessed his wife had nightmares when he left for his work. Goodwin was concerned about his wife and immediately ended his marriage to keep her out of the unnatural trauma.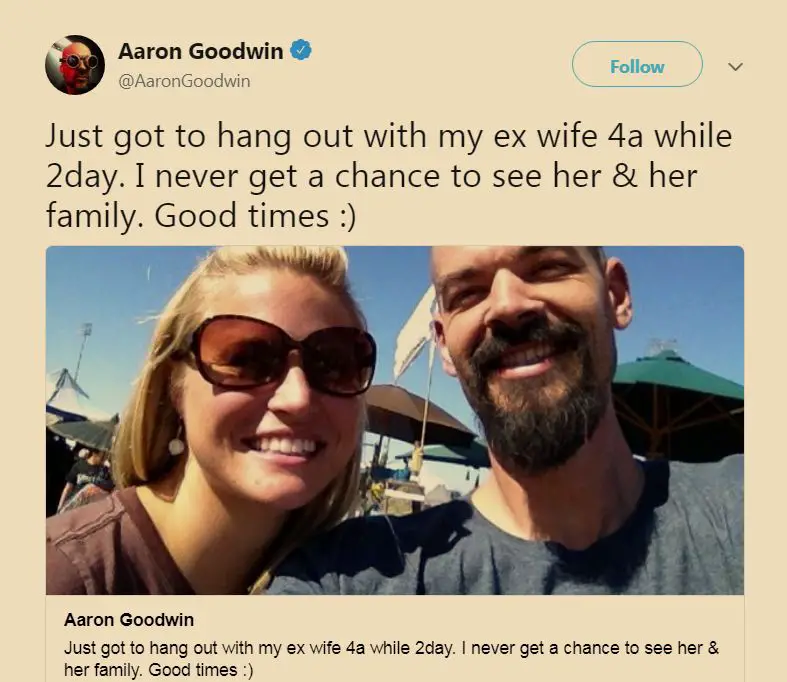 Aaron Goodwin with ex-wife Sheena Goodwin (Photo: Aaron Goodwin's Twitter)
Aaron posted an image of his ex-wife Sheena on his Twitter account back in October 2012. He shared his happiness of getting to meet her and hang out after a divorce.
Meantime, Aaron tweeted a picture in August 2015 and confessed that he was single and ready to mingle with new looks.
Aaron Goodwin Dating Or Single?
After announcing his singlehood via Twitter, it seems like Aaron has finally found the love of his life. Though he has not made any statement regarding his relationship and the identity of his partner, his social media makes it crystal clear that he has a girlfriend.
You Shouldn't Miss: Sydney Brooke Simpson Net Worth, Grandparents, Married, Now
In August 2018, Aaron introduced his girlfriend to his Instagram family and disclosed that they have known each other perfectly over the years. He also stated that they have found their friendship to have been more special.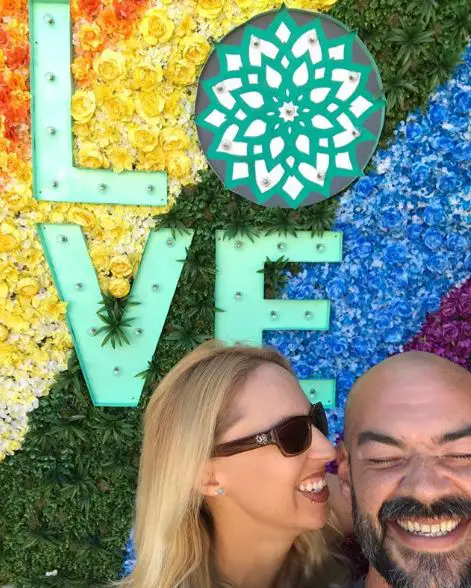 Aaron Goodwin with his girlfriend on 15 September 2018 (Aaron Goodwin's Instagram)
Since then, Aaron's partner can be seen on his Instagram feeds. In September 2018, he Instagrammed a picture of her and wrote that he spent a magical day with his magical one. 
Speculating at their togetherness, Aaron's seems to have found the one to get married quote as his wife. 
Aaron Goodwin's Bio: Age, Career
Aaron Goodwin was born on 1 April 1976, in Portland, Oregon. He grew up in Portland before moving to Vegas with his interest in working with cameras. He has a sister named Amy Goodwin, who has two daughters. 
Aaron, age 42, has accomplished his primary childhood dream to work as a camera operator and paranormal investigator.
He worked as a cameraman for the Ultimate Fighting Championship before achieving fame in the reality TV. Aaron initiated his TV career serving as the host of numerous TV series like Ghost Fit, My Hometown with Aaron Goodwin, and The Perfect Shot with Aaron Goodwin.
After gaining popularity in TV industry, Aaron joined Ghost Adventures in 2008. Goodwin, along with his fellow investigator, Zak Bagans interviewed the eyewitnesses at every haunted location.
Interesting: Mike Shields Bio: Age, Wife, Married To Family, Children & Salary Details
As a ghost fighter on Ghost Adventures, Goodwin stated that not only his professional career but also his physical fitness was equally important. Aaron mentioned gaining weight loss through dieting and exercise. He was 254 pounds back then and avoided junk food to keep himself fit and healthy. 
Aaron Fired From Ghost Adventures?
A mysterious news disseminated on the social media in 2014, which revealed Goodwin was fired from Ghost Adventures.
The reports from unexplained-mysteries.com in 2014 suggested Travel Channel decided to let go of Aaron Goodwin from the show. According to the channel's executive Richard Roscolelli, Goodwin was accused of ranting about the channel and blaming them for changing official and paranormal stories to a mockery.
However, the news turned out to be fake as Goodwin is continuing his career investigating on Ghost Adventures. As of now, he enjoys the resounding net worth of $1.5 million; thanks to his commanding salary at Travel Channel.