As a daughter of a billionaire, Dorothy Wang doesn't need to work a day in her life. But she chooses to make a spot for herself through her own skills and interest.
She works in her family business while also working for her popular show, Rich Kids of Beverly Hills and Famously Single.
Today, the famous reality star has accumulated a net worth of $10 million through her show and family business.
Dorothy Wang's Dating Life With Boyfriend
Rich Kids Of Beverly Hills star Dorothy Wang was famously dating her boyfriend, Cooper Mount. Their relationship was openly shown on the show. The ups and downs of their love life were not hidden from the public.
When Dorothy planned a trip to China along with her friends, she got upset that Cooper couldn't make it. And soon after that, she got involved in a heated conversation with her friend, Morgan Stewart. Morgan told Dorothy that she didn't think Cooper treated her well enough.
Morgan invited the rich kids' gang for a sushi party, but Dorothy left early to spend time with her boyfriend. Later, she texted Morgan to come over immediately and told her that she broke up with Cooper.
Get To Know About: Gretel Packer Net Worth At Age 52, Husband, Children | Complete Wiki
The situation was quite dramatic, as Morgan walks into a sobbing Dorothy in her bed.
Later, Dorothy started dating a good looking guy named Sam Saadun and was seen on a sizzling date on a beach in St.Tropez with him.
But the couple parted their ways for an unknown reason.
However, her belief in love didn't stop as she found love again with her now-boyfriend, Aren Afsharian.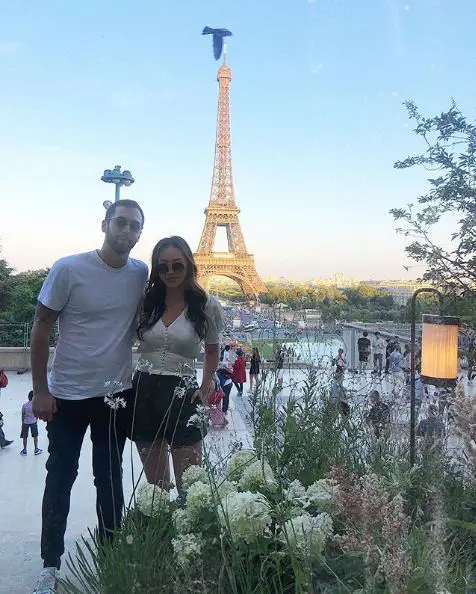 Dorothy Wang with her boyfriend, Aren Afsharian, on 16 July 2019 (Photo: Dorothy Wang's Instagram)
Aren is a high-end luxury real estate professional broker associate, who is extremely knowledgeable of the area and surrounding communities, especially of Beverly Hills. He has versatile communication skills and vast network of qualified buyers and sellers.
Dorothy spends good quality time with her boyfriend while enjoying each others company. They often travel to beautiful places with good ambiance and environment.
Dorothy Wang Bio: Parents, Age & Sister
Dorothy Wang was born into a wealthy family on 27 January 1988 in Beverly Hills, California, where she had a relatively conservative upbringing.
Talking about her parents, her father is billionaire Roger Wang, CEO of Eagle International Group which specializes in real estate development, clothing, and auto repair. 
Take A Look At: Alicia Coppola Bio, Husband, Children, Net Worth
Her father, Roger Wang, immigrated to the United States to receive his education in the 1970s and returned to China in 1992 to develop his company. 
Her mother, Vivine Wang, and her older sister, Janice Wang, also work in the family business. Both sisters have their own interests as well, and their parents are very supportive of it. 
Growing up, her parents were strict compared to other kids, but less strict for Asian parents. 
Throughout her childhood, Dorothy traveled to China, and at the age of 12, she became the youngest-ever Goodwill Ambassador of the Nanjing Charity. 
Later, Dorothy graduated with a degree in Communications from the University of Southern California in Los Angeles, California.