There are few celebrities, who received massive fame and wealth because of their wealthy family background. One of them is undoubtedly the beautiful lady Gretel Packer. Gretel belonging to a very well-to-do family has been a familiar face in Australia . Moreover, she is the 50th billionaire of Australia. 
Gretel Packer Family
Gretel was born in 1966 to father Kerry Packer and mother, Ros Packer. For her education, she went to eastern Sydney Boarding School.
Gretel's father Kerry was the famous face of Australia like Tim Webster. He was one of the powerful businessmen, who had a net worth of Australian 6.5 billion dollars. One of his significant contributions included a professional Cricket competition, the World Cricket Series in 1977.
In addition to this, he was the owner of the Nine television network and Publishing and Broadcasting Limited. After serving the country for an extended period, Kerry died at the age of 68 due to Kidney failure.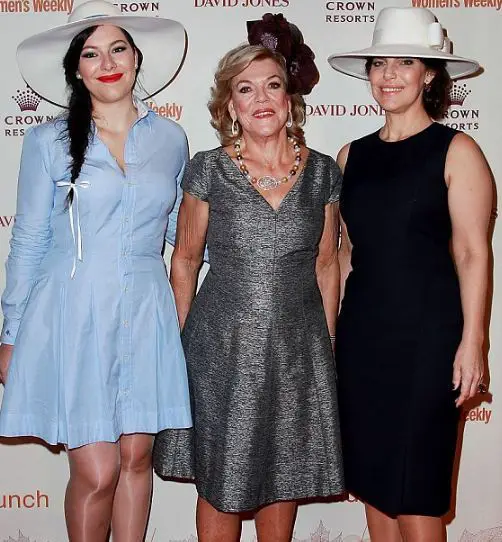 Gretel Packer (left) attends red carpet event with mother and daughter in March 2015 (Photo: dailymail.co.uk)
Gretel's mother, Ros is an Officer of the Order Of Australia. Another prominent person of Gretel's family is her brother James Packer, who is the former executive chairman of Publishing and Broadcasting Limited and Crown Resorts. He is the ninth richest person in Australia with a net worth of 3.8 billion dollars.
Net Worth - How Rich Is Gretel Packer?
As mentioned before, Gretel has already received the tag of the 50th billionaire in the world. Well, the reason behind her hands on the wealth is solely her family as Gretel did not involve in her family business.
Similar: Who Is Cymphonique Miller's Mother? Siblings, Age, Father | Details
It was back in 2015 Gretel became a billionaire as her brother, James split the family wealth after the death of their father, Kerry.
As of now, she has become one of the powerful women of Australia amassing a net worth of 1 billion dollars. Besides this, Gretel also is the founder of National Philanthropic Fund and a board member of Art Gallery of New South Wales. As per wiki, the fund is said to be shared among Indigenous education, arts, and welfare.
Gretel Packer Husbands, Children
Lucky in fortune but unlucky in love, Gretel is a woman who underwent two broken marriages.
Well, she first got married to Nick Braham, a British financier in 1988. The pair shared two children, Francesca, 22-year-old and Ben 19-year-old. But things could not get any better between the couple as they parted ways with a divorce in 1999.
Despite a major heartbreak, Gretel did not easily give up on her love life and fell for Shane Murray. Shane, a musician by profession met Gretel in 1998. After dating for some time, the pair tied wedlocks in December 2005 and also welcomed their first son, William Kerry Amadeus Murray shortly after a month on 27 January 2006.
Gretel married Shane during her pregnancy as her father, Kerry did not want her to have a child before being married. But just like the first time, Gretel's marital voyage could not flourish that well. The pair again separated before Gretel's brother, James' wedding.
As of now, Gretel has not shown any interest in men and is living her life as a single mother; raising her children.