Chris Plante is one of the prominent radio talk show hosts at WMAL Radio in Washington D.C. which can also be heard on the Westwood One Network. Apart from it, he frequently appears as a guest on both channel Fox Business and Fox News Channel.
Before joining WMAL Radio, he was associated with CNN where she worked as a reporter, producer, researcher, and assignment editor. In his initial seven years in CNN, he worked on the assignment desk. After few years, he shifted to Pentagon in the position of Pentagon producer. Then, he grabbed the chance to work as a producer for national security followed by a senior producer for national security affairs. With his dedication and hard work, he received the opportunity to work as a Military affairs producer.
Interesting: Laura Ingraham Married, Husband, Divorce, Children, Salary and Net Worth
During his tenure in CNN, he grabbed the chance to travel to foreign locations like Bosnia, Africa, Saudi Arabia, Indonesia, and Vietnam. Recognizing his excellent reporting from the Pentagon, he was awarded Edward R. Murrow Award from the RTDNA in 2002. After that, Chris got The Reed Irvine Award in 2016 from the media watchdog group, Accuracy in Media.
Working in various shows, Chris must have garnered a massive amount of money as his net worth. Currently, he receives a handsome salary of $74,650.
Chris Plante's Best Girl, Married?
Well, Chris always loves to maintain a low key profile regarding his private matters. Such that his married life is still a matter of curiosity among his fans. In his case, he is not linked up to any girls, and no any rumors of his marriage have come out yet.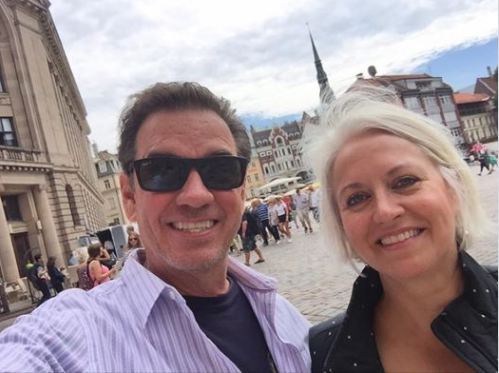 Chris Plante relishes moments with his best girl on 2 August 2017 (Photo: Chris Plante's Bio)
However on 2 August 2017, he uploaded a picture with a lady on his Facebook account. And in the caption, he quoted the woman as his best girl. It gave rise to the speculation of Chris being secretly married to the woman. But as he has not spilled the beans about the issue yet, his married life and the identity of his wife remain as a mystery to be solved.
Chris Plante's Biography, Family
Chris was born on 12 December 1959 in the USA. He comes from the family of media persons. His grandfather Pat Barnes was a TV newsman and host in the radio for more than forty years. Moreover, his father, Jules Orteig, worked on the business side at World Report and U.S. News. And, his mother served in Mutual Radio and hosted a morning show on a Milwaukee TV Station. Sad to say, Chris, lost his father when he was only a year old.
Related: Wayne Dupree Wiki: Family Man With Wife? His Show, Salary, Age
Even his stepfather, Bill Plante was an anchor and CBS correspondent. Also, one of the brother of Chris, Mike, serves as senior producer at Fox News and another brother, Dan works as a TV anchor in San Diego. Talking about his education, Chris received his education from UC Santa Barbara in 1982.