Chloe Ferry is a reality television personality best known for being a cast member in the MTV reality series, Geordie Shore.
Besides, she has also been part of the nineteenth season of Celebrity Big Brother. 
As a part of the reality series, Chloe has showcased her talent alongside filling her safe with a substantial amount of riches.
Although Chloe has not revealed her exact net worth, she might have probably made a six-digit figure. 
Chloe Ferry's Wiki: Age, Family
Chloe Ferry was born on 31st August 1995 in England, UK. She was living a happy family life like every normal person, but everything changed when she was around six.
The family she believed to be happy and forever, sadly tore her hopes when her parents split. 
Learn More About: Aesha Scott Bio, Age, Husband, Net Worth, Family
After her father left the family, Chloe was raised by her single mother due to which she is dearly close to her mother.
During an interview with thesun.co.uk, Chloe opened up about her feelings towards her father.
Chloe said that she had no intention of ever getting back in touch with her father. She also further explained that she knew her father but wanted him out of her life. 
After all the family feud, Chloe has remained close to her mother and tries to give her all the happiness she deserves.
She mostly shares her moment with her mother on her social media account Instagram. 
Chloe Ferry Dating Boyfriend
While talking about Chloe's relationship, she has not been lucky with love.
However, now she seems to have found her lucky star, who has changed her fate with love. She is currently dating her television personality boyfriend, Sam Gowland. The couple first had their encounter in the MTV show, Geordie Shore. 
Eventually, Chloe and her new love made their relationship public in October 2017.
After announcing their dating status, they even got tattoos of each other's names in March 2018. Their relationship went next level, and her boyfriend even posted a naked picture of himself in the bath flaunting their tattoo.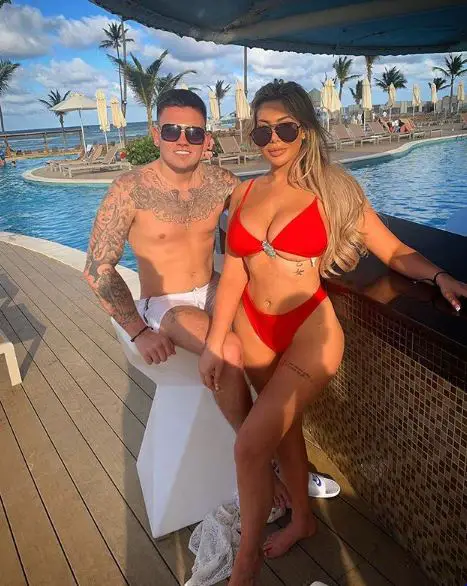 Chloe Ferry flaunts her relatiosnhip with her boyfriend Sam Gowland on 26 February 2019 (Photo: Sam Gowland's Instagram)
Later, Chloe's relationship took another turn where misunderstandings, trust issues, and allegation took place.
Chloe fought with her boyfriend after he allegedly asked a girl for her number on a night out. The fight between them turned grave after she threw a punch at her boyfriend. 
After dating for 17 months, the pair announced their split and Chloe even shared on her Instagram about their separation.
But love found its way back, and shortly after the split, Chloe and Sam decided to give their relationship another try.
Chloe also has a long history of dating quite a several guys. She has dated Marnie Simpson, Scotty T, Marty McKenna, Jon Clark, DJ San Scott, Skepta, DJ Locksmith, and even Sam Bentham. 
Surgery, Height & Weight
Although before Chloe was not born with voluptuous curves, angular nose, and perfect features, now, she has gained everything from surgery.
She is a massive fan of plastic surgery and has shocked millions of viewers around the world with her transformation. 
Chloe, who stands at the height of 5 feet 4 inches (1.63 meters) with a weight of 60 kg (132 lbs), has confessed to having Botox injected into her face.
While she also received criticism for her transformation, the reality star did not let the negativity affect her.