A veteran TV journalist, having more than twenty-five years of experience, Carter Evans has been in the thick of the action but not quite like the one that took place in San Bernardino in 2013.
He was caught up in the cross firing between the quadruple murder suspect Christopher Dorner and the police officers. When the guns finally went silent on live TV, most of the viewers thought they were dead, but luckily he lived up to tell the story to the whole world what was it like to be fired from all sides. He currently works at CBS News where he reports across all of the network's platform.
Carter Evan's Married, Divorce 
As much as the event of San Bernardino that shook his confidence a bit, it also catapulted him to one the most talked about journalists in America. Now his sudden divorce with one of the fellow journalists Courtney Friel has once again got people talking about him.
Also Read: Jane Bunn Bio Reveals: Husband, Wedding, Married & More
After more than 11 years of marriage and two children, the famous journalist couple suddenly said quits and this has people wondering what went wrong. Courtney who also works as a correspondent for CBS News tied the knot with Carter Evans in 2005 and only separated in 2016.
Together they have a son named Cash Hudson Evans who was born on Saturday 1 January 2011 at 6:08 am. Their second one was a daughter named Cameron Kaiulani Evans who was born on 6 April 2012. The pair were maintaining a beautiful family life until Carter and Courtney decided to part their ways with a divorce.
Carter Evans After Separation From Wife
After being married for a long time and with two lovely growing kids both ex-husband and ex-wife are taking their separation in strides.
Don't Miss: Peter Greenberg Bio, Age, Married, Wife, Family, Show, Net Worth
The divorce took place in an amicable environment where both parties remain on friendly terms, so much so that Carter Evans and his ex-wife Courtney Friel were seen together in the Halloween party on 1 November 2017. Though the couple separated, both Carter and his ex-wife Courtney have never failed to fulfill their children's desire. Carter has been co-parenting his kids with Courtney.
They are doing it for the kids, and this should serve as an example for other couples. Courtney even had this to say about the event,
"This picture could probably have multiple interpretations- but let's just say my ex-hubs is the #sh*t in this pic, w/his devil and angel by his side?! Trick-or-treating was a family affair tonight w/mom, dad, and future step-mom!"
Meanwhile, Courtney also takes very good care of her children, Speculating at her social media, it is evident that she shares a wonderful bond with her children.
Her social media not only reflects her love for the children but also the acceptance she has for Carter's current girlfriend, whom she refers as a sister-wife. For instance on 8 April 2018, she shared a picture with Lauren on her daughter's birthday.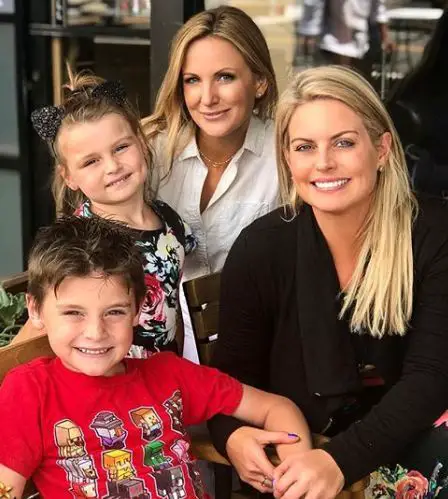 Carter Evans' ex-wife Courtney Friel (left) with her children and Carter's girlfriend Lauren Lyster on 14 May 2018 (Photo: Courtney Friel's Instagram)
Also on 14 May 2018, she went to lunch with Lauren and her two children thanking her for taking care of Lauren on the occasion of mother's day. On top of that, she even thanked Carter for sending Lauren to lunch. Moreover, on 23 September 2018, Courtney was seen with Lauren on one of their co-worker's baby showers.
As she has maintained a healthy friendship with her ex-husband and his girlfriend Lauren Lyster, Courtney occasionally spends time with Carter's girlfriend along with her children.
Biography of Carter Evans
Carter Evans is an American T.V. correspondent currently working in CBS News. He had previously worked for CNN and also worked reporting on red carpet events for E! News and hosted their countdown show, Golden Globes in 2004.
You Might Also Like: Is Rosemary Barton Married? Family, Husband, Baby, Bio & More
Carter has done his Bachelors of Arts in Broadcast Journalism and a minor in Philosophy in 1998 from Ithaca College. As far as his age is concerned, he is in his forties and according to some wiki information his net worth is around $10 million.