Award-winning journalist Rosemary Barton is a Canadian political journalist, who currently serves as the Parliament Hill correspondent for CBC News. She is also a co-anchor of CBC Television's flagship nightly news broadcast, The National.
All credits to her successful career, the CBC journalist has won the hearts of many people by her incisive and engaging interviewing style. Her recognition in public has encouraged her followers to wonder if anyone has been able to win over her heart.
Mysterious Personal Life: Married Or Single?
42-year-old Rosemary is not as open as her professional details. She is a confidential woman, who prefers keeping her love-life information in the dark. 
Don't Miss: Lauren Shehadi Married, Husband, Engaged, Family, Ethnicity
No information of her getting married or having an affair has ever surfaced out. She has neither spilled the beans on having any boyfriend nor mentioned about having a baby.
So, it's unclear if Rose is married to her spouse or is single. Probably, she is not taken and is focused on brightening her strength and skills of journalism than to build a family. She is possibly waiting for a perfect man to show up and be her perfect husband.
Rosemary Barton's Bio, Career
Rosemary was born on 31 May 1976 in Winnipeg, Manitoba. She graduated in French literature from the Collège Universitaire de Saint-Boniface (an affiliated college of the University of Manitoba) and completed Masters in Journalism from Carleton University.
She initiated her journaling career working as a researcher for the Canadian Broadcasting Corporation's French-language news network RDI.
In 2004, Rosemary joined CBC as Quebec's legislative reporter at the National Assembly, where she covered Jean Charest's arrival as Premier in Quebec for his first mandate and the intense leadership race within the Parti Quebecois that followed the resignation of Bernard Landry.
She served as the National reporter with CBC's Parliamentary Bureau and covered the federal elections, as well as some federal leadership campaigns. During the time, she also covered the fraud trial of Conrad Black in Chicago in 2007, as well as Mike Duffy fraud trial.
In 2016, Rosemary received the Canadian Screen Award for best host of a news or information program due to her incisive and engaging interviewing style.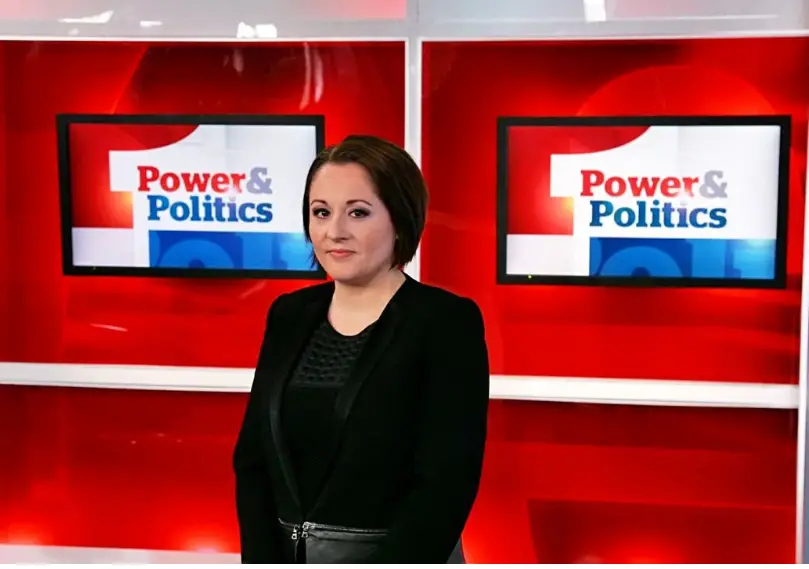 Rosemary Barton hosts the CBC News's daily political show, Power & Politics (Photo: theStar.com)
As of now, she hosts CBC News's daily political show, Power & Politics while Piya Chattopadhyay worked as a fill-in anchor. She has interviewed many high-profile politicians including Prime Minister Justin Trudeau, former Prime Minister Stephen Harper, U.S. Secretary of State, John Kerry and International Monetary Fund managing director Christine Lagarde.
Rosemary, a dedicated CBC news reporter, has amassed a  hefty fortune after establishing herself in the network. However, she has not disclosed the exact detail of her net worth and salary. Nevertheless, the average salary of a reporter at CBC/ Radio-Canada dwells from $66 K -$73 K.
Rosemary: Host Of Power & Politics!
The former host of CBC News's daily political show, Power & Politics, Evan Solomon was dismissed by the CBC in 2015. Following his dismissal, Rosemary was announced to be the new host of Power & Politics.
The host interview style was praised by many fellow journalists, sometimes contrasted favorably against Evan Solomon.
She gained popularity following her response to statements made by then-Minister of Citizenship and Immigration Chris Alexander on Power & Politics during the 2015 election campaign.
Rosemary then was officially named as the new permanent host of the show on 5 January 2016. She won the award at the 4th Canadian Screen Awards for Best Host or Interviewer in a News or Information Program or Series in 2016.
You May Like: Alistair Appleton Partner, Gay, Married, Boyfriend, Now
As on November 2017, Rosemary worked as a co-host of the CBC Television's flagship newscast, The National. She was succeeded as host of Power & Politics by Vassy Kapelos, the former host of Global's The West Block.