Multiple Emmy-winning investigate reporter, Peter Greenberg is America's most influential, and honored media personality. Besides his previous stints on NBC and ABC networks, Greenberg flaunts his journalism skills as a Travel Editor on CBS News.
He also timely updates his social media accounts with the ideas regarding getting married while keeping his love-life details miles away from the limelight. 
Peter Greenberg's Bio, Plus Earnings
Peter S. Greenberg, best known as Peter Greenberg, was born on 20 January, in the United States. Though his actual date of birth is hard to dig out, his recent pictures suggest he is veteran by age and by professional success as well.
Peter grew up in an educated family as his father was a doctor. He was a regular specialist for renowned American singer Andy Williams, who sadly passed away due to bladder cancer in 2012.
Greenberg also shared closeness with his mother, who was a singer by profession. He grew up alongside his sister, Karen.
After completing academics from the University of Wisconsin, Madison, Peter urged to pursue his career in journalism. He joined as a West Coast Correspondent for Newsweek in Los Angeles and San Francisco.
Subsequently, Peter bagged the opportunity to work for ABC's TV Show Good Morning America from 1988. He worked there until 1995 and moved on to serve as the Travel Editor for NBC's Today, CNBC, and MSNBC till 2009.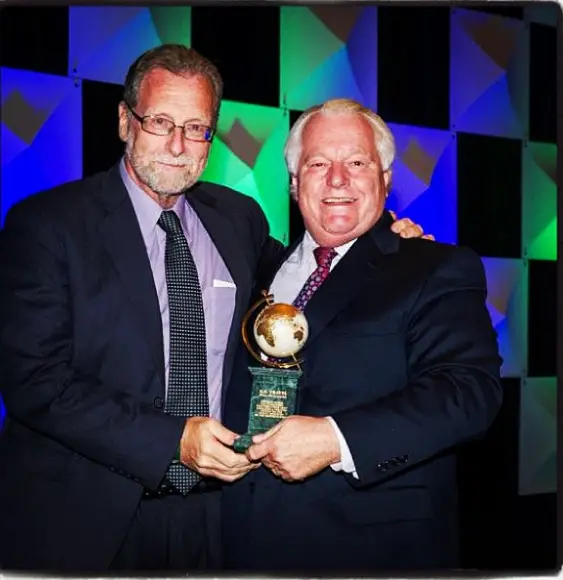 Peter Greenberg enters into the U.S. Travel Hall of Leaders posted on 1 December 2012 (Photo: Peter Greenberg's Instagram)
He regularly reported on The Early Show which aired until 2012. Since then, he hosts its replacement show, CBS This Morning, and the CBS Evening News.
As of now, Greenberg works for CBS News as a Travel Editor. Also, Peter weekly hosts the nationally syndicated Peter Greenberg Worldwide Radio Show.
Besides, Greenberg also has established himself as a sought-after author. His famous books include Travel Detective Series: Flight Crew Confidential, Hostel Secrets, and The Travel Detective Bible.
Peter Greenberg, who summons most of the net worth from his media excellence, has bagged multiple Emmy awards for his eminent reporting and analytical skills. His exact figure of net worth is yet to be disclosed.    
Conceals Relationship Whereabouts!
No doubt Peter Greenberg basks on jubilant professional success. The veteran media juggernaut remains famed in the eye of the public for his continuous hard work and dedication in front of the cameras, and behind it as well. However, when it comes to his whereabouts, Greenberg remains confined as a closed book.
Instead of giving an insight into his relationship status, Greenberg timely shares his thoughts related to marriage on his social media blogs. However, as intrigued as the audiences are, they never miss a chance to bat an eye on Peter's secluded life which remains under the wraps.
Solely focused on polishing his already-prominent media career, it could be possible if Greenberg has lacked in the search for the one who he can rightly proclaim as his wife.
Until and unless he finds someone who takes his heart by storm, it is obvious Greenberg remains far from being labeled as married.