Braunwyn Windham-Burke is an American beauty and, most importantly, a reality television personality best known for her notable presence in the renewal of The Real Housewives of Orange County in 2019. 
The 'stay at home mama' prior to her keeping her foot in the television world- joined the group of wealthy housewives in Southern California all because of her connections at the Balboa Bay Club. 
Having forever relied on her husband ever since she was eighteen, almost still a child, this is the first time in her entire adult life that she had to stand by herself.
And that indeed was a worthwhile experience of her life although it was not always easy.
She now feels a lot more independent ever since her famous TV venture. 
Braunwyn Windham-Burke's Wiki / Bio
Mother to her seven kids varying from "diapers to diploma," Braunwyn's bigger share of life was spent being a parent.
With the help of two baby-sitters, she is a full-time mother other than being a public figure.
Continue Reading: Janet Roach Wiki, Age, Birthday, Husband, Son, Net Worth
Besides, she has a lot to say about parenting and stuff in her mommy blog. And, someday soon, she hopes to turn her blog into a book.
Easily passable as a professional model, people have a hard time believing that Braunwyn made a brood of kids- oldest daughters Bella, 19, and Rowan, 17, son Jacob, 14, 6-year-old twin boys Caden and Curran, daughter Koa, 4; and 1-year-old baby daughter Hazel- their ages being taken as of the 5th of November 2019.
And so, it is not for nothing that they say- "the 41-year-old matriarch has remedies for just about every travel hiccup there is".
Braunwyn, who celebrates her birthday on the 25th of November, is never disappointed by the count of her young ones.
She is instead blessed to have them in her life and often frequents the family trips with them and the father of her children, Sean Burke.
The family outing has not only made her an expert at do's and don'ts for traveling, but it also taught her kids to become self-sufficient and open to other cultures and people. 
Husband, Cheating?
From what it seems, Braunwyn is unusually candid about her personal life. Or perhaps, it is one of the side effects of being part of the reality show.
From dropping the bombshell about the tradition where she engaged in a threesome with her husband as part of his birthday celebrations to the story where she was cheating on her hubby- everything has been covered by the media, and that too in her own words, which being-
I cheated on Sean. We separated. I took the kids. He was with someone else too. We were separated. We were in two different homes.

I went to Hawaii. I took the kids, I enrolled them in school. I told Sean I was done.
Nonetheless, she admitted that it was a "very PG" relationship she was indulged in, and they were only surfing together, going for a walk, and nothing more.
More From Reality TV: Karina Seabrook Bio, Parents, Siblings, Nationality
Eventually, though, she was meant to end up together with her husband.
After several months of separation, Sean reappeared in her life, as he proposed to her for a second time. 
Reminiscing the good times, Braunwyn said-
He had quit his job; he was the president of a very successful company. He sold his shares and he walked away and he became a stay-at-home dad for like eight years.
From what it looks like, it was Sean's decision to rather choose his family than his work that played the trick in keeping the Burkes together.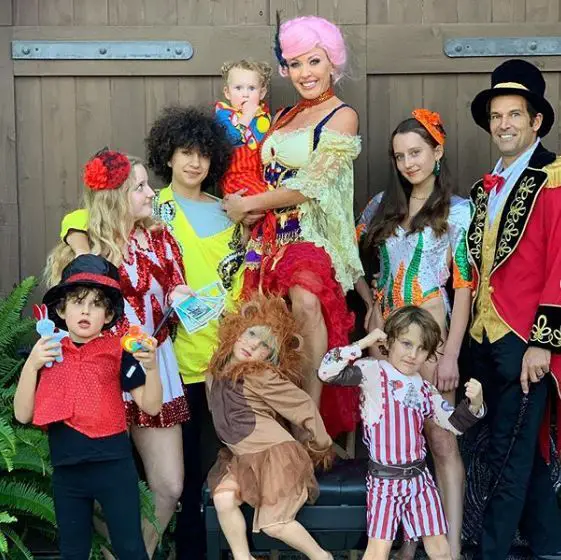 Braunwyn Windham-Burke, her husband, Sean Burke and their children, Bella, Rowan, Jacob, twin boys Caden and Curran, Koa, and Hazel on 1 November 2019 (Photo: Braunwyn Windham-Burke's Instagram) 
And, today, the couple, who owns an each of $3 million as their net worth, and shared their vows 19 years ago, are sure inseparable, getting to explore the parenting journey collectively.