Brandon Blackstock is a talent and music manager at Starstruck, an agency owned and operated by his father, Narvel Blackstock. 
Brandon became a prominent figure after he married an inaugural American Idol winner. While his famous spouse and parents might overshadow his existence, he has well managed to hold his own name in the field.
Let's know more interesting information related to Brandon's life. 
Brandon Blackstock's Details On Wife & Children
Brandon Blackstock got married to Kelly Clarkson on 20th October 2013. His wife is an American singer, songwriter, and reality TV star. Kelly is the original American Idol who won the first-ever season of the reality television juggernaut in 2002. 
As of now, Brandon's wife has made a total net worth of $45 million. In 2018, she also bought an $8.5 million 10,000 square foot mansion in Encino, California. 
Other than Kelly's career, let's know more about Brandon's fairy tale romance with her.
Brandon and Kelly first met in 2006 at a rehearsal for the Academy of Country Music Awards. 
In the first meeting, Kelly felt something towards Brandon, but due to his married status, she did not even talk to him. 
At that time, Brandon was married to his first wife, Melissa Ashworth. He also shares two children with her. 
Soon, Brandon's first marriage came to an end, finalizing their divorce in 2012. 
After his divorce, Brandon and Kelly met again at the Super Bowl the same year.
That time with all courage, Kelly confessed her feelings to Brandon. Upon her confession, Brandon was more shocked because he had this feeling that Kelly hated him. 
Soon, the couple started dating following their wedding in 2013. Within a year of the happy union, Brandon and his wife welcomed their baby daughter, River Rose Blackstock. 
The couple then welcomed their second child, Remington Alexander Blackstock, on 12th April 2016.
In the marriage, Brandon and Kelly not only share happiness but also share a trust which can defeat everyone.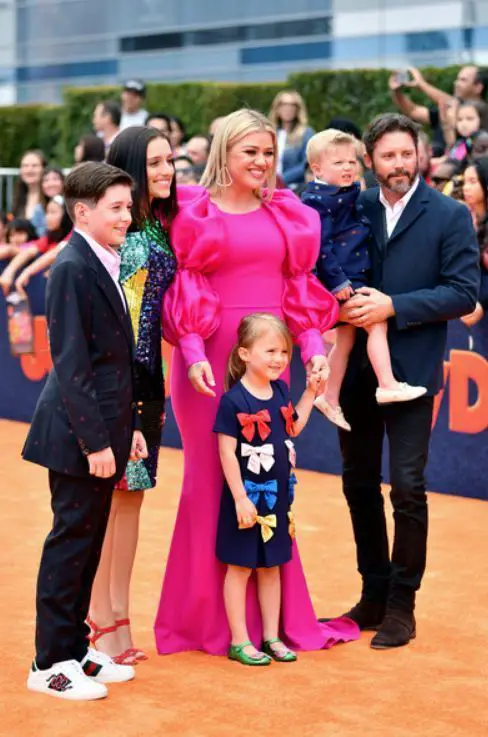 Brandon Blackstock attends STX Films World Premiere of 'UglyDolls' at Regal Cinemas L.A. with his family on 27 April 2019 (Photo: zimbio)
When Brandon was accused of cheating on Kelly by a random woman and another woman also claimed she was pregnant with Brandon's child, Kelly having full trust in her husband, defended and supported Brandon's faithfulness. 
Worth The Read: Katelyn Jae Wiki, Age, Parents, Net Worth, Husband
The love story of Brandon and Kelly is not less than a fairy tale where there is love, trust, and faithfulness towards each other are seen clearly. 
Who is His Mother?
Brandon Blackstock was born to his parents, Narvel Blackstock (father) and Elisa Gayle Ritter (mother), in Fort Worth, Texas, on 16th December 1976. 
His father is an American television producer, music manager, and former steel guitar player. 
However, when it comes to his mother, Elisa, nothing much is known as she prefers to keep her life under the shades. 
Brandon's parents were married for 15 years before they ended their relationship on 31st March 1988. 
His father then got married to American country singer, songwriter, actress, and record producer Reba McEntire.
Brandon's father and stepmother were married for 26 years, but sadly, the relationship came to an end on 28th October 2015.
Net Worth
Besides his famous connection, Brandon, an American talent manager, has also made a name for himself.
Though he likes to keep his professional matters to himself, due to his connection, his life, and economic status has always been a matter of subject. 
Today, not only his parents and wife, but Brandon has also made a net worth of $5 million from his job.