Anthony Melchiorri worked as the general manager for the New York Times travel guide's best service hotel, Lucerne Hotel.
He is also known for his work as a producer and actor in Wisegal, Hotel Impossible and Hotel Impossible: Undercover.
His climb to a great height of success began when he worked as a host in the Travel Channel reality series, Hotel Impossible. In the series, Anthony developed and repositioned some of the United States's high profile properties.
Net Worth From Extreme Hotels
Anthony Melchiorri is a hospitality expert. He created the Travel Channel reality series, Hotel Impossible and also created the exciting series, Extreme Hotels.
Extreme Hotels featured all styles of hotels, including the world's most unusual hotels. Each of the hotels introduced in the series was unique and considered as extreme by many.
The show first aired on the Travel Channel on 2 October 2017 which was hosted by Anthony.
Also A TV Personality: Why Was Mike Jerrick Suspended? Salary, Engaged | Details
Throughout his career as a hospitality expert and television host, Anthony accumulated a significant amount of net worth that sums up to $2 million approximately.
Anthony Melchiorri Married To Wife
Anthony is not secretive when it comes to his professional life, but some significant events of his personal life have been out of the limelight.
He is married to his wife and has three children with her, but the place and the time he got married is not known to the public.
However, it is known that Anthony lives with his wife and three beautiful daughters in New York City. He is a family-oriented man as can be seen in his videos of the Travel Channel series.
The TV host manages to spend quality time with his family even in the middle of his tight and busy his schedules.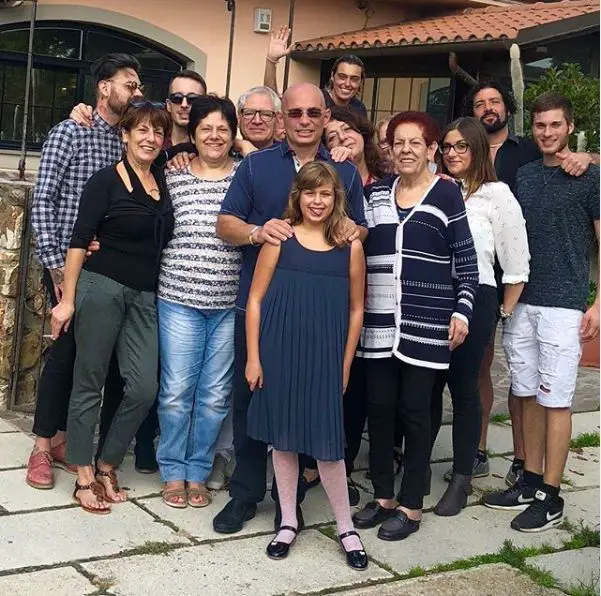 Anthony Melchiorri with his family in Italy on 8 October 2018 (Photo: Anthony Melchiorri's Instagram)
His daughters appeared in the show prominently while his wife didn't make an appearance.
In an interview with hospitalitydesign.com, Anthony revealed that when he first planned to make a TV show about the hotel business, his wife was the toughest critic of the whole idea.
He recalled what his wife said- "Who the he*l wants to see you on TV?".
The couple seems to be very straight with each other, but at the same time, supports what they plan to do in their individual life.
Anthony Melchiorri Bio: Birthday, Ethnicity
Anthony Melchiorri born in 1965 in Brooklyn, New York, celebrates his birthday on 24 May every year. Holding an American nationality, Anthony, age 54, belongs to the mixed ethnicity of Italian-American descent.
Another Italian Celebrity: Marco D'Amore Married, Girlfriend, Family
Knowing about his family, Anthony grew up without a father, and his mother worked hard to manage their livelihood and did whatever in her hands to put food on the table.
Spending his childhood in Brooklyn, Anthony completed his high school in 1986 and went to serve as a protocol officer in the United States Air Force at Whiteman Air Force Base in Missouri.
The handsome young man with hair served in the Air Force until 1990. 
During his time in the Air Force, Anthony completed an undergraduate degree in business from Park University in Parkville, Missouri by taking night courses. He worked at the Embassy Suites hotel in Overland Park, Kansas on weekends as a night auditor.