Anne Gust Brown, an American business executive, and lawyer enjoyed a successful career as both before she got married to former Governor Jerry Brown and became First Lady of California.
All through her husband, Jerry's governorship in California, which began in 2011 and lasted until 2019, Anne was literally at his office, helping on all the topics, wherever she could be a help.
Anne Gust Brown's Bio (Age), Family
Anne Gust was born in Bloomfield Hills, a Detroit suburb in 1958. She grew up in a household filled with "a big, boisterous" crowd. Anne was the fourth of five siblings. 
Also, Look Into the Former First Lady of America: Michelle Obama, Former First Lady of US Biography Covers Parents
Her father, Rockwell T. Gust, also called 'Rocky,' was a lawyer. Anne's parents divorced when she was just about to begin high school.
Education & Struggle
Anne said in a 2013 interview: her parents didn't encourage her to study hard. Her father was more focused on his boys, and her mother also did not care much about her academics.
Anne eventually graduated as one of the valedictorians. She received a degree in Political Science from Stanford University and returned to the University of Michigan Law School, graduating a magna cum laude in 1983.
Wedding Details
Anne Gust Brown got married to Jerry Brown at the Rotunda Building in Oakland on the 18th of June 2005. It was a romantic and traditional, pink-and-white ceremony attended by almost 600 guests, including many prominent politicians of the time.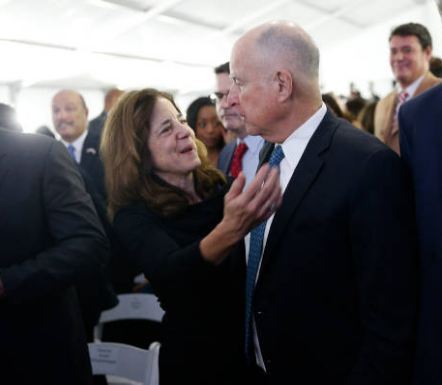 Anne Gust Brown embraces husband, Jerry Brown after the inauguration of California's 40th governor on 7 January 2019 in Sacramento, California (Photo: gettyimages)
After the event that also included a reception, the couple went to San Fransisco. There, at St. Agnes, they were once again shared the wedding vows, in a much smaller religious ceremony. They chose the place because it was where Jerry's parents had tied the knot and also where Jerry was later baptized.
More of Political World: Ross Cameron Married Status With Wife: Family, Salary, Net Worth - Personal Life Insight
Introduced by friends, Anne and Jerry first met 15 years ago before they turned husband and wife.
About Husband, Jerry Brown
Anne Gust Brown's long haul companion, Jerry, is a retired American politician serving as California's 34th and 39th governor. As a member of the Democratic Party, he ran for its presidentship in 1992. He was then considered the harshest critics of his fellow Democrat, Bill Clinton.
Interesting Facts on Anne Gust's Husband
Anne's husband, Jerry, according to the Celebrity Net Worth, values a net worth of $10 million.
Anne announced quitting her job of executive vice president at the clothing retailer, The Gap, to manage Brown's campaign for attorney general election in June 2006.
Her spouse, Jerry, is the son of Edmund Gerald "Pat" Brown Sr. Jerry, a district attorney of San Francisco, turned the governor of California.