Andy Casagrande does not remember since when he developed his life-long fascination for great white sharks. Though, he does vividly recall the time when he first laid eyes upon one.
The 7-year-old Andy was inexplicably mesmerized by this mysterious and magical creature in television.
Like most parents, Andy's parents told him not to believe everything he saw on TV. However, he soon uncovered that it wasn't made up and the most amazing thing he ever encountered indeed existed.
The daredevil who now gets paid for swimming with the sharks is best known for capturing astounding underwater footage.
Andy's camera work for the national geographic series, Great Migrations, even won him the Emmy Award for Outstanding Cinematography—Nature in 2011.
Take A Look At: Brett Tutor Bio, Married, Wife, Net Worth
The founder of ABC4Films known for its natural photography, merrily flaunts a total net worth of $3 million.
Details About His Wife & Family With Kids
Andy seems to have his way with words. He knows how and when his beautifully chosen words can bring some significant difference in his married life.
He never lets go of the chance to impress his gorgeous wife, Emma Casagrande, with his love-filled captions on social media. Emma, the Swedish national is a talented photographer and a professional diver.
Andy and Emma are fortunate to share a similar passion and line of work. They even got applauded for their incredible bonding over the job.
The Casagrandes won the 2011's award for Outstanding Cinematography- Nature and also the 2013's Award for Outstanding Cinematography - Documentary.
Today, Andy is so proud of the decision he made nine years ago, which was to marry his filming partner.
The one thing Andy loves more than the white sharks is his small family that comprises of his beloved wife and two kids- a boy named, Ace Casagrande (born on 12 September 2013) and a girl, named Nova Fina Casagrande (born on 16 August 2015).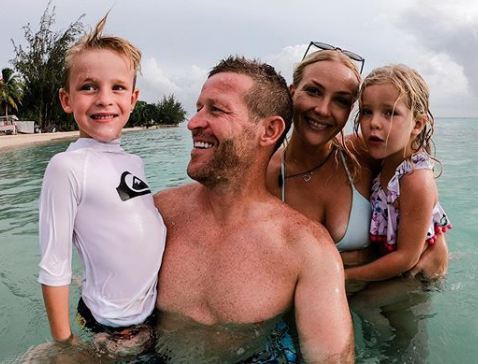 Andy Casagrande with his wife, Emma Casagrande and beautiful kids, Ace and Nova Fina Casagrande at Barbados on Father's Day (Photo: Andy Casagrande's Instagram)
The couple is seemingly in a mission to instill their love for aquatic-world even in their young ones.
The pictures that Andy and Emma share on social media speaks it all. Almost all of their vacays and family time is seen happening around the water bodies.
Andy Casagrande's Wiki / Bio
Andy, age 41, grew up in a small town near Pittsburgh. He holds American nationality while his full and proper name is reported to be Andy Brandy Casagrande IV.
Andy, who celebrates his birthday every year on 21 October is yet to disclose the height to which he flaunts his fitness-driven body figure.
His father, Dan Casagrande, has seen him do pretty much everything. The profession Andy chose, which even demands him to jump into a three-foot hole in the ice in the Antarctic, scares Dan. 
Even so, he is incredibly proud of him for he followed his passion and now lives his dream.