John Cardillo is a multi-talented America television show host. He has the career experience of a speaker, commentator as well as of an analyst.
Further, John also has experience in the field of criminal justice and business, which has played a significant role in setting his live talk show hosting career. 
When it comes to the most famous hosts in America, John Cardillo is a name that cannot be missed. He is the host at Newsmax TV's show, America Talks Live. 
Despite his successful law enforcement career, John opted to focus entirely on a television career. His passion for media and politics led John to fearlessly accept every challenge that would come to his path to make it to a successful television career. 
Although John has never revealed his educational qualification, he has mentioned in his bio that he has once been appointed as a member of Harvard Law School's prestigious Internet Safety Technical Task Force. 
Worth The Watch: Michael Smerconish Wiki, Bio, Wife, Children, Family, Net Worth
As of now, John works as the host for America Talks Live. He has not mentioned his exact salary for the job he does; however, without a doubt, the man amasses more than the salary of any common hosts in America. 
John Cardillo Married To Wife, Children
John has never been clearly open about his personal life to his fans and followers. Of course, he publically shares the pictures of his quality time with his wife. 
John has been in a relationship with Megan Willkom for a long time now. Although John and Megan have concealed the facts regarding the initial phase of their relationship, their Twitter posts reveal that the two have been in a relationship for a long time now.
Megan's first twitter post reflecting her relationship with John was in December 2013. In her post, Megan mentioned that she was back home to Miami with her love, John Cardillo.
Ever since then, both John and Megan have been posting numerous pictures of their times with each other. Each of the photographs not only shows their journey with each other but also portray the depth of their love for one another.
In one of her 2018 Twitter posts, Megan even referred to John as her husband. This cleared out the fact that John was already married to Megan.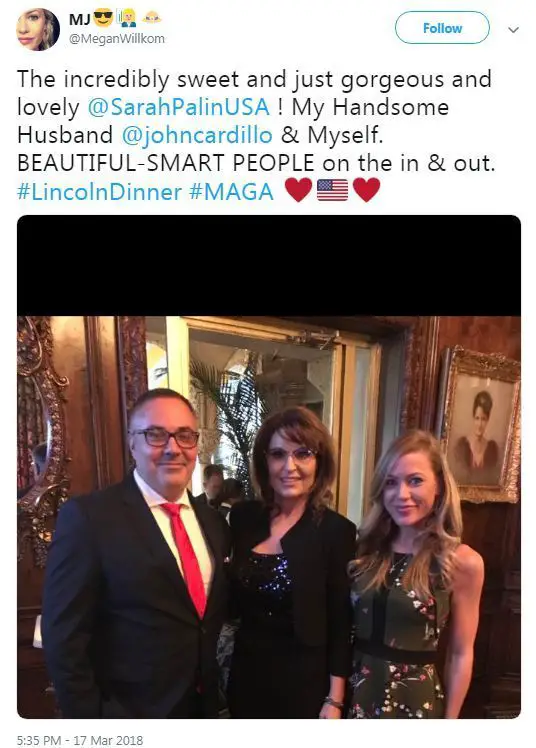 John Cardillo's wife Megan Willcom refers to him as her husband for the first time in her Twitter post on 17 March 2018 (Photo: Megan Willcom's Twitter)
However, when John got married, to his wife, whether the two together have children or not, are still facts yet to be unveiled.
See Also: Michael Savage Wife, Divorce, Children, Salary and Net Worth
Hopefully, the couple soon reveals details on the early phase of their relationship as well as their life after getting married. 
Wiki / Bio
The famous talk show host, John Cardillo has reached the age of 49, in the time being. The Florida resident stands tall at a height of 6 feet 2 meters (1.88 meters) and celebrates his birthday every 22 July.
Although John has not revealed much about his family background, he has mentioned the fact that he has a brother, whose name is Chris Cardillo.