Brett Tutor is a multi-talented man who owns a non-profit organization that builds clean water and sanitation systems for remote areas around the world. He is a highly experienced carpenter on Trading Spaces, a TLC Network show. 
He is not only a selfless man ready to help everyone he possibly can, but Brett is also a talented musician in the band, The Tutor Brothers, with his brother. 
To add up, he has even been featured on the Discovery Channel show, Treasure Quest. 
Through his passion and many uncountable talents, Brett reached an immense height of success, which helped him accumulate a hefty amount of net worth. 
Brett Tutor Bio: Parents & Birthday
Born and raised in Austin, Texas by his proud parents, Brett Tutor celebrates his birthday on 30 September every year. He grew up with his brother, Chase Tutor, and sister McKinsey Tutor.
Learn About: ABC News' James Longman Bio: Gay, Age, Parents
Talking about his family, Brett considers his mother and grandmother as the two strongest women he has ever met in his life.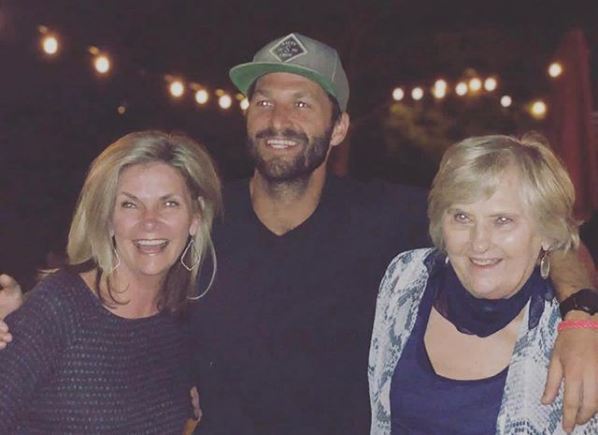 Brett Tutor with his mother and grandmother on 9 March 2019 (Photo: Brett Tutor's Instagram)
His love and passion for adventure began at an early age, as he practiced BMX alongside his brother, Chase Tutor, and brought truck-loads of dirt for Christmas to make a dirt jump track. They were BMX enthusiasts, who received truckloads of dirt even for their birthdays. 
By the age of twelve, Brett had already become a world-ranked golfer winning the UCT International Jr. golf tournament. He also played football and baseball through his senior year in high school. 
Working under his grandfather at fifteen years of age, Brett started apprenticing as a carpenter and home inspector. He then moved to Hawaii at the age of 19 to study Jiu-Jitsu and Muay Thai.
Then two years later, he went to Kenya, Africa with a humanitarian relief group that turned into a life-changing experience for him. 
Brett then enlisted in the Air Force, where he was medically discharged due to an Achilles tendon injury in the first year of training. After that, he returned to Austin and went into EMT school and carpentry school simultaneously. 
But his list of talents doesn't end there. There was also a time when he joined a Tactical Medic/SWAT course, where he trained in emergency medicine, small team tactics, weapons, land navigation, room clearing, emergency K9 care, clan labs and more. 
Brett Tutor Married To Wife Or Gay?
The multi-talented personality never fails to surprise everyone with every bit of his skills. It's like the more you get to know him, the more is discovered about him. 
Get To Know About: Craig Gottlieb Bio: From Age, Wife, Gay To Net Worth Details
This multi-talented man is full of charm and surprises, and his charm probably doesn't go unnoticed by women. He told Austin Fit Magazine in February 2019 that he was in a serious relationship but split up with his mystery partner.
That cleared out the rumors of him being gay as false.
In one of his interviews, Brett also pointed out that he does plan to get married and settle down with his wife and create a family. But for now, he is not ready to open that chapter of his life.
On the other hand, Brett's younger sister, McKinsey Tutor, has already got engaged. Brett wasted no time to let the people know about the big news on his Instagram in October 2018.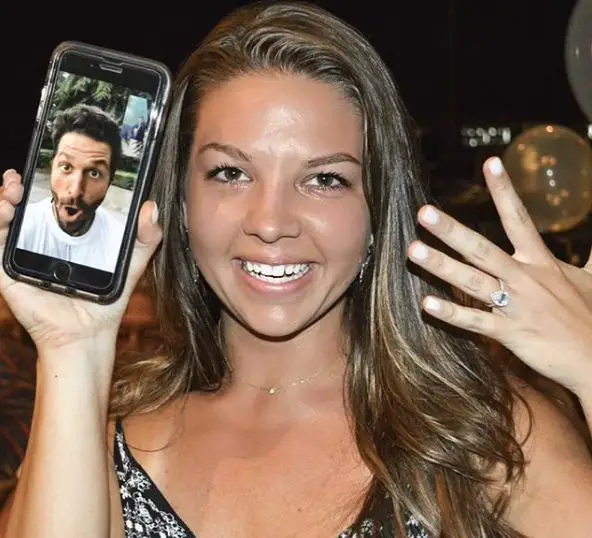 Brett Tutor shares the good news of his sister getting engaged on 4 October 2018 (Photo: Brett Tutor's Instagram)
Hopefully, someday Brett's music and every other countless talent grab the attention of someone irresistible, who takes a permanent spot in his heart and life.
Or who knows, it might be quite the opposite; he might end up with someone equally as talented or maybe even more.