Amanda Lindhout is a Canadian humanitarian, public speaker and journalist.
The young and strikingly beautiful, Amanda owns jewel-green eyes and a perfect height. She looks damn gorgeous with her brunette looks. But more than her physical appearances, Amanda enriches her personality with dedication and faith of positivity. 
Well, Amanda initiated her career as a cocktail waitress. But, she always dreamt of becoming a journalist. So, in order to make her dream come true, she started saving money from her job. 
As it is said, dreams cannot be bounded by reality for dreams are the part of imagination, Amanda became a journalist without any formal schooling in journalism. She started writing for columns in her hometown paper and did freelance work in Afghanistan and Iraq.
But only Amanda did not know, that the path she was craving for so long had a life-changing event waiting for her. 
Amanda's Abduction In Somalia!
The 37-years-old Amanda traveled to more than 70 countries and various conflict zones to perform her duty as a reporter. In her traveling, she faced various challanges and even threats to her own life.
Back, during her stay in Iraq, Amanda was abducted to Sadr Party Headquarters. However, she was released within an hour after being questioned about her political affiliation and Iraqi friend.
The incident that happened in Iraq was nothing compared to what came next. 
See Also: Maryam Nemazee Married, Husband, Family, Height, Salary
After the Iraq incident, Amanda started to work in Africa as an affiliate of Alberta's Red Deer Advocate.
On 23 August 2008, she alongside her boyfriend, Nigel Brennan, an Australian photographer, translator and their driver was on their way to conduct interviews at an internally displaced person camp in Somalia.
Unfortunately, some gunmen kidnapped Amanda and her teammates. 
After being captured, Amanda was abused physically and mentally. She was raped, starved and tortured repeatedly by teenage abductors, who demanded $2.5 million as ransom.
On 23 February 2009, the Canadian Association of Journalist even requested former Prime Minister of Canada, Stephen Harper to help to release Amanda.
Finally, on 25 November 2009, after 640 days as hostages, Amanda and her boyfriend Nigel were released when a ransom of $600,000 was paid to the kidnappers. 
Amanda Lindhou and her boyfriend Nigel Brennan smiles after their ordeal in 2009 (Photo: nypost.com)
Though, free her body was, Amanda's torturing memories gave her goosebumps every time she recalled her past. So, to work out on her devastating experience, she visited a psychologist for a long time. 
In 2013, Amanda authored a book titled A House in the Sky: A Memoir, where she recounted her early life, her traveling as a young adult, and her hostage experience. The book became the New York Times bestseller and also the option to become a major motion picture by Megan Ellison, with Rooney Mara playing the role of Amanda Lindhout.
On 12 June 2015, the mastermind of Amanda's kidnapping, Ali Amer Ader, was finally arrested. He was sentenced to fifteen years in jail imprisonment for his guilt. 
Is Amanda Lindhout Married?
Amanda was kidnapped alongside her boyfriend and even freed with him. The pair were sent to their respective places in hometown. Before departing the pair shared a smile for the photo, but ever since the duo has not had any contact. They no longer speak to each other. 
Amanda was also reported to have given birth to a son named Osama during her kidnapping. But, she has never uttered any word on the matter. 
Read Also: Jan Crawford Husband, Divorce, Family, Height, CBS, Net Worth, Bio
Apart from her kidnapping, no news of Amanda dating or being in a relationship has ever surfaced in the media. 
Moreover, no news of her getting married and having a husband has ever surfaced out. So, it seems Amanda is possibly single and yet not married.
Amanda Lindhout's Bio, Family Life
Amanda was born on 12 June 1981 in Red Deer, Alberta, Canada.
She was raised along with her two brothers, Mark and Nathaniel by their single mother, Lorinda. Her parents got separated when Amanda was just a teenager.
But despite separation, Amanda's mother, who had a minimum-wage job, paid her father disability payments as he had a chronic health issue. She even looked after her children with all her love and support.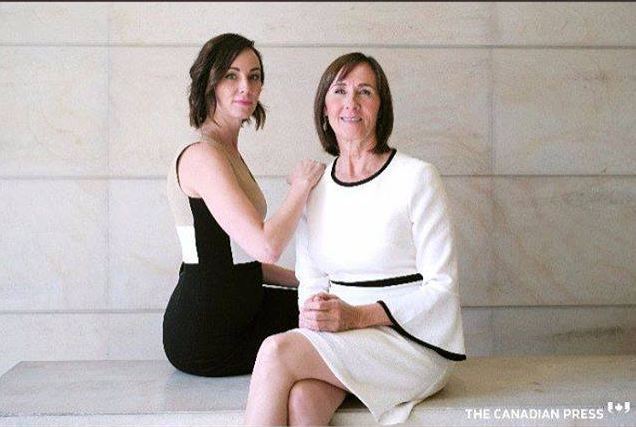 Amanda Lindhout flaunts an amicable bond with her mother Lorinda on 28 October 2017 (Photo: Amanda Lindhout's Facebook)
Tributing her mother's dedication, Amanda shares an amicable bond with her mom. She even showcases her love and affection towards her mother by sharing pictures of her through her social account.
One such instance was on  28 October 2017, when she Instagrammed a picture with her mother and promoted her mother's new memoir.
You May Like: Carole Simpson Married, Husband, Children, Family, ABC News, Salary
Speculating at her Instagram pictures, it is evident that Amanda is reviving her self from her dark past and relishing moments with her loved ones. She is undoubetedly an inspiration to the people to move on with their life despite the hurting past.
Horrific Facts Regarding Amanda's Abduction
1. Decided Not To Kill Herself Amid Torture
After the torture became so horrible, Amanda decided to end her life. She planned to commit suicide using a razor, which had been given to her to remove all of her body hair.
But her eyes got caught by a little movement of a bird, which gave her the determination to survive. She took it as her sign of freedom and quitted the desire to end her life.
2. Attempt to Escape
Amanda and her ex-boyfriend Nigel attempted to escape by jumping from a window and running to a mosque. But the kidnappers noticed their escape and recaptured them.
A woman tried to help them by begging the kidnappers to let the pair go, but Amanda and Nigel were dragged out of the mosque and taken back to the rooms. After that, they heard a sound of a gunshot as they killed the woman, who was trying to save them.
3. Adam Wanted to Marry Her
At one point, Adam, the mastermind behind the kidnapping, wanted to marry Amanda as he thought Amanda as a piece of property that he owned.