Alexus Whilby Chrisley is the co-owner and director of Home Design & Business Development. She gained the limelight after she married former reality star Kyle Chrisley, son of successful businessman Todd Chrisley.
Alexus Whilby's Bio & Net Worth
Alexus Whilby was born in 1991. Both her parents are African-American, so she belongs to African-American ethnicity.
Sadly, her father died on 26 August 2017. Other than that, there is not much information disclosed about Alexus' early life and childhood.
At the age of 27, she stands at an average height, embracing an hourglass figure. With a gorgeous face, her smile is more highlighted by her dimples on her cheek.
Alexus is the director and co-owner of the company, Whilby's Company, LLC, located in Georgia, and additionally, she is mostly known as the wife of Kyle. She and Kyle even formed a musical duo under the name Lexi & Kyle Chrisley and released their first song titled Shame On You.
Also Read: Openly Gay Ross Mathews Boyfriend & Weight loss Talks
However, Alexus has not revealed her salary and net worth. Looking at her success, she might have earned a net worth in a million.
Husband Kyle Chrisley's Bio / Past
Alexus' husband Kyle carries a dark past. It was on 29 August 1991 that he was born to parents Todd Chrisley and Teresa Terry in South Carolina. He starred in the reality series, Chrisley Knows Best alongside his family. Before getting married, Kyle was derailed with drug issues that created a massive feud between him and his family.
Before Alexus, he was in a relationship with Angela Victoria Johnson with whom he shared a daughter, named Chloe. Due to his addiction, he attacked his ex-girlfriend and also threatened his sister with a knife.
Moreover, due to his drug addiction and domestic violence towards his ex-girlfriend, he lost the custody of his daughter. The guardianship was given to her mother Angela and grandfather Todd. 
However, Angela was arrested in 2016 when she allegedly claimed her daughter Chloe as a dependent on defrauding Medicaid and food stamps because of which Todd got the full custody of his granddaughter.
It might seem unlikely for Kyle to find love again after all the history behind him. But, fate was forgiving to him as he held the hand of another woman.
Alexus Married Life & Husband
Alexus is happily married to her husband, Kyle Chrisley. She stepped into his life, completely changing him as a person and encouraging him to start over. Alexus walked down the aisle with her husband and exchanged the wedding vows around 2014.
After the marriage, Alexus and her husband bought a 3K square foot home in Georgia and became the official homeowners.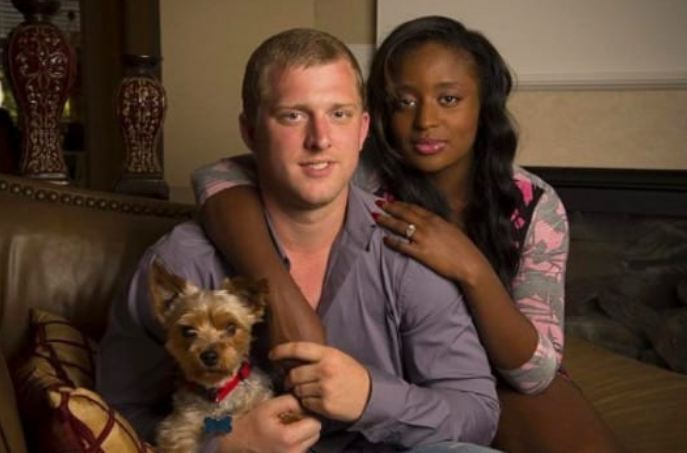 Alexus Whilby and her husband Kyle Chrisley and their dog, Milo (Photo: worldation.com)
Alexus and her husband settled in their new house, and her husband mentioned that he would create beautiful memories for his wife Alexus and start a family with her son.
Her Married Life Hangs By The String Today
Kyle and Alexus' happily-ever-after might have come to its unpredicted conclusion.
In January 2019, Kyle sent his wife, Alexus some ill-intentioned text, which were later deciphered by police and his wife to be death-threats. Alexus reported those messages to the police and eventually a warrant for his immediate arrest was issued.
His bipolar disorder and history of struggling with drug addiction seem to be repeating all over again.
Few months after mistreating his life partner, Kyle got arrested for alleged drug trafficking in Oklahoma on May 2019. For now, the sentence he will have to serve if he is found guilty is not known.
However, it is not the first time Kylie got arrested, or he misbehaved with someone. He has been kept in rehab for his past behaviors as well.
Before all this came to the media's attention, Alexus and Kylie were expecting their first child. But more to the matter may remain a mystery unless one of them chose to speak about it.
People You May Know: Krystal Klei Biography: Married Status, Age, height, Salary
The controversies in and around Kyle's life doesn't seem to come to an easy end. In early August 2019, Kyle's parents were indicted of tax evasion and fraud charges. After their surrender in front of the authorities, Alexus's husband's father Todd and his wife were kept in custody for a certain time.
Also, in late August 2019, Kyle made a suicide attempt that crushed the whole Chrisley family out. It appears like, Alexus' husband was not pleased with the situations around him. However, later after his suicide attempt, the whole family reunited in the hospital, to encourage Kyle. In the snaps from the hospital, Kyle appeared really happy and ready to give his life a new start.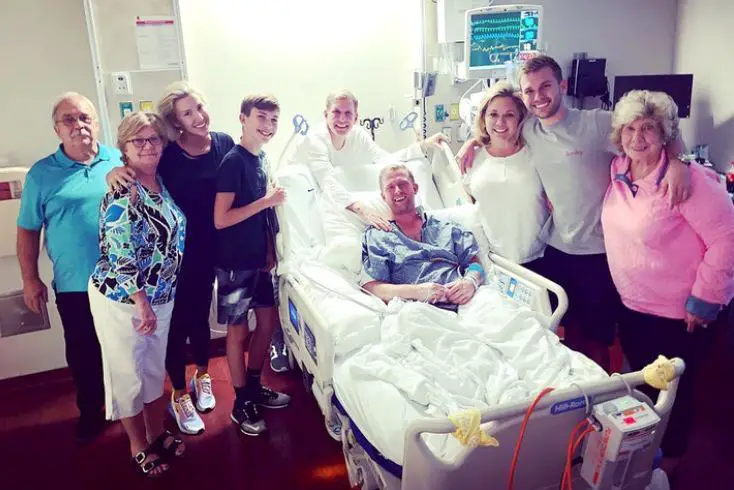 Alexus Whilby's husband Kyle Chrisley's family reunite in the hospital after Kyle's suicide attempt (Photo: bravotv)
Hopefully, Kyle succeeds in giving a great derivation to the new living he has got. No doubt, he motivates himself in the first stage and brightens his life with the strengths he has amassed himself from his dark past.