Ross Mathews is a renowned American Television personality and comedian who is best known for his internship at The Tonight Show with Jay Leno and appearance at Celebrity Big Brother. He is also known for being a representative and an activist of the LGBT community.
Here are a few insights into the personal life of Ross along with his relationship with the loving boyfriend!
Ross Mathews Gay, Boyfriend
Ross knew that he was gay since his childhood. He didn't even have a conflict of sexuality regarding if he's attracted to boys or not.
At the age of 16, Ross came out to his mother. He told her of his gay identity and was surprised when she claimed to have known in earlier. His family supported him for who Ross was, but he had to face extreme insults and discrimination at school from his peers. He always thought that he would end up loving someone over his sexuality but the true ones stuck to his side.
After searching for his love, he met his former boyfriend, E!'s stylist Salvador Camarena. The spark between them couldn't be denied, so they started dating. They had begun living together around 2013. Ross and Salvador even adopted three shelter dogs together. This happy couple was indeed in love until one-day people woke up to the news of their breakup. The once madly in love couple had decided to part ways in November of 2018. The pair posted a picture of them together on Instagram and captioned it how the split was amicable and filled with kindness, compassion and a genuine love for one another. Ross also wrote how both of them felt as if they have a partner in their corner - a family member for life. They finally thanked the fans for their wishes and love.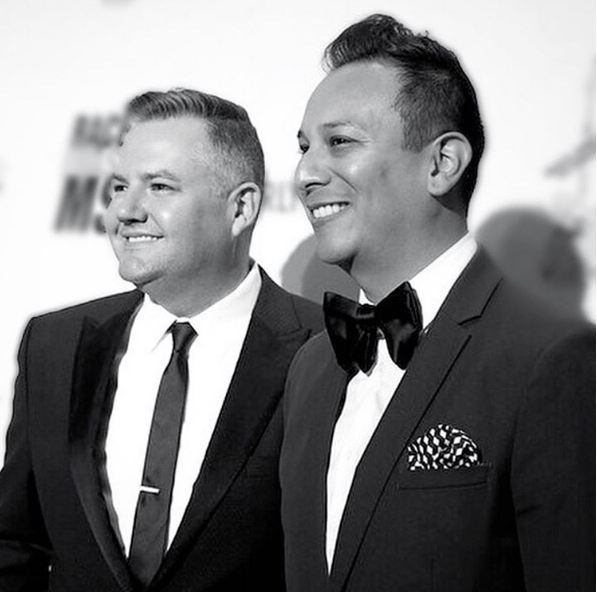 Ross Matthews post a picture of him and his boyfriend Salvador Camerana with a breakup cation on 26 November 2018 (Photo: Ross Mathews Instagram)
Don't Miss: Tom Allen Birthday, Gay, Partner, Dating, Family, Net Worth, Height
After some months of the split, Ross was linked to Ryan Fogarty, who formerly worked as singer LeAnn Rimes' tour production assistant. Even though Ross and Ryan haven't confirmed about their relationship officially, sources say that they have been living together at Ross's home at Palm Springs for a while.
Ross Mathews Age, Parents
Born on 24 September 1979, Ross was raised in Mount Vernon, Washington by his parents alongside his brother. Now aged 39, Ross graduated from The University of La Verne in La Verne, where he majored in communications. He stands tall at the height of 5 feet 10 inches.
As per his bio, Ross started his career in the entertainment industry with The Tonight Show with Jay Leno. Along with covering broadcasts like Winter Olympics to Academy Awards, he has also made appearances in shows like Days of our Lives, Love or Hate. From 2015 till now, Ross is a regular judge of RuPaul's Drag Race.
Worth the read: Shazia Mirza Married, Husband, Partner, Wiki, Parents, Tours
Ross was bullied as a child for being overweight which caused him to be insecure. He decided to go for a weight loss journey and joined VH1's Celebrity Fit Club where he lost over 40 lbs of weight, which gave him a healthy body and a great sense of achievement. Apart from his time on Television, Ross is also a writer and a Best Selling Author for his book Man Up!: Tales of My Delusional Self-Confidence.
His successful career has garnered him a net worth of $2 million.