Even if someone is not directly a part of the media industry, they can still grab fame if they share a relationship with a famous star in the industry.
Alexander Dobrev is non-other than the sibling of one of the most popular actresses of all time, Nina Dobrev. Nina Dobrev is known for her appearances in dozen movies like The Roommate, The Final Girls and TV shows like Vampire Dairies.
Alexander Dobrev's Wiki (Age) - Mother, Father
Alexander Dobrev is a very private person and does not like to reveal most of the information about himself. However, because his younger sister is one of the most recognized faces in the industry, he is bound to tell some of his personal information.
Alexander was born in 1984, which makes him five years older than his famous sister Nina. His embraces the ethnicity of a Bulgarian, like that of his sister, and he has not revealed any information about his birthday.
His father is Konstantin Dobrev, who is a computer specialist, and his mother is Michaela Dobrev.
Read Also: Meet Zach Roerig Daughter, Who Is His Wife? Age, Dating
Alexander was born in Sofia, Bulgaria; he lived there with his family till he was seven years of age, but later he along with his family moved to Canada, Toronto. 
Alexander Dobrev and his sister, Nina Dobrev, wish their mother on Mother's day on through Nina twitter 12 May 2013 (Photo: Nina Dobrev's Twitter)
Alexander Dobrev did not hang out and spend a lot of time with his sister Nina when he was young because of the age gap. When Nina was a teenager, all of Alexander's friends wanted to date her, so Alexander did not want to mingle his sister in his boy's group.
Now, however, both Alexander and Nina are very close and celebrate all the important family functions together. 
Alexander is a very private person, so he has not disclosed any information regarding his dating life with a possible girlfriend. 
Alexander Dobrev's Famous Sister Nina Dobrev
Alexander Dobrev is the older sibling of famous actress Nina Dobrev, who is known for her portrayal of two characters, Elena Gilbert and Katherine Pierce on The Vampire Diaries. The Bulgarian-Canadian actress is one of the most beautiful faces and one of the most appreciated actresses in the industry.
After graduating from high school, Nina went to Ryerson University and soon started her acting career with the show Degrassi: The Next Generation. It didn't take long for Nina to reach the height of success after that!
You May Also Know: Navia Robinson Wiki, Age, Father, Mother, Height, Ethnicity
Alexander and his famous sister share an inexplicable bond, and even though Alexander is not active on social media, his sister regularly tweets and talks about him. Alexander's photo has not yet been revealed with his sister because of his regard for privacy, but it does not affect the fact that his sister inexplicably loves him!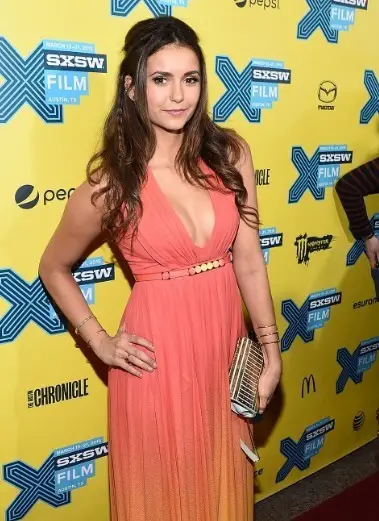 Alexander Dobrev's sister, Nina Dobrev poses for a photograph (Photo: gettyimages)
Alexander also shares a good bond with his sister's new love interest, Grant Mellon, a screenwriter, and director whom she has been dating for a while now.
Alexander and Nina share a very close bond and on "Siblings Day," Nina posted their childhood picture on her Instagram account wishing Alexander National Siblings Day. 
Recently, Alexander's sister suffered a small injury and on her Instagram account, she shared a picture of her ion crutches. However, she has not mentioned how she hurt her leg, but on her picture she received many get well soon wishes. 
Nina has not publicized most of the information about her relationship with Grant, but she revealed that her friends and family are already approving of the relationship.