Your stardom undoubtedly leads you to the greats of achievement; however, the real success you perceive is when you stand as a motivator to someone in their journey of success.
Adam Glick rose to fame from the Bravo TV reality series, Below Deck Mediterranean. He served there as a Yacht Chef and made a place in the hearts of people within no time. The depth of Adam's personality encouraged many people, and the man turned out to be a celebrity for a purpose.
His reality appearance is the base for Adam's fame, but the way he uses it for a purpose is a remarkable attribute that Adam perceives.
While he carries a genuine purpose, Adam is also immensely kind in his heart.
During his travel to Texas for work in 2018, Adam found out an abandoned dog and adopted him without a second thought. Adam named the dog "Tex" and developed a deep attachment with him. Adam's work and travels, however, often keeps him far away from his dog.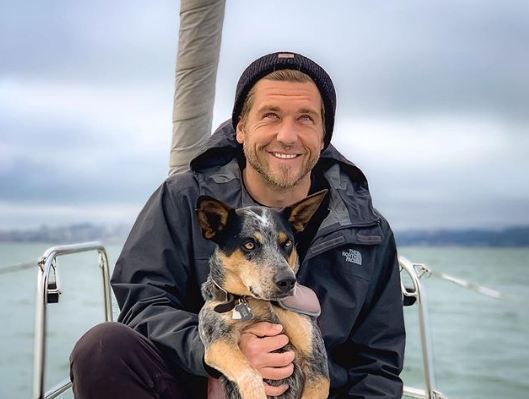 Adam Glick poses with his dog Tex during a shoot in May 2019 (Photo: Adam Glick's Instagram)
Early in 2019, Adam left for work and had to stay away from Tex for a long time and on July 2019, through his Instagram account, Adam shared his happiness to be meeting Tex and reuniting with him after a month.
See Also: Jeremy Ford Wiki, Age, Married, Wife, Daughter, Top Chef, Restaurant
Hopefully, the bond between Adam and Tex last for the lifetime and keeps motivating others.
Adam Glick Married To Wife / Girlfriend?
Adam Glick's relationship has been a controversial topic in the media. During his TV show, Adam opened up about his relationship with his fellow mate, Malia White.
Adam revealed that he and Malia were in a physical relationship before they entered the show, Below Deck Mediterranean.
Before the season began, Adam and Malia met during the Yacht Certification course in Florida. They hung out once after the session and even made it to a kiss.
However, justifying Adam's claims, Malia revealed that she was never a girlfriend of Adam, and also not had a physical relationship except a kiss.
When Adam made the revelation of his meeting with Malia before the show, Malia was already over the man and tried not to take things further with Adam. She had already started seeing others and was getting quite flirty with the ship bosun, Wes Walton.
As apparent in the show, Malia and Wes were in the initial phase of their relationship. However, in the meantime, Adam revealed his relationship with Malia before the show.
Later, during the show, Malia told that Adam was trying to make Wes feel bad with his statement.
Nevertheless, both Adam and Malia seemed on the same page later on, as, during his return in the second season of the show, Adam mentioned that he and Malia were in-touch and were very good friends. Further, although Malia didn't opt for the second season appearance, she wished the best to Adam for the show.
Thus, from all the season controversies, Adam doesn't seem to be in a relationship with anyone as of now.
You May Also Like: Jamie Geller Bio: From Cooking To Married, Husband, Age Details
However, his fans always wish him to get married to the best lady. No doubt, with his grounded nature, Adam chooses the best wife, who respects him in regards to his fame as well as his personality as a whole. 
His Bio: Age, Birthday
Born in 1985, the famous television personality, Adam Glick, is 34 years of age in the time being. The Hobbs, New Mexico native, celebrates his birthday on 24 January every year.
Adam has been quite open to his fans regarding his personal life. He keeps updating all his followers about his day to day life.
However, when it comes to his early life with his family, Adam has been quite lowkey. He has not unveiled any details on his life before fame.
But, undoubtedly, Adam's life after recognition has been an open book to the public. He tries sharing each moment of his life with his audience, who are the key to making it more special for him.
In his path of success, Adam has had a long journey of rising and fall. Thus, the level of his upliftment measures through the height of his career, and not at all his physical height.
Therefore, although the man is earnest in presenting his day to day life to his audience, he has never given importance to revealing his physical attributes.