The American-Filipino model turned television personality, Vanessa Minnillo first tasted the limelight after she won 1996's Miss South Carolina beauty pageant and 1998's Miss Teen USA pageant. Following that, she began her career in the acting field as well, playing in numerous TV series and TV movies.
In 2001, she starred as Amanda Wexler in the TV series The Bold and the Beautiful, followed by other shows such as 2003's The Break (TV Movie), 2007's Fantastic 4: Rise of the Silver Surfer (Movie), 2011's Hawaii Five-0 (TV Series), 2016's Sebastian Says (TV Movie), and 2019's American Housewife (TV Series).
Likewise, she has also hosted many shows such as 2003's MTV'S Total Requisite Live (TRL), 2004's Miss Teen USA, 2017-18's Top Chef Jr (TV Series). Further, in 2019, she got the chance to co-host the prestigious Miss Universe 2019.
Vanessa's Bio (Age) & Parents
Vanessa Minnillo was born in Clark Air Force Base, the Philippines, on 9th November 1980 as Vanessa Joy Minnillo. She was raised by mother, Helen Ramos Bercero, and father, Vincent Charles Minnillo, who is a former crew member on an Air Force aircraft. She also has a two years older brother named Vincent.
During her childhood, her parents moved to several places such as California, Nevada, Florida, Germany, and Japan due to which she was enrolled in various schools.
More American Talents: Demetria McKinney Details On Husband & Children, Net Worth
In 1986, her parents got divorced, and her mother was given the responsibility of both children—she met her father on weekends only.
Later, her mother remarried, and they moved to Turkey, but due to the Gulf War of 1991. This led her mother to return to the US and handle her two children to their father, Vincent Charles Minnillo.
Following that, Vanessa never saw her mother and started her life's journey with her father, brother, and her father's new wife, Donna.
Vanessa Minnillo's Married Life, Kids
Vanessa Minnillo is married to Nick Lachey, a fellow TV and film actor plus a pop singer. They started to date each other in 2006 after they first met during Nick's music video entitled What's Left of Me.
However, their relationship was on-off for several years. In June 2009, the duo got separated, but, in October 2009, they again patched up. Following that event, they always stayed together and eventually got engaged in November 2010.
After nearly half a year of being engaged, the two heartthrobs decided to legalize their bond. And, on 15th July 2011, they shared the wedding vows at Sir Richard Branson's private Necker Island in the British Virgin Islands.
Adding surplus happiness to their marital life, the couple has been blessed with three children—first a son named Camden John Lachey (b. 12th September 2012), secondly a daughter named Brooklyn Elisabeth Lachey (b. 5th January 2015), then a son Phoenix Robert Lachey (b. 24th December 2016).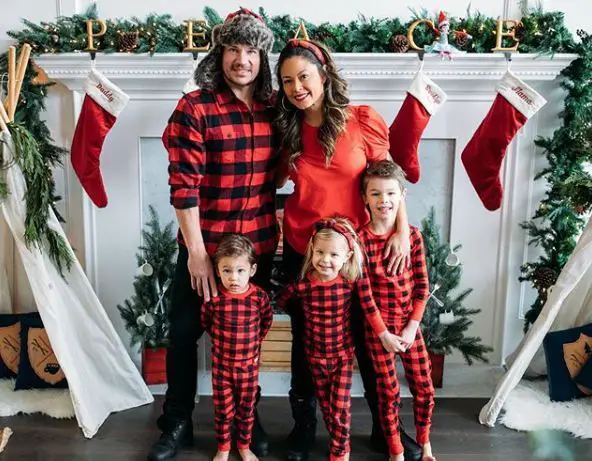 Vanessa Minnillo with her husband, Nick Lachey, and their three children on 22 December 2019 (Photo: Vanessa Minnillo's Instagram)
Their third child, Phoenix, had to spend six weeks in NICU as he was born ten weeks prematurely.
Before marrying Nick, Vanessa was in a relationship with some other personalities such as Derek Jeter (2003-06), Orlando Bloom (2005), and Topher Grace (2009).
Her Husband's Details
Vanessa's husband, Nick Lachey, was born on 9 November 1973 in Harlan, Kentucky. His birth sign is Scorpio.
He gained the spotlight through his songs and numerous appearances in the TV shows such as American Dreams (2004), Hawaii Five-0 (2011), and Harvey Girls Forever! (2018-20).
Also A Cast Of Hawaii Five-0: Is Daniel Henney Married? His Wife, Dating Life, Parents
Before tying the knots with Vanessa, Nick was married to Jessica Simpson on 26 October 2002. However, they got divorced on 30 June 2006.
Her Net Worth
According to Celebritynetworth.com, the 1998's Miss Teen USA pageant winner, Vanessa Minnillo has managed to make a hefty net worth of $10 million.
Some Quick Facts Related To Vanessa Minnillo
She goes by the nickname of Nessa. Also, her zodiac sign is Scorpio.

She stands at a height of 5 feet 7 inches (1.7 meters).

Her biological father has a descent of half Italian, one-quarter Russian-Jewish, and one-quarter Irish, whereas her biological mother has a Filipina descent.

She regards her stepmom, Donna, as her best friend.

She has participated in cheerleading and also has done volunteer work for various local charities.