Paula Newsome, an American actress, is best known for her role in the television drama series, Women's Murder Club as a medical examiner for the San Fransisco Police Department. Paula rose to height from the same series, and her excellent portrayal was loved and adored by the audience within very less time. 
Women's Murder Club aired on ABC television from October 2007 to May 2008, which was less than a year. Even after all these fantastic years in the TV and film industry, her role in Women's Murder Club is still considered as the best role Paula has ever played. 
Even before the series, Paula had played her roles in the 2005 movie Guess Who, 2006 movie Little Miss Sunshine, as well as the 2007 movies Reign Over Me and Things We Lost in the Fire. 
As of her post Women's Murder Club days, Paula has portrayed her roles in the TV shows like Thinspiration, Castle, Barry, Boomerang and many more, which has been immensely appreciated by the viewers. 
From all the roles she has played, Paula must have garnered a satisfying amount of property and net worth. 
Paula Newsome Married, Husband?
Paula has always been low-key when it comes to her relationships. There have never been any reports of Paula dating anyone. She has been successful in concealing about her hook-ups, even with the people from the industry. 
Check Out: Daniella Perkins Wiki, Boyfriend, Sister, Family, Age
The only link-ups of Paula known to the public are her on-screen relationships with the other characters. 
In her most famous show, Women's Murder Club, Paula plays the role of a medical examiner Clair Washburn who is married to Edmund, played by Jonathan Adams.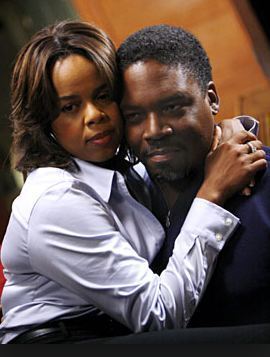 Paula Newsome with her on-screen husband Jonathan Adams who plays the role of Edmund in Women's Murder Club (Photo: famousfix.com)
Clair's husband Edmund is a professional kettle drum player is San Francisco Symphony Orchestra. She also has two sons and a daughter with him.
Also, in the TV series Grey's Anatomy Universe, Paula has portrayed the role of the wife of a professor who was shot in the Pacific College Shooting.
In the series, Paula's husband John Sturgeon, who is severely injured is afraid of hospitals. Paula is worried about her husband's fear as well as his surgery.
So, Dr. Grey assigns another woman to stay with Mrs. Strugeon played by Paula and gives her frequent updates of her husband's condition. Later, Dr. Grey and his team become successful in saving the life of Paula's on-screen husband. 
Short Bio: Age, Family 
Paula Newsome celebrates her birthday on 7 October every year. She started on the television at a very young age as an actor. The California resident has not opened up much about her family and past life.
See Also: Sydney Park Married, Parents, Boyfriend
However, in April 2019, she posted a tweet that mentioned her grandmother, mother and father's life and experiences in Chicago. 
Besides, Paula also grew up in Chicago and attended Webster University to receive her bachelor's degree in Conservatory of Theatre Arts.