With passion in show business, Israeli-born Moran Atias flew to Germany at the age of 17 to kick-start her modeling career.
When she achieved a recognizable feat in modeling, she was encouraged to give her career a new direction; acting. American multi-talented personality Carl Marino is another person, who destined his journey from being model to an actor. 
Since choosing a new dimension, Moran Atias has made herself famed with her role as Monika in the 2013 movie Third Person. Besides, she is known for her TV stint as Leila Al-Fayeed in the FX's political drama series, Tyrant.
In the wake of the 2010 Haiti earthquake, Moran accomplished the humanitarian mission called Artists for Justice and Peace, alongside famed American actor Sean Penn. 
Moran Atias's Wiki-Bio
Israeli model turned actress Moran Atias was born on 9 April 1981, in Haifa, Israel. Raised by the Israeli-born parents, Moran possesses Moroccan-Jewish ethnicity.
Moran, who stands at the tall height of 5 feet and 9 inches (1.75 m), shared her childhood alongside her little sister, Shani Atias, who is also an actress by profession.
See Also: Cree Cicchino Wiki, Age, Boyfriend, Twin Sister, Dancing, Height
As of her family background, her Moroccan-Jews parents moved to Israel in the 1950s. Besides, her grandfather was a rabbi.
Moran often flaunts the love for her sweet family via her social media accounts. One such instance was on 26 June 2018 when she Instagrammed a sizzling picture of her mother, Yael Atias.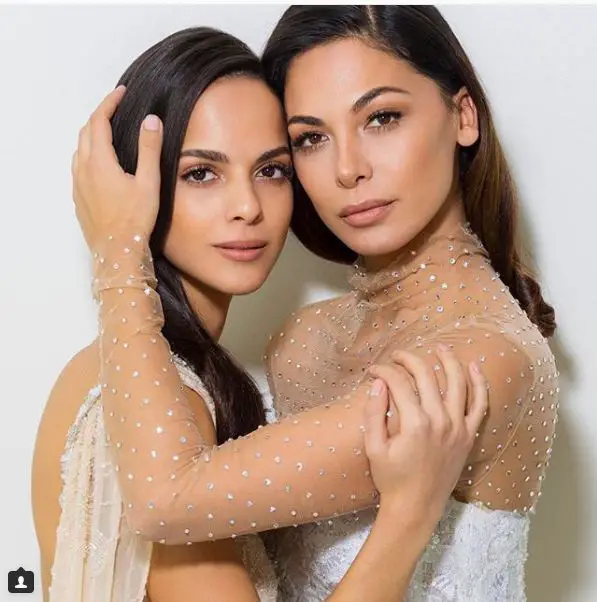 Moran Atias flaunts sisterhood with younger sister Shani Atias on 14 August 2018 (Photo: Moran Atias's Instagram)
Moran was also spotted congratulating her little sister on presenting her movie Color Red at the NBC Film Festival via an alluring Instagram post on 14 August 2018.
Besides, Moran shared her parents' wedding picture via an Instagram post on 2018's Valentine's Day, and via the caption stated that her parents have taught her to love
Moran Atias' Dating Failed With Footballer, Adrian Mutu!
Given her beauty and charm, it is quite a delusion even to think that Moran Atias is still distant away from enjoying the romantic bliss. However, as she tried to hold on to it, she failed miserably.
Her dating history goes back to 2003 when she started dating Romanian professional footballer, then Chelsea-ace, Adrian Mutu. It was right after Adrian ended his married bliss with his wife, Alexandra Dinu.
The new lovebirds were going strong with their relationship until it strangled a bit in between. Adrian threatened to end their romance after a magazine pictured Moran kissing another man.
Don't Miss: Vanessa Minnillo Married, Husband, Father, Mother, Net Worth, Kids
Moran, speaking on the matter, urged that the guy was just her friend and it was camera's fault to make it look more than just a friendly kiss.
To make things right with her partner, Moran sent him her sizzling pictures to make him know that she cared to rebuild her shaken relationship. Finally, the couple got together in a short period as they negated their issues and planned to fresh-start their relationship.
However, all the plans went in vain as Adrian is now enjoying a wedding bliss with his partner, Consuelo Matos Gomez, whom he married in 2005. No further details of Moran and Adrian's breakup have ever surfaced on social media.
Moran's Mysterious Relationships!
Formerly linked with footballer Adrian Mutu, Moran Atias has been quite a mystery to deal with relationship wise. She was rumored to be dating wealthy Formula, One boss, Flavio Briatore back in 2004, which she later entirely denied.
Besides, back on 20 August 2016, Morana Instagrammed a picture alongside French fashion designer Oliver Rousteing, captioning him as 'Summer Love.' As mysterious as it was, no presumptions could be made claiming him as her new beau.  
You May Like: How Old Is Ray Diaz? Girlfriend Rumors With Lele Pons, Relationship Status
Apart from mysterious mentions in social media, Atias keeps flaunting her on-screen romance as she did on 25 February 2015 when she Instagrammed a moment with her on-screen husband from series, Tyrant.
When it comes to her recent real-life relationship, Moran Atias is yet to spill any beans.