American actress and YouTube personality Michelle Hendley is best known for portraying the role of Ricky in the 2014 film, Boy Meets Girl. 
Besides acting, she has also documented her transition on her YouTube channel. 
Soon after her YouTube video surfaced the internet, filmmaker Eric Shaeffer contacted her. He took the initiative to bring transgender actress to play the lead role. 
Michelle Hendley's Wiki-Like-Bio
Michelle Hendley was born on 23rd March 1991 to parents in Columbia, Missouri, United States.
More to her family, she has a sister who is now a married woman. Talking more about her childhood, Michelle has quite supportive parents.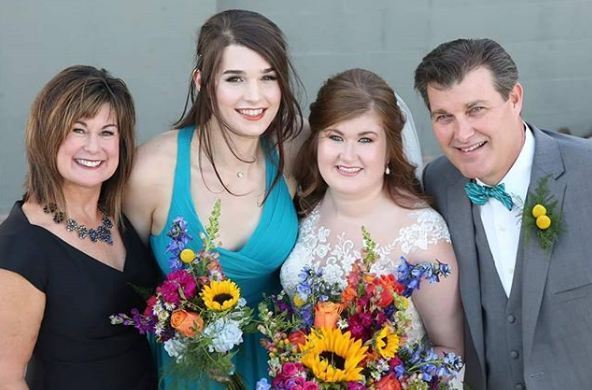 Michelle Hendley with her family during her sister's wedding on 18 October 2017 (Photo: Michelle Hendley's Instagram)
During her childhood, she was not sure about her real gender identity. Michelle, who was brought up in a small town in the U.S. state, had never met a trans person.
Look For: Dr. Christine McGinn Wiki, Transgender, Age, Family
Before, she was even unfamiliar with the word that described why she was playing pretend and imagining herself as a girl. 
Later, at the right time, Michelle went through the whole process of transition, and both of her parents supported her the entire way.
Her Journey As Transgender
Michelle
clearly knew that she was not like every other normal boy, and her interest was in dolls, dresses, and Disney princesses.
Due to her behavior, she used to be teased and ridiculed for acting like a girl. 
After coming to terms with her true self, she came out as a gay male to her parents when her mother asked her; 'Are you sure you are just a girl?'
Throughout Michelle's adolescence, she was identified as a gay male. 
But soon, she learned about the word, 'transgender,' and the existence of other people like her in her high school. Michelle started styling her hair with bangs and dressed in tight jeans and t-shirts. 
She even experimented with life as a girl and snuck off to frat parties, making out with boys. 
Michelle, who stands at the height of 5 feet 10 inches (1.78 meters), quit college and focused on building a portfolio for the art school of her dreams. She also started vlogging when she reached the age of eighteen. 
Michelle turned to the internet to connect with people and shared her experience. In her blogs, she talked about starting hormone, therapy, and dealing with peer pressure. 
However, dealing with her newly-found identity was not as easy as it looked. During the phase, she faced rejection, heartbreak, and dating were difficult.
Soon, she began to research and wanted her transition process to include hormone-replacement therapy (HRT). 
Michelle's first step was to see a gender-specialized therapist who is a required step before going to undergo HRT or gender-confirmation surgery. 
Two months later, her therapist recommended her to an endocrinologist for prescribed medication to block the production of testosterone. Soon after all the procedure, she felt changes. 
Dating?
While talking about Michelle's love life, nothing much in particular is known.
But in 2017, during an interview with popsugar.com, Michelle mentioned having a boyfriend; other than that, there is no further information on the topic. 
Then, on 8th March 2019, she posted a picture with a girl named Sagan, and in the caption, she wrote, "I miss my girlfriend."
Michelle might have addressed her girlfriend to refer to the friendship between them. 
Nevertheless, nothing of significance is known about her love life away from her journey as transgender.