The world is filled with people who are unique and different from each other. The diversity in human society is often characterized in various talents, looks, sexuality, belief systems, and myriad other things. 
Likewise, Leisha Hailey has been quite inspirational as it involves the challenges she has faced along the way.
As a lesbian icon, she has been the active face in representing the LGBTQ+ community.
Coming Out As Lesbian
Leisha Hailey has been out of the closet for a very long time. She first came out when she was just seventeen years old in 1988 in an issue of The Advocate. 
Before coming out as a lesbian, Leisha dated a guy in her high school, but soon she started tapping into her true sexuality.
Don't Miss: Who Is Jane Harber Husband? Facts On Married, Lesbian, Baby
Basically, she fell in love with her best friend, but she was not sure what it all meant. 
Later, when she understood her choice and likes, she felt like after coming out of the closet, she received a reward in her life. 
Leisha Hailey's Girlfriend
After coming out as a lesbian, Leisha Hailey began dating singer-songwriter K.D. Lang in around 1996. They relished their relationship for five years before calling it quits in 2001. 
After staying single for some years, Leisha initiated a loving relationship with businesswoman Nina Garduno who is known for her clothing line called Free City. Together with her partner, she also bought an old auto repair shop 
Leisha and Nina stayed in a long relationship for six years, supporting each other in every step. Sadly, in 2010, the couple decided to part their ways and moved to a different direction. 
Leisha seems to be lucky when it comes to love because after a year of her break up, she found love in Los Angeles based musician and her bandmate, Camila Grey. 
However, the duo was able to keep their relationship very private and hidden from the public eye.
Nevertheless, while they were dating, they generated a few controversies which caught the public eye.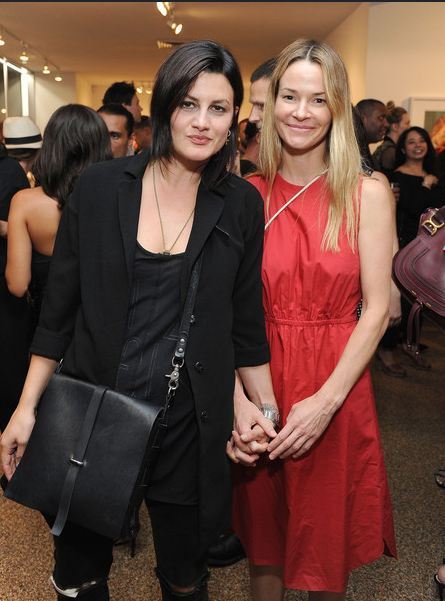 Leisha Hailey with her girlfriend, Camila Grey on 9 September 2015 (Photo: zimbio.com)
In 2011, Leisha and her girlfriend were kicked out of the airplane by an employee of Southwest Airlines after the two shared a kiss.
Look For Info: Kodie Shane Girlfriend Details, Details On Lesbian & Family
The homophobic move later received heavy criticism, where Leisha and her partner revealed that it was just a modest kiss. 
Despite the fact that Leisha and Camila went through rough times together, the duo split ways in 2016. 
Movies & TV Shows
Leisha first made her acting debut in 1996 after she starred in the TV series, Boy Meets World, as Corinna Collins.
Just after a year, she also made a debut in the movie, All Over Me, as Lucy.
Since she made her move in the acting field, she has never taken a leave from the showbiz field. 
Even in an interview, Leisha does not hesitate to gush about her experience and knowledge she learned from the field.
As it stands today, Leisha has received a thrilling experience from movies and TV shows.