Best known for her rapping skills and singing talent, Kodie Shane, is the only female representative of Lil Yachty's 'Sailing Team,'
After being introduced to Lil Yachty by Coach K in early 2016, a quick friendship developed between them. With a little help from Lil Yachty, she released her debut mixtape, 2060, and her first solo EP, Little Rocket.
After the release of her songs, she used her talent to expand her audience. Kodie's second collaboration with the Lil Yachty, Zero Gravity EP nearly garnered more than two million streams and eventually led to a deal with Epic Records.
In 2018, she arrived with a Young HeartThrob album featuring TK Kravitz, and included the track 'Flex on Me.' 
Her's other famous projects are 'Hold up,' 'Start a Riot,' and 'Drip on My Walk.'  She has also appeared on the Sailing Team's 'All In.' 
Kodie Shane's Relationship 
The American rapper and singer is in an open relationship with her girlfriend, Skye Morales.
Know About: Jasper Dolphin Net Worth, Parents, Dating, Girlfriend
It was after Kodie met Skye in her studio for one of her projects, their relationship began: reportedly since 2017.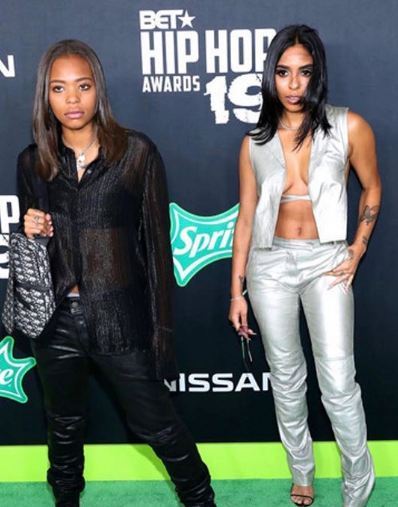 Kodie Shane with her girlfriend, Skye Morales on 8 October 2019 (Photo: Kodie Shane's Instagram)
Afterward, they were seen together in different places and shows; on the 22nd of August 2017, the pop star duo was detected on the backstage of a play.
Moreover, on 8th October 2019, the Bonnie&Bonnie pair also attended the Bet HipHop Awards 2019.
Girlfriend Details
Kodie's girlfriend, Skye Morales, was born on 10 Sept 1998 in The Bronx. The New York native is a rising R&B artist who came into the limelight after releasing her single video 'New One.'
Operating with renowned composers and producers, Skye has made an impressive mark on the music industry. With her talent, she has been able to gain love and support from her fans.
Coming Out As Lesbian/Gay
Kodie Shane is living openly as a lesbian person.
She knew about her sexuality from her very childhood; however, she wasn't positive about how to tell her mother.
Nonetheless, after her 16th birthday party, accumulating confidence, she told her mother about her sexuality.
Don't Miss: Audra Mari Bio, Age, Dating Status, Parents Info
Interestingly, her mother reacted very positively and supported her.
Moreover, her mindset was pushed even more to reveal her sexuality and live as an openly lesbian person in public eyes.
Bio Plus Family
Kodie Shane stands at the height of 5 feet 3 inches (160 cms). Born as Kodie Williams to father, Danny C Williams, and mother, Hope, on 28 October 1998, she is the youngest child of her parents.
She has two elder siblings, brother, Lil Wop 17, and sister named Brandi Williams.
Growing up with numerous talented musical stars, her siblings also got involved in the artistic field.
While Kodie was in her teenage, her parents divorced, and she moved to Atlanta from Chicago with her father.
Nevertheless, she still shares a good relationship with her mother, so much so that her mother manages all her professional tasks.