In the 21st century, it is no longer news that most of the celebrities have chosen the way of freedom by refusing to cage themselves to the specifications of the society. 
Gone are the days when a woman must love a man and vice versa. Today, the LGBTQ+ community has made society pretty tolerable to the idea of love and sexuality. 
Likewise, Heidi Hamilton is openly gay who has been relishing her married life with her beloved wife. 
Heidi Hamilton Married To Lesbian Wife, Husband?
When it comes to Heidi Hamilton's relationship life and sexual orientation, she has always been vocal. She has been out of the closet for a very long time.
Heidi first came out as a lesbian in around 2013 during an interview with afterellen.com. 
Heidi also recalls that she grew up in a small town in Indiana, where she had very less knowledge about the term, "lesbian." 
After she started becoming comfortable with herself, she decided to make her career in TV, thinking that after being famous, people wouldn't get any chance to point fingers at her sexuality. 
Today, Heidi is a happily married lesbian as she states on her 15th September 2015 tweet.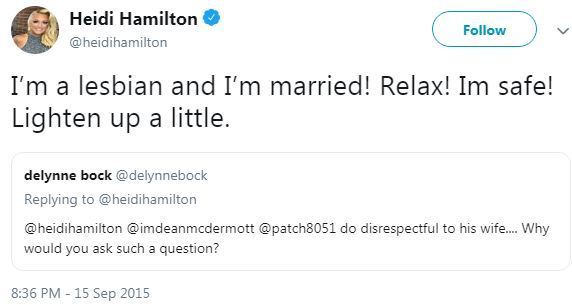 Heidi Hamilton tweets about her married status on 15 September 2015 (Photo: Heidi Hamilton's Twitter)
It is rather sad that unlike her sexuality, Heidi has kept the identity of her wife secretly hidden.
Like her wife's identity, the date of the time she got married is also under the covers. 
However, except date and identity, what actually matters in their relationship is love and romance. According to Heidi's Instagram, she never misses any chance to gush about her wife. 
Heidi fans and admirers hope and pray for her everlasting relationship. 
Her Bio: Age, Height
Heidi was born on 24th September 1973 to parents in Batesville, Indiana, United States.
Her father, who was a furniture maker/refinisher left Heidi and her family in around 2018.
Time and again, she remembers about her father and also posts about her mother and brother on her Instagram account.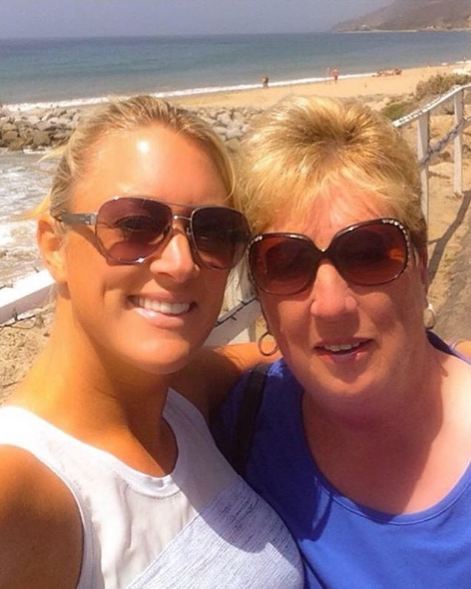 Heidi Hamilton posts on mother's day wishing her mother on 12 May 2019 (Photo: Heidi Hamilton's Instagram)
As for her education, Heidi, standing tall at a height of 5 feet 9 inches (1.75 meters), graduated from the University of Cincinnati with a bachelors degree in Electronic Media in 1996. 
Net Worth
Heidi first entered the entertainment industry in 2002 after she worked on the TV series documentary, Intimate Portrait.
However, she only gained recognition after she hosted the TV series, That Sex Show.
Enjoy Reading: Brooke Satchwell Boyfriend, Married, Family
Since then, she has made several appearances in various shows, not only making her name and fame strong, but also the financial state.
Although Heidi has not revealed her exact net worth, undoubtedly, she might have made a six-digit worth figure as of 2019.