Dido Miles is a British actress best known for playing 'Emma Reid' in the BBC soap opera, Doctors. She entered the show in 2012 in the episode "Reports of My Death." She justified her presence in the show, showcasing the mind-blowing acting skills.
In the series, her on-screen character went through twists and turns—she dealt with her marriage breakdown, being raped, and having a difficult relationship with her son and husband.
Although the journey soon proved to be worthwhile with Dido's winning nominations at The British Soap Awards for "Best Onscreen Partnership," paired with her on-screen partner, Ian Kelsey, for the year 2016, for "Best Dramatic Performance" in the year 2013 and 2017.
Dido Miles' Wiki
When she was still in school in 1976, she was voted "Disco Queen," hinting that she was into performing for her audiences right from an early age.
Dido, despite belonging to the media and entertainment world for quite a while now, her personal life still remains a mystery.
The only fact that made it to the media outlet is when she was seven years old; she drank her sister's peroxide, which was brought with the purpose of bleaching hair.
More Casts From BBC's Doctors: Owen Brenman Married, Wife, Divorce, Partner, Personal Life, Bio
Dido's lack of presence in social media also does not help her audience queers to know more about Dido- when the camera stops rolling. Nevertheless, she revealed during an interview with Daniel Kilkelly from DigitalSpy on the 15th of February 2019 that she considered joining Twitter to interact with her Doctors' online fanbase:
I have thought about it, but I'm a bit of a Luddite. I struggle to work my mobile phone! I know a few people have been asking about me joining Twitter. It's not that I'm anti-social, I'm just a bit of a technophobe!
But, on the other hand, she confirmed that she was just frightened of Twitter at the moment!
Is Dido Miles Married?
It is likely difficult to comment on Dido's married status, as of now.
Neither has she been spotted doing PDA or spilling beans herself nor are there any likewise stories covered in her interviews or articles related to her.
Onscreen Married Life
In the series Doctors, Dido's character, Emma, is married to her husband, Sam, and together they have a son named Chris.
The Reid-family's plot was praised for having really added a "real luxury" to the show.
Some Other Talent From Britain: Dervla Kirwan Bio: From Married Life, Children, Family To Movies
From handling a disabled husband, who is hunted by depression to getting romantically involved with another character named Ian Kelsey, so much happened in Emma's life.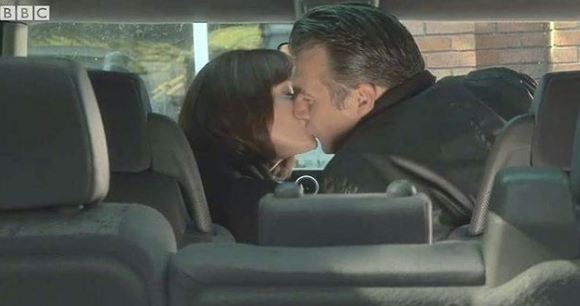 Dido Miles kisses on-screen partner, Ian Kelsey on the series, Doctors on 30 July 2016 (Photo: Didomiles-fan's Instagram)
All along, there remained a son, working together with her at The Mill Health Centre. The mother-son duo faced some hurdles in their relationships.
All the same, the storyline kept the viewers intrigued and entertained.
Quick Facts On Dido Miles Career
She made her acting debut in one of the episodes of the BBC's anthology series Screenplay. Then followed her first film Black Beauty in 1994.

A year later, she starred in Emma, a film adaptation of an 1815 novel of the same name by author Jane Austen.