Caroline Renfro is heartbroken with the demise of her long-running commercial partner, Billy Fuccillo. In memory of Fuccillo, Caroline took to Instagram to share her grievance. 
In 2020, when Fuccillo had taken a break from the commercials and Renfro had to take over the work for a while, many were curious about his absence. But, the recent news of his death came as a shock to several of his viewers and admirers.
Caroline Renfro Saddened By Fuccillo's Demise
On June 23, Renfro took to Instagram to share her sentiments on Fuccillo's death. Posting a series of pictures with the legendary car salesman, Fuccillo, Renfro wrote a lengthy caption pouring her heart out. 
Despite being a public speaker, the actress found it difficult to articulate her thoughts on the saddening incident. Finally, however, she wrote how much Fuccillo had helped her grow professionally by constantly assisting her and motivating her. 
I've usually had the luxury of a script. And for the majority of my career, when I didn't have a script I had the often provocative, always unpredictable lead of Billy to follow. He forced me to learn improv on the fly and made me a better actor because of that.
She also expressed no matter how challenging and surreal it felt to work alongside Fuccillo, and she honored the opportunity and his friendship. Renfro further added, 
Billy Fuccillo was one of the most generous humans I've ever met. He is very, dearly missed.
Who Is Billy Fuccillo?
Born in 1956, Fuccillo, an owner of the Fuccillo Automotive Group, was an American car dealer. He was known to have overall twenty-eight dealerships, representing fifteen brands in Florida and New York. With such wide business influence, he must have had millions of dollars worth of net worth. 
Moreover, his son, Billy Fuccillo Jr., also took in his footsteps and now owns five dealerships in Florida and New York.  
The New York-born went to the Syracuse University for a degree in marketing. After completing his degree, he worked for few car dealerships where he extensively learned sales and marketing skills. 
With the acquired skillset, Fuccillo opened his own dealerships in 1989. The business flourished gradually, and he began adding new dealerships to his name. 
One of the main attractions of Fuccillo's business marketing is the attention-grabbing advertisements he does with the trademark saying, "It's HUGE!" 
Besides, the business had an impression among people as a customer-centric ideology, friendly personality, and charitable venture. 
Unfortunately, Fuccillo passed away in his home in Florida on June 17, 2021, due to a long-term illness. And, having to lose such an incredible personality surely saddened several people who knew him well. 
Who Is Caroline Renfro?
Renfro, who is an actress and producer mostly known for her work in Sanctuary: Quite a Conundrum, Homeland, and Infliction, was Fuccillo's sidekick, and together they made the commercials for the car dealerships. 
Apart from her movies and tv series, which she has been doing since 2008, Renfro is also quite popular for the Fuccillo Kia ads. The duo was so popular among the locals that several people stood behind the cameras to catch a glimpse of their impressive work while shooting the commercials.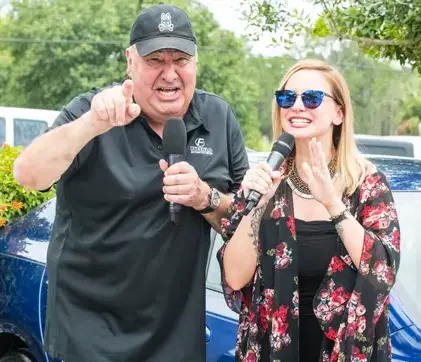 Billy Fuccillio and Caroline Renfro. ( Source: Newspress)