American TV and movie actress Bailee Madison is famous for her cunning on-screen performances who has starred in hit movies like Bridge To Terabithia (2007), and Brothers (2009).
With her impeccable interest in the field of cinema, Bailee started her professional acting career featuring in 2006 thriller Lonely Hearts. She has also appeared in Wizards of Waverly Place, House, Once upon a time, A Taste of Romance, Just Go With It and many more.
Bailee recently appeared in the American horror film The Strangers: Prey at Night which hit the theatres on 8th March 2018.
For her extraordinary on-screen performance, Bailee was honoured with Young Artist Awards thrice in 2008, as a Best Performing Young Actress and Best Young Ensemble Cast in a Feature Film, and Best Supporting Young Actress in a TV Movie.
Bailee Madison Dating Boyfriend
Besides her professional success, Bailee has created a buzz on social media regarding her relationship whereabouts. Bailee's love life has suffered a rough patch during the years.
Back in 2015, Bailee was involved with singer Emery Kelly. The couple seemed to enjoy being with each other as both Bailee and Emery continuously posted pictures on the social media platforms.
However, Emery was accused of having an affair while in a relationship with Bailee. Bailee was heartbroken and the couple eventually broke up.
See Also: Adeline Rudolph Wiki Reveals Age, Height, Parents, Ethnicity
After splitting with Bailee, Emery conveyed his emotional breakdown through his tweets. He mentioned missing Bailee and struggling to get a move on. Bailee Madison put herself up post emotional breakup by focusing on her career and left out the failed relationship behind her.
Bailee found love again as she met the actor, Instagram influencer and YouTuber Alex Lange. They originally met at the opening of a clothing store. Alex and Bailee turned from friends to lovers real quick in 2016. They talked on the phone for around three months before seeing each other again.
In one podcast, Alex said how he knew he loved her from the time they met and even said I love you time and again to Bailee but Bailee didn't feel comfortable to say it back at first.
After around six months of dating, Bailee finally reciprocated to Alex's feelings towards her by saying how much she loved him.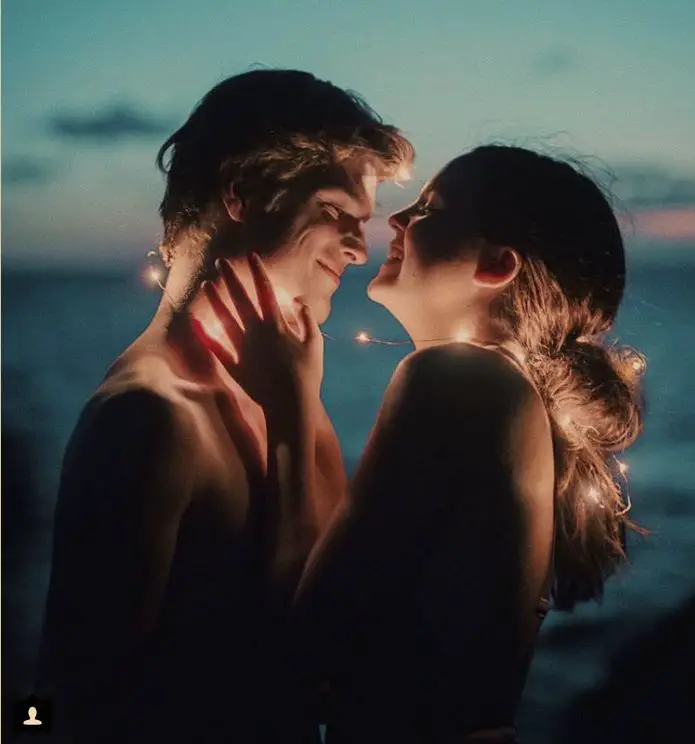 Bailee Madison and Alex Lange capture moments in Hawaii on May 26, 2018 (Photo: Alex Lange's Instagram)
The power couple was loved by many but this boyfriend and girlfriend duo broke up in 2018 due to conflict on interests and private reasonings. The fans were heartbroken as they expected them to last long but all they wish now is the best for Alex and Bailee.
Nearly a year after her break-up with Alex, Bailee was often spotted with the pop star, Blake Richardson.
The news of her relationship with Blake flooded in the media after she appeared holding hands with the man during their night out in mid-July 2019.
Don't Miss: Sasha Gabriella Fox Wiki: Parents, Siblings, Boyfriend
Although the two did not confirm their relationship for a long time, their followers, as well as the media, cited them as a couple and referred to them as boyfriend and girlfriend.
However, with her 7th August 2019 Twitter post, Bailee has confirmed her relationship with Blake.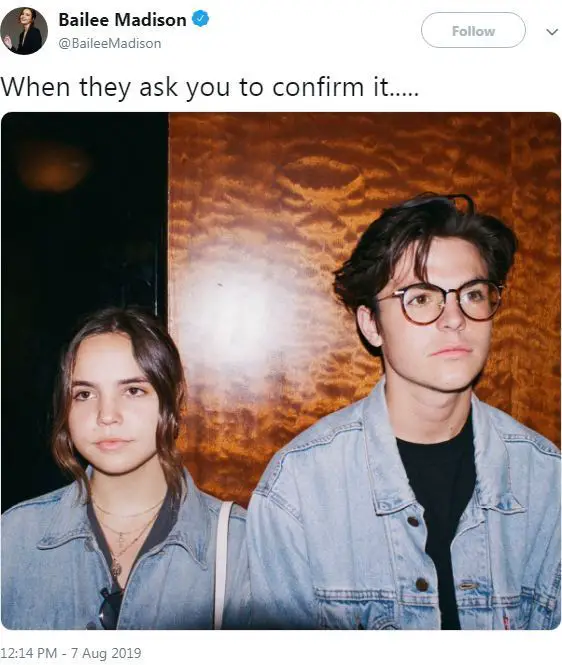 Bailee Madison confirms her relationship with pop-star Blake Richardson through Twitter (Photo: Bailee Madison's Twitter)
Her caption "When they ask you to confirm it....", with their picture in, clears out that Bailee is very sure about her present boyfriend and is in for a long run with him.
Hopefully, Bailee's relationship with Blake last forever and the two help set an example of their bond to the present generation.
Short Bio
The charming actress Bailee Madison was born on October 15, 1999, in Fort Lauderdale, Florida, U.S.
She grew up in a large family with her parents and six siblings, four brothers and two sisters.
Bailee's older sister, Kaitlin Ann Riley is an actress vividly known for her role in 2003 crime-drama movie, Monster.