American actress Anna Konkle who stands tall at an average height put her foot in the entertainment field in 2012 by appearing in the short mystery drama, Last Call, where she portrayed as Kristen. Later, she was seen in the TV show, Betas, where she appeared in two episodes as Enid.
Her career took off in 2015 when she got a prominent role in the series, Rosewood. In Rosewood, she played the lesbian character, Tara Milly Izikoff. She played the character of lesbian, showcasing the primary motive as creating awareness towards sexuality rights. She was able to draw public attention through her talent, which led her to appear in several TV shows. The actress has appeared in TV shows like Home: Adventures with Tip & Oh, Shameless, Ramy.
As of now, she is currently seen in a new show named PEN15. This show is based on comedy, after that infamous schoolyard prank, where two adult women were acting out the moments from their past. In this show, Anna alongside her co-star Maya Erskine portrayed as versions of their 13-year-old selves in the year 2000 with some bunch of actual pre-teens.
Exclusive: Find Out Natasha Rothwell's Weight Loss & Married Life Info | Wiki
In the show, she and her co-star wear a bowl cut and a mouthful of braces, where Anna can be seen in a bubblegum-pink pleated dress with a snake applique on the front and the AC/DC logo hiding on the back which can only be seen when she flips back her long blonde hair.
And her co-star Erskine whom she met when she was studying abroad in Amsterdam wore wide-legged, black-and-white polka-dotted and striped jumpsuit. Both of the characters changed themselves into a teen and portrayed very well. Her co-star Maya cut her hair into a bowl cut to shape like a teenage and nerd girl. Even though portraying the character of half of their age they played very well.
Throughout her career, Anna has made a stable position for herself and has undoubtedly garnered a net worth of millions.
Anna Konkle Married, Spouse
Peeking into the love life of Anna, it reveals that she might be dating Alex Anfanger. Even though she has not officially confirmed her relationship with him, her posts hint that the two are in a romantic relationship.
It's not just Anna; her supposed partner, Alex doesn't waste any time to post her picture on his social media as well. In one of his posts of Anna, one of his followers even asked him if the two were dating. But, Alex didn't address their status.
Besides, in her Twitter account, Anna mentioned Alex as her real-life boyfriend on 27 April 2016. She even went to Miami with her partner Alex Anfanger on 18 February 2017.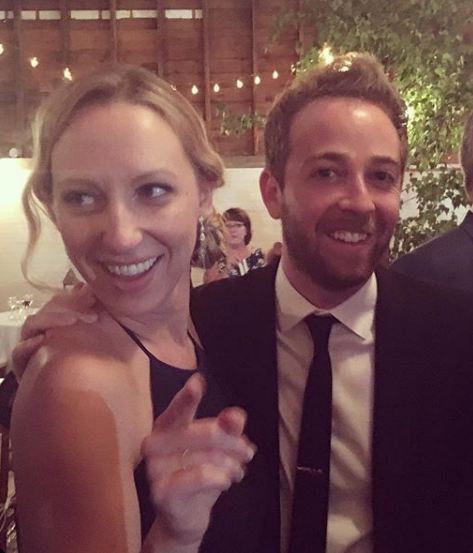 Anna Ryan Konkle celebrates her partner Alex Anfanger's birthday on 15 September 2018 (Photo: Anna Konkle's Instagram)
Anna is not married, yet; she might introduce her spouse any time, considering the way she is always cuddled up to Alex.
Even though they are still bound to tie a knot, they are relishing their dating life and her partner Alex supports her wholeheartedly. He even gushed on his Instagram account to promote his girlfriend's new series and her new 13-year-old look. 
Her Bio, Age & Family
Anna Konkle's bio reveals that she celebrates her birthday every 7 April. While she keeps her age to herself, it is known that she grew up in Dallas, Texas. When it comes to her family, Anna doesn't reveal much. However, she shares a special bond with her parents as she often posts pictures with them on her social media sites.
Know About: Indya Moore Wiki, Age, Before, Gay, Net Worth, Family
She once put a picture with her mother on Instagram stating that she was proud of her mom. Even though her relationship with her family is not public, it is clear that she has a close relationship with them.
Moreover, she went to an all-girl Catholic institution where students were still new to the menstrual experience. She also mentioned that she had the least period-friendly uniforms in the world. While being on period, she used to tie her dark cardigan around her waist skillfully.
And while filming the PEN15, she and her co-star felt like they are still in the seventh grade while working on the series, she alongside her co-star both worked hard to look like a teenager when in actuality they are already in their adulthood.