American actress Amy Sedaris is a comedian and writer best known for playing Jerri Blank in the Comedy Central television series, Strangers with Candy. She has remained influential in the entertainment field ever since she stepped into the mainstream of success. A prolific actress, Amy makes sure to impress the audience with her acting skills.
Amy Sedaris Career & Net Worth
When Amy was 16 years of age, she worked at her local Winn-Dixie supermarket, where she made fake announcements and even egged the cashier's car in protest.
Later, she worked as a cocktail waitress at Zanies Comedy Club in Chicago, Illinois. Once, she was five minutes late, and she was fired. To take revenge with her boss, Amy threw his keys in the snow, which he only found in spring.
Despite embracing a not-so-nice professional background, her career took a significant turn when she tried acting for her first significant role in Comedy Central's sketch show, Exit 57.
Enjoy Reading: Writer Afua Hirsch Bio Reveals Parents, Married, Partner & Essential Details
Since then, Amy has been shining in the entertainment industry. She has been featured in many film and television series. Her name rolls on the credits on TV shows like Exit 57, Strangers with Candy, Shoot Me, Sex and the City, Thanksgiving, No Activity, and Unbreakable Kimmy Schmidt.
Apart from her acting career, Amy has also been involved in writing. She collaborated with her brother, David, who is an author and humorist. Her books include Wigfield, The Believer, The Talent Family: Stump the Host, Stitches, One Woman Shoe and many more.
Amy Sedaris, who stands at the height of 5 feet 1 and a half inch (1.56 meters), has a total net worth of $12 million.
Husband, Married
Amy Sedaris prefers to stay low-key despite being a huge star. However, there were times when she often mentioned her imaginary boyfriend now and then. Amy had made up a 'boyfriend' named Ricky in her mind. She frequently talked about him in interviews. But that stopped after she announced that her imaginary boyfriend had died on their way to the hospital for 'a cyst on one of his obliques.'
After that, Amy revealed that she had moved on from Ricky and found a new man named Glenn, a merchant marine in late 2009. She gave deadpan details about her imaginary marriage with the guy named Glenn. However, her talk about husband and new married life turned out to be a fake as well.
Nevertheless, apart from her imaginary boyfriend and husband, Amy, age 57, was in a real romantic relationship with her Strangers with Candy co-star, Paul Dinello.
She dated him for almost eight years but got to the stage to exchange wedding vows. Amy and Paul ended their eight years of relationship but remained friends. Later when Paul asked Amy to be the godmother of his kids, she happily accepted the offer and became the godmother of his kids.
Check Once: Karoun Demirjian Bio Reveals Married, Husband, Family Details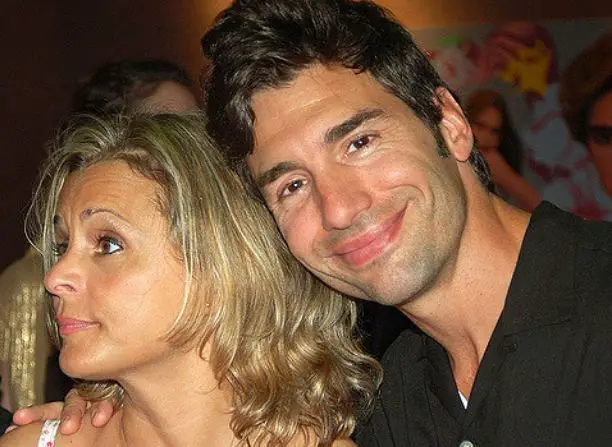 Amy Sedaris attends red carpet event with her then-boyfriend, Paul Dinello on 20 June 2006 (Photo: flickr.com)
Currently, Amy is single and doesn't seem to be settling down any time soon. She hasn't failed to mention about never wanting to get married and have children In several interviews.
Amy Sedaris Bio & Family Details
Amy Sedaris' bio reveals that she was born on 29 March 1961 in Endicott, New York. She embraces a mixed ethnicity as her father is of Greek descent, who follows Greek Orthodox whereas her mother is an Anglo-American. She was raised alongside her siblings, David Sedaris, Lisa, David, Gretchen, Tiffany, and Paul.
Know More: Draya Michele Husband, Boyfriend, Children, Net Worth
When Amy was at a young age, she was a very dramatic child and used to assume characters to play pranks on her family. Among her family members, she idolizes her brother David the most.
While talking about her education, Amy mentioned that she failed her first grade. However, she didn't let her education go downhill and graduated from Jesse O. Sanderson High School.