More than anyone, Joshua Rogers, the famous Gospel singer, knows just how much it hurts to be on the receiving end of dejection and harsh words.
And when it came from one of his teachers, one who he wished have liked him otherwise, made Joshua realize that he was not likable at all.
No child deserves to be in such an inhumanly position.
By the time he was a middle school student, on a particular torrential rainstorm day, unlike other students who rushed to avoid the rain, Joshua playfully drenched his hair from the water that was gushing from the gutter's edge. 
He then walked back to the class, after what he thought to be a "hilarious" act, Joshua was not prepared for his English teacher's loud and furious "get out of the room."
Keep Reading: Travis Thompson Wiki, Age, Girlfriend, Parents
Then followed "foolish," "irritating," "unbearable," and a few more. Not stopping to that, this is what she had to say-
Joshua, there's a book called 'How to Win Friends and Influence People,' and you are failing on every single point!
The very unfortunate incident being one instance, there have been several other childhood memories when he was ridiculed and made fun of.
Joshua Roger's Bio: Family, 
Not everyone gets away easily from such bad experiences early on in life.
But Joshua, being the luckiest one, had some people by his sides at all times, helping him heal from the trauma.
Among those people were his mother, Sharon Roger, and grandmother, who backed him up no matter what.
It is all thanks to them and their fabulous upbringing that Joshua is blessed today with a promising career and most probably an equally worthwhile figure laying on his net worth.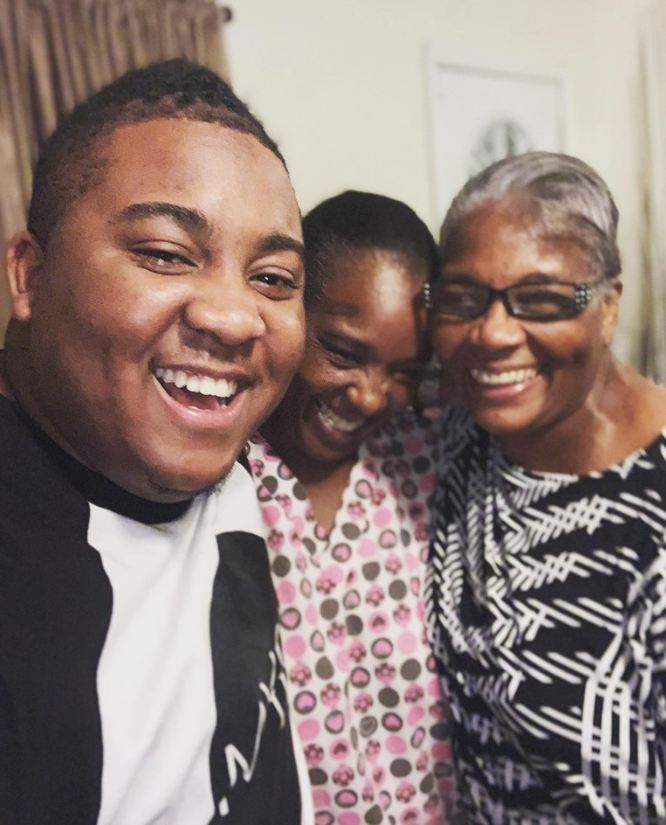 Joshua Rogers with his mother, Sharon Rogers, and grandmother, on 30 May 2019 (Photo: Joshua Rogers' Facebook)
"We fuss we fight, but we still love"- he captioned the beautiful picture with his mother and grandmother, receiving a great many 'aww's' from his admirers.
Looking back, it was his mother's kitchen from where his passion for music began.
Born in South Carolina on 22nd March 1994 to his parents, Joshua, when a 3-year-old, would drum on pots and pans while his mother would prepare delicious dishes for him.
At one point in his life, during the year of 2013, Joshua worried about uncontrollably gaining weight.
And, at the same time, the hateful comments and even some of his fans being insensitive about the very phase in his life hurt him most of all. But then, his loyal fan loved him no matter what! 
This is what he had to say about the very phase in his life,
Soooo between the way I wanna sleep and the weight ive gained.....im not go make it!!!!! Its ok tho, nun a bed and a fast wont fix
And while in recent times, he seems to have found the comfort he needed in his own skin.
Married To Wife / Girlfriend?
The fans and followers who grew up listening to Joshua's debut release, Well Done, would like to know just about everything when it comes to their favorite artist.
However, standing to a height of 5 feet and 6 inches (1.68 meters), with an unapologetic weight, Joshua's dating life and past affairs are entirely under the wraps.
Not even his social media provides any clues on the matter.
Maybe it has something to do with his shy nature or the fear of being judged upon, that he has not yet come upfront about his girlfriend or possible wife (if he has one).
But then he is too young (age 25) to be extending his family. At a time like this, the BET's hit series Sunday Best winner is rather married to his profession.