Years of long-hauls and Craig Olejnik finally stumbled upon his career-defining project, a Canadian fantasy drama, The Listener.
The young telepathic paramedic, Toby Logan, that Craig portrayed is what led him to an utmost prominence.
Even today, after the series finale aired on the 18th of August 2014, Craig is always the guy who helped others while he listened to victims and criminals thoughts. 
Besides, what the TV audiences might not know about him is that the Canadian actor is a keen hockey player and a nature enthusiast.
Moreover, the director, writer, and producer for his film, Interview with a Zombie, has forever been a spokesperson for the humanitarian cause such as 'Sick Kids' pediatric Foundation and 'Stand Up For Cancer.' 
Craig Olejnik's Wife / Girlfriend
There is no doubt that Craig, standing to a height of 5 feet and 10 inches (1.78 meters), has a great many fans crushing over him for his gorgeous persona, especially his mesmerizing eyes. 
More From Hollywood: Jason Gould Gay, Married, Partner, Family
It must have taken them by surprise, getting to witness his wedding pictures with the gorgeous photographer, Faviola Perez. 
The wedding ceremony that took place at the Hacienda Punta Piedra on 11th January 2019, seemingly concluded in the presence of their immediate friends and family.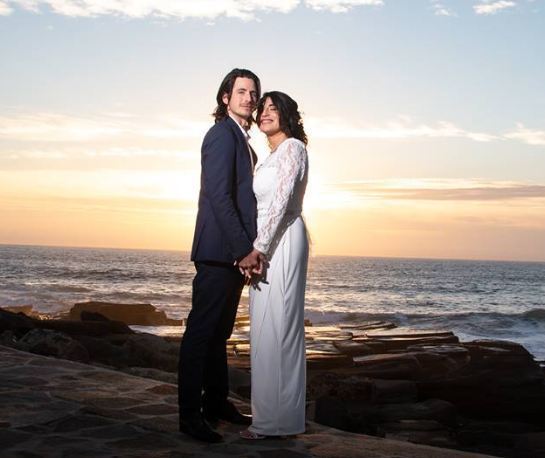 Craig Olejnik and his beautiful wife, Faviola Perez, as they pose for their wedding picture on 11 January 2019 (Photo: Faviola Perez's Facebook)
The bride and the groom were all smiles, complementing one another, in every possible way. 
As of now, not much is known about Craig's wife, although her love for wildlife photography cannot go amiss. 
From all that is happening in Craig's life, currently, it is not evident, why exactly, and from where, the assumptions about him being a gay originates. It might have something to with him not being much vocal about his girlfriend in the past. 
Bio: Family & Net Worth
Craig, age 40, was born in Halifax, Canada. Meanwhile, he completed his early education from high school in Nova Scotia.
Keep Reading: Jensen Atwood Bio, Married, Gay, Net Worth
Seeing how natural he is when it comes to acting, people might assume that Craig comes from an artistic background.
But, on the contrary, no such speculations are correct, for his grandfather immigrated from Poland via Germany, as he escaped the World War II. While in there, he was a soldier and POW in the concentration camp for five long years. Likewise, his father also served in the Canadian military.
Meanwhile, the young one in the Olejnik family, chose a different path, for some reason.
Today, it appears, Craig is proud of whatever brought him to the place he is today. Because, the very line of work has not just provided him with astounding fame, but also a substantial amount of riches to his net worth, the figures to which, thus far, stay unheard of.