Best known for his BMX dirt bike riding career, Corey Bohan, age 37, is the only rider to win back to back XG Dirt gold. He has competed in various X Games tournaments and has won three titles in the BMX dirt portion between 2004 and 2006.
Not only that, but he won many prestigious BMX Dirt titles over the past years, including the first three-peat in X Games BMX Dirt history and victories at Red Bull Elevation, Red Bull Empire of Dirt, and the Vans Dirt and Roll.
Corey's creative tricks and widely admired style have earned him the respect of his peers, who voted him Dirt Jumper of the Year at the NORA Cup Awards for five years in a row from 2004 to 2008.
Don't Miss: Donnell Turner Married, Wife, Girlfriend, Gay, Family, Net Worth
However, he only got global recognition after being engaged with the reality star, Audrina Patridge.
How Much Is Corey's Net Worth?
Corey has accumulated a staggering net worth of $12 million. He has been deriving his wealth mainly from his motorcycle expertise since 2002. Besides that, he has also collected fortunes by appearing in numerous television shows.
He featured in the MTV reality TV series, The Hills and appeared in 2007 movie, Justify. As per wiki, Corey even appeared in episodes of the reality television series, Audrina in 2011. His Red Bull YouTube BMX channel Wizard of Aus debuted in 2012.
Corey Bohan's Married Life, Wife 
The BMX rider Corey Bohan and TV personality Audrina Patridge is known for their on and off affair status over the years.
The duo started dating each other in the year 2008. However, after years of togetherness, Corey and Audrina announced the end of their relationship in 2009. Interestingly, they surprised their fans by getting back together in July 2010.
Though Corey's unsteady dating life faced various ups and downs, the couple found way back to each other and eventually got engaged in November 2015. Corey was the one who got on one knee at the Summit House in Orange County and proposes for marriage. He had also asked permission from his girlfriend's father. 
See Also: How Old Is Amy Correa? Age, Wedding & Kids - All Biography
After a month of being engaged, Corey's fiancée Audrina revealed that they were expecting a first child. Soon on 24 June 2016, the lovebirds became parents as they welcomed their daughter and named her Kirra Max Bohan. Only then, Corey and Audrina exchanged their wedding vows on 5 August 2016 in the beach in Hawaii.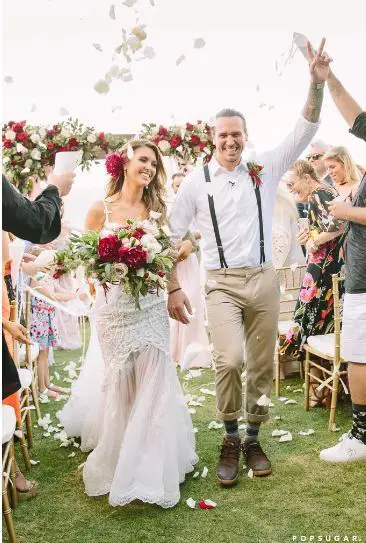 Corey Bohan weds Audrina Patridge on 5 August 2016 in the beach in Hawaii (Photo: popsugar.com)
At the time of the wedding, the bride flaunted a dazzling Pallas Couture gown whereas Corey dressed in a white button-down and suspenders.
The wedding ceremony was attended by hundreds of guests including close friends and family at the botanical garden. Not only friends and family were the attendee, but the cute Kirra was also the part of the event, wearing a white dress and a matching headband with her mother.
Corey Bohan's Divorce
Though lavish was Corey and Audrina's family life, their relationship came to a sad end after less than a year. Like their dating relationship, their marriage too went through ups and downs. 
When Audrina realized that their marriage was only getting worse, she filed for divorce on 7 August 2017 with an alleged restraining order against Corey for domestic violence. 
She even requested the court for the sole custody of their daughter and said that Kirra was not safe with Corey due to his angry and destructive behaviors. The judge granted Audrina full custody of Kirra whereas, Corey was given just visitation rights. He was not charged with any orders against violence due to the lack of evidence.
You May Like: Andy Adler Married, Engaged, Husband, Age, Wiki, Bio, Instagram
Then, Corey requested a court order to prevent his daughter from featuring in The Hills reboot in October 2018. However, Audrina's attorney defended the request saying it could be the best interest of Kirra to star with her mother. 
In December 2018, Corey's divorce was finally settled. Though the pair kept the terms of divorce a secret, they are to resolve the child custody of their daughter, who is 2 at age, and Corey's attorney fees in early 2019. 
Now, Corey is leading a single life whereas his estranged wife Audrina has broken up her serious affair with the American singer Ryan Cabera. The two started an affair right after Audrina filed for divorce.
While in the meantime, Audrina has reportedly moved onto yet another romantic venture, and this time as well with someone very famous from the industry.
According to Us Weekly, she is dating her long haul friend and actor Josh Henderson. As per the reports, the duo has been friends since at least the year 2009 when they were photographed together for the very first time.
Ever since, there have been several occasions when they attended public events, enjoying one another company.
But then, the last seen together on the 2nd of October 2019, while at the Night of the Jack's Friends and Family Night, it all began; the stories of them seeing one another.
However, none of them have said anything to confirm their outing. While in July 2019, keeping the person who she was dating at the time an anonymous, Audrina said that-
I think being a mom, that's a huge thing to factor in. So immediately it's all right, I have a child ad she's my priority, so I have to put everything on the table because then you don't waste time.

But definitely someone that's good at communicating and consistent and a man of their word, and what you see is what you get.
While her fans only wish maybe this time, she found the love that would last her a lifetime!
Biography 
Born in 1982, Corey celebrates his birthday every 15th of February. He stands at a height of 6 feet (1.83 meters). As he was born and raised in Brisbane, Australia, he holds Australian citizenship for his nationality. 
He has a close bond with his family members including his sister and a brother named Trent Bohan. He also timely uploads pictures of his parents in his social media handle.