Years of struggle and one apt portrayal was all that took Andy Richter to become a famous face in the entertainment world.
Andy is an American actor, voice artist, writer, and comedian who is best acclaimed for his portrayal of Conan O'Brien's sidekick, during all three of Conan's self-titled late-night shows. 
He eventually proved that he indeed deserved all the attention he got for his very prominence. 
Currently, as of June 2019, Andy has started on a new journey, a podcast of his own, that airs on the Earwolf network. 
Andy Ritcher's Married To Divorce, Children
Up until April 2019, Andy was believed to be living a blissful married life with Sarah Thyre, until he came up with the big announcement about separation, divorce proceedings and all.
Yet Another Famous Divorce: Simon Konecki Bio, Net Worth, Wife, Parents, Now
It is not a brief fling we are talking about, but a beautiful 27 plus years of togetherness.
They have two almost grown-up children, William Oscar (born in 2001), and Mercy Josephine (born in March 2007), from the marriage.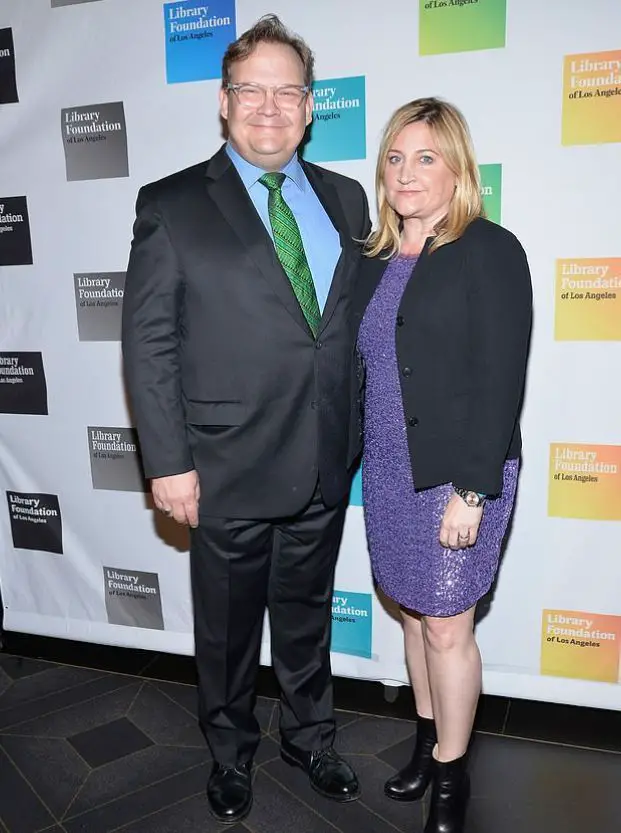 Andy Richter and his ex-wife spotted together in during an event in 2016 (Photo: dailymail.co.uk)
Looking back, it all began during 1991, when Andy met his ex-wife, Sarah Thyre for the first time in a live production of The Real Live Brady Bunch. They were both starring in the project.
A few years to their meeting in Los Angeles, and they soon got married in 1994. 
Even outside of their personal life, they had a lot going in for, on the professional ground as well.
Sarah, who is best recognized for her appearances on Strangers with Candy, starred together with her long-haul hobby in several scripts.
Besides, Late Night with Conan O'Brien and Comedy Central's Upright Citizens Brigade, they provided their artistic voice on Madagascar spin-off All Hail King Julien.
However, whatever may have led them on the verge of a breakup, they sure do not want a bitter ending.
Instead, the estranged couple claimed that they are proud of the life they built thus far.
More to it, they promised their fans that, despite the marriage coming to a halt, they would forever share an amicable bonding, while maintaining a parenting partnership.
His Net Worth In 2019
These days, people are curious to know just about everything about the celebrities, whom they adore for their professional work. Andy can not go outlandish on the matter. 
Also Look For: Omar Metwally Married, Girlfriend, Family, Net Worth
Andy has had a lot going on, besides his special appearances on Conan's show.
He secured a remarkable spot in Hollywood, with agreeable comic parts in several films and TV series, all of them, paving the way to an astounding realm of riches.
The long hauls in the acting career have paid him off with a six-digit net worth, being an estimated of $15 million. 
Meanwhile talking about his measurements, Andy stands to a height of 6 feet and 1 inch (1.85 meters). And, as per the last reports made, he was very close to a weight of somewhere around 239 lbs.