There are a great many ways of getting famous. Being famous either comes with some good deeds or there is also the notorious kind of fame.
And, so is the other sort of popularity, that one gets as they indulge in some relationship with the celebrities. And it's a different matter if one gets romantically involved with the big name in the industry.
There is rarely any music lovers who have not gone through the magical tunes of the English diva, Adele. However, her personal affairs might not have gained as much attention. The main concern over here is her ex-husband, Simon Konecki.
As Simon and Adele separated after three years of their marriage on 19th April 2019, the media and tabloids were suddenly buzzed, and everyone wanted to know more of their sensational history.
Simon Konecki's Bio
Simon, age 45, was born in New York but moved with his family to London when he was just about ten years old. Meanwhile, his parents, Rosemary and Andrew, now reside in Boca Raton in Florida.
Keep Up The Read: Jamie Yuccas Bio, Age, Married, Spouse, Divorce, Salary, Weight Loss
Simon, who attended the prestigious boys' school, Eton for two years, has thus far kept his early life under the wraps, despite being subjected to the spotlight especially, since Adele publicly confirmed their marriage in her acceptance speech for the 2017's Grammy for the Album of The Year.
Grammys, I appreciate it. The Academy, I love you. My manager, my husband, and my son — you're the only reason I do it.
Although there were several more occasion, that was the first time Adele Laurie Blue Adkins, who stands to a height of 5 feet and 8 inches (1.73 meters), mentioned Simon as her husband in public.
Married To Divorce Details With Wife
Since the very beginning, Simon and Adele have been private about the relationship. It is believed that their dating life began way back in 2011 when they got introduced by Ed Sheeran, yet another music legend.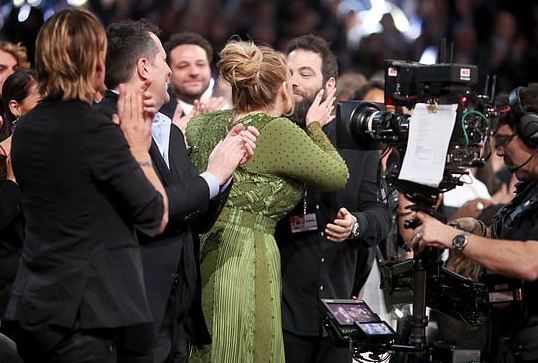 Simon Konecki and Adele sharing an adorable smooch during the 2017's Grammy Awards (Photo: dailymail.co.uk)
The couple who is wishing to have a private split, are committed to raising their son, Angelo together and lovingly whatsoever. Rewinding to the year 2016, the pair got married. Meanwhile, they welcomed their little bundle of joy in October 2012.
Before Adele, Simon was married to fashion stylist Clary Fisher; he has a daughter with his ex-wife.
Divorce Finalized
Simon and his wife Adele may have been a happy couple once.
But now, they have gone their separate ways after eight years of relationship and three years of marriage.
Simon's divorce with his wife, Adele, has been finalized in 2019; however, the reason behind their separation is yet to be revealed. 
Simon and his now ex-wife had been living separate lives for years before the finalization of the divorce.
During their secret wedding, it was believed that the duo did not sign a prenup and as Adele chose to file for divorce, Simon could be entitled to as much as half of his ex-wife's earning. 
Although Simon and Adele has ended their husband and wife relationship, they have decided to raise their son together lovingly. 
Ed Sheeran's Love Life: Cherry Seaborn Age, Wiki, Engaged, Ed Sheeran, Parents, Facts
Nevertheless, after divorce, there is no news about Simon, but his ex-wife has been reported to be seen on a series of dates with a lookalike of Simon.
She was also spotted kissing a very handsome gentleman in a New York bar. However, as Adele has not confirmed anything about the rumors, nothing much can be said at the moment. 
His Net Worth
Simon is a charity entrepreneur, who serves as a CEO of drop4drop, which does an incredible job funding projects to provide clean drinking water in developing countries.
The ex-investment banker was greatly dismayed by the growing distance between the rich and poor and quit on his job to do something more significant for the society and his fellow humans.
Moreover, the ethical bottled water brand 'Life Water' is his brainchild, which he co-founded with his longtime friend, Lucas White.
The project was launched with the motive to provide a competitively priced decent substitute in the bottled water market.
All in all, Simon seems to have well-off finance of his own, and now after the divorce, it is speculated that he is fortuned to have some part of the 'Rolling in the deep' singer-songwriter's net worth, which is reportedly somewhere around $190 million.