Vinnie Tortorich Married, Wife, Personal Life, Diet, Workout, Net Worth
Date: 25 Jun, 2017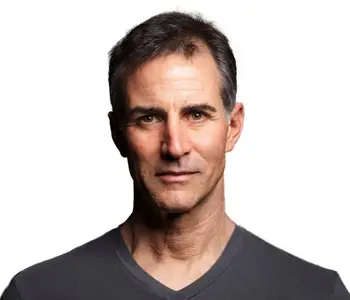 Fifty-five years old Vinnie Tortorich is a multi-talented personality. He is a radio and podcast host, an author, model, fitness trainer and international motivational speaker based in Beverly Hills, California, United States.
Vinnie was born on September 27, 1962. There are no details about his family and background. He first walked into a gym when he was just eight years old. The dedication of him at that age made an impact on him which set him on his path toward a career in health and fitness. He was a star athlete at in his high school which was Ascension Catholic High School in Donaldsonville, Lousiana. He studied at Tulane University on a football scholarship.
His career began after he graduated from Tulane University in New Orleans, Lousiana. He became a fitness trainer while he was living in New Orleans. He also hosted a top rated radio show on WSMB.
Vinnie also worked as a strength and conditioning coach at Newman High School in New Orleans. Among the multiple students, he trained Archie Manning`s sons too. Vinnie has trained more Hollywood celebrities than any trainer till date.
He also is credited with successfully working with several comedians such as Bill Engvall, Carol Leifer, Brad Garrett, Rhonda Shear, Howie Mandel and Margaret Cho. He has helped in making the body of many Playboy playmates during their centerfold months.
Vinnie is also an author, and he has written a best-selling children's book, titled "Monty." Vinnie released his second book called "Fitness Confidential" in July 2013. He wrote that book with Dean Lorey, and it covers Vinnie's career as a personal trainer, as well as his "no sugar no grains" approach to eating healthily. His book "Fitness Confidential" has been optioned by Sony Television for development as a television series.
Vinnie currently travels the world as an international motivational speaker.
In 2012, along with co-host Anna Vocino, he started the "Angriest Trainer" podcast which is more commonly known as "Vinnie Tortorich, Celebrity Trainer." Anna is best known for the self-improvised show called "Free Radio" on Comedy Central. The podcast is a top rated show on iTunes.
Vinnie launched Pure Vitamin Club in October of 2014. It is an online subscription-based business selling an original multivitamin/multimineral formula for diet and workout. It also has recipes of diet plans.
He has participated in the bicycle race called Furnace Creek which was produced by AdventureCORPS, Inc. as a solo competitor. He has completed the race multiple times. His story has been featured in several publications, such as The Signal, The Acorn and Westside Today.
Vinnie was diagnosed with leukemia in July 2007. Even after that, he continued to train for marathon cycling events. After his cancer had gone into remission, he raised money for patients who cannot afford their expenses through the non-profit organization called Maximum Hope Foundation. The foundation counts celebrities like Michael Chiklis and Brad Garrett as supporters.
He has been in a long-term relationship with actress Serena Scott Thomas, but it is not known that if the couple is married or not till now. They were in a relationship since 2007. We do not have details about his past relations or if he had a wife or girlfriends or divorce. Vinnie has kept his personal life in a low profile. His net worth and salary also is a secret till date.
---