Moniece Slaughter Bio, Brother, Father, Net Worth
Date: 24 Feb, 2019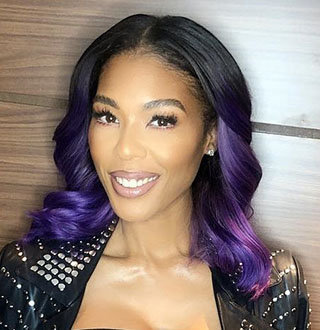 Moniece Slaughter, mostly known by her stage name Kali, is a singer, songwriter and a reality TV actress. Notable for her performance in the reality TV show, Love & Hip Hop: Hollywood, she is also the singer of America's Next Top Model's theme song.
The reality star has also showcased her skills by anchoring programs in cities like Las Vegas and Los Angeles. Despite having a successful career, she is known for being short-tempered and outspoken, and her controversial relationships have put her in the limelight.
Even though her exact net worth is unknown, it is estimated that her average salary is about $40K. With such a hefty salary, she has undoubtedly accumulated herself a massive net worth.
Moniece Slaughter Bio, Father & Mother
Moniece Slaughter celebrates her birthday on 4 March according to her bio. She was born in 1987 in Los Angeles, California, USA.
Her family is also engaged in the media industry as her mother Marla and father Dave are the anchors to The Marla And Dave Show.
You May Also Like: A Look At MTV & VH1 John Sykes Net Worth, Wife, Family & More
Moniece shares a close bond with her family and two other siblings. She is also extremely confident and considers herself sexy and hilarious.
After having a breast augmentation, she flaunts her curvy body on social media occasionally.
At the age of 31, Moniece stands at a height of 5 feet 5 inches (1.70 meters). She comes from black ethnicity and holds American nationality.
Brother Indulged In Drug Misuse
Her family was in the spotlight after her brother, DJ Thomas, along with Moniece and their mother appeared in an episode of Dr. Phil.
Moniece's brother DJ Thomas was allegedly delusional, and Moniece was very scared about him as he would disappear for days.
The delusional brother was found running in the streets of Las Vegas naked because he was "not shy" to walk around without his clothes.
His behavior in the show amazed people when he said that he had been "engaged" to Rihanna, one of the most popular Hollywood singer, and had produced albums for stars like Drake and Beyonce.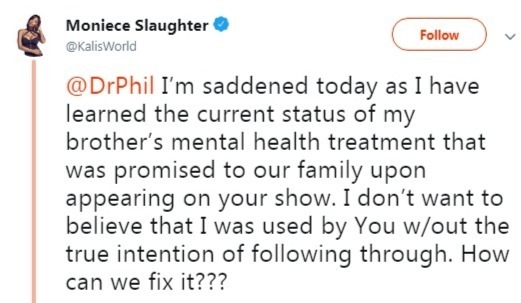 Moniece Slaughter talks about her brother's mental health on 9 April 2018 (Photo: Moniece Slaughter's Twitter)
In the show, Moniece's family also revealed that he was sent to rehab because of the alleged heroin and marijuana addiction.
Worth The Read: Nicole Ryan, Married With Husband: Age, Son, Salary, Net Worth - Personal Life Insight
DJ Thomas is mentally unstable and hears voices and suffers hallucinations. However, even after appearing on the Dr. Phil show, Moniece's brother has not received any help as promised by Dr. Phil.
He apparently tweets nonsensical things on Twitter, and the family is depressed because of his poor condition.
Her Boyfriend, Children
Moniece Slaughter is opnely bisexual and has cherished relationship with many famous men and women in the industry.
She found love for the first time in the industry when she started dating R&B singer Tank at the mere age of 19. The relationship was very tumultuous, and Moniece later revealed that Tank had cheated on her multiple times with Zena Foster.
Moniece was even pregnant because of the relationship with her boyfriend, but decided to get an abortion as she was only 19 and Tank was 30.
In 2015, Moniece Slaughter's love life came into light for the second time when she met the songwriter and singer Lil' Fizz on the VH1's reality TV show, Love & Hip Hop: Hollywood.
The show revealed their relationships which underwent several ups and downs and resulted in a split. The couple was already engaged; they even share a son Kamron David Frederic.
Moniece Slaughter Dating, Girlfriend
Only after sharing a problematic relationship with two men in the industry, Moniece began to date women.
According to her, she always knew about her sexuality, but being born in a religious family made it difficult for her to come out.
Another Lesbian: Diana Taurasi Wiki, Married or Boyfriend, Lesbian/Gay and Girlfriend
However, being the bold woman that she claimed herself to be, she came out to her parents, who accepted her.
In season 4 of Love & Hip Hop: Hollywood, Moniece came out and introduced her girlfriend, AD Diggs to the public.
The new couple seemed to be very much in love and shared the beautiful relationship in the television. Moniece seemed more than happy to be with the person she truly admired, and in an interview, she even said that AD Diggs cared for her more than any of her past boyfriends did.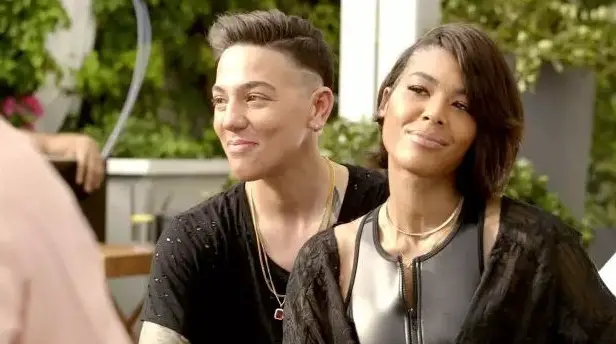 Moniece Slaughter enjoys time with AD Diggs on reality TV show Love & Hip Hop: Hollywood (Photo: ebony.com)
Moniece and AD Diggs seemed to be smitten with each other, and nobody expected them to split.
However, life was not always easy, and their love had to end. In July 2018, AD Diggs publicized the news of their split, and it seemed that the break up was not mutual.
According to the post, Moniece was not okay with the split and wanted to work things out, but AD Diggs had a separate plan. Even though the things seemed pretty heated up, Moniece's ex-lover said that she wished nothing but happiness for Moniece in the future.
For now, Moniece neither married nor dating anyone. When she finds the one, she will undoubtedly raise a future with children with her partner!
---