American journalist, Yunji de Nies has spent nearly two decades working in various news stations across the nation at different positions. She is one of the renowned personalities of the broadcast industry in the USA.  
Now in 2020, she is serving as a Freelance Journalist and TV host for various media outlets, including the Digital Billboard Network's Honolulu Star-Advertiser. She also serves PBS Hawaii as a host, Honolulu Civil Beat as a web video host/reporter, and Matt Levi Investigates as a producer and reporter.  
Yunji de Nies' Bio: Age & Birthday
Yunji de Nies was born in 1992 and was raised in Kona, Hawaii, and San Francisco, California. 
Journalist: Alyssa Taglia [WTNH] Bio: From Age, Married Status To Education Details
She completed schooling and high school on Oahu and the Big Island. Then she attended Yale University in 1997 and graduated with honors with a degree in Political Science and Government in 2001. She completed her master's degree in Journalism from the University of California's Berkeley Graduate School of Journalism.
Height    
Yunji de Nies stands at the height of 5 feet and 4 inches (1.62 meters).  
Married To Husband
Yunji de Nies is married to Kent Walther. The couple is blessed with two children. They welcomed their first child, a daughter named Kaya Jiyun Walther, on 19th August 2016. Their second child, a son named Kenzo Mori Walther was born on 30th November 2018.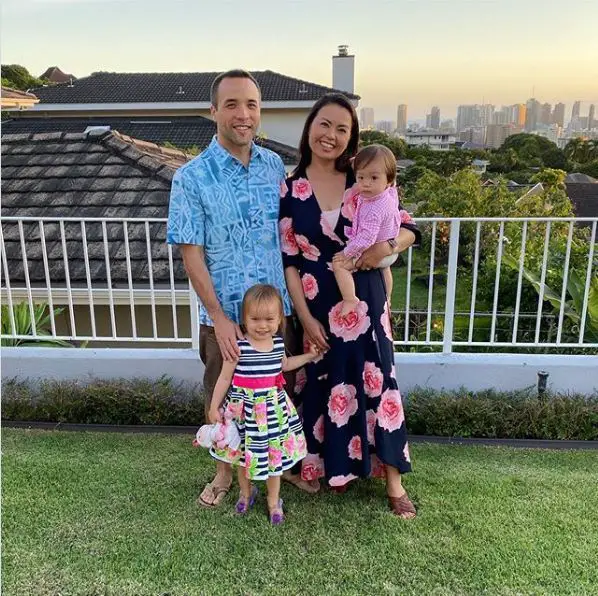 Yunji de Nies with her husband and children on 29th November 2019 (Source: Yunji de Nies' Instagram)
Yunji and Kent met for the first time in May 2013 through a blind date. After dating for a year, the pair tied the knot on 28th June 2014. 
Career 
Yunji de Nies began her career in journalism by working on the radio while she was in college. Then she interned with ABC News' Nightline.
Then starting from May 2002, she worked five months as a desk assistant for ABC News' World News  Weekend in New York City, New York. 
After that, she went to Atlanta, Georgia where she served WAGA/FOX5 News from August 2003 to May 2004 as a Special Projects Producer and produced news specials for the 5,6 and 10 o'clock newscasts. While being in Atlanta, she also worked for CNN from June 2003 to December 2004 as a freelance reporter and producer. 
Another ABC News Host: ABC News Host Rebecca Jarvis Bio: Married, Husband, Baby
Then from June 2004 to July 2006, she worked as a reporter for WGNO/ABC26 News in New Orleans, Louisiana, where she reported live daily for the 5, 6, 9, and 10 o'clock newscasts. She also covered hurricanes, Katrina and Rita, and their aftermath.  
She joined ABC News in July 2007 and served as a correspondent for NewsOne, which provides live and packaged news reports for more than 200 affiliates and clients in the U.S. and around the world. While being there, she is credited for covering President Gerald Ford's funeral, Saddam Hussein's execution, the 200 UK Terror bombing, and the deadly tornadoes in Lady Lake, Florida. 
After NewsOne, she served as a White House Correspondent in Washington, D.C., and reported on Obama and Bush administrations. Then she served ABC as a correspondent for all ABC News platforms, including Good Morning America, World News, Nightline, ABC News Radio, and abcnews.com. 
Then joining from September 2012, she anchored the news for KITV for five years until she joined the Honolulu Star-Advertiser Digital Billboard Network in March 2017.