Veronica de la Cruz is an American television news anchor and philanthropist. Since 5 May 2014, she has been with KPIX/KBCW in the San Francisco Bay Area as a news anchor. The philanthropist previously worked for NBC News and CNN. In 2010, she appeared as a late night anchor on MSNBC.
Besides that, Veronica is an active social activist, who mainly works in healthcare activism. She also became popular when she started a campaign to save her brother, Eric de la Cruz's life. In memory of her late brother, she formed the Eric de la Cruz Hope for Hearts Foundation to provide assistance to heart transplant patients.
Is Veronica Married? Who Is Her Husband?
Veronica De La Cruz became a proud mother of her son named Hartley Eric on 13 March 2013.
The anchor first revealed her pregnancy in an interview to People's magazine in January 2013. She said how excited and thrilled she was for having a baby and to be a mother of her child.
As soon as she disclosed the news of her pregnancy, her fans started questioning about the father of the child.
Moreover, on 13 March 2013, the reporter gave birth to her first child, and the name was given in the remembrance of her late brother, Eric De La Cruz, who was in need of a heart transplant but died in July 2009 due to poor health insurance.
See Also: Steve Chaggaris Wiki, Age, Married, Wife, Gay, Family
After the birth of her baby boy, in an interview with US magazine on 26 March 2013, Veronica revealed that after the pain and devastation of losing her brother four years ago, it was a miracle for her to have a healthy baby. 
But despite gushing all the information about her son and pregnancy, Veronica never disclosed anything about her baby father.
Nevertheless, back on 5 August 2013, she tweeted a post on Twitter and wrote that her child had not met his father, and she had no contact with her ex-boyfriend for one full year.
After that, she has never talked about her ex or the father of her son. 
As of now, Veronica seems not to be dating anyone and is completely focused on parenting her son well. She timely flaunts pictures of her son and family through her social account.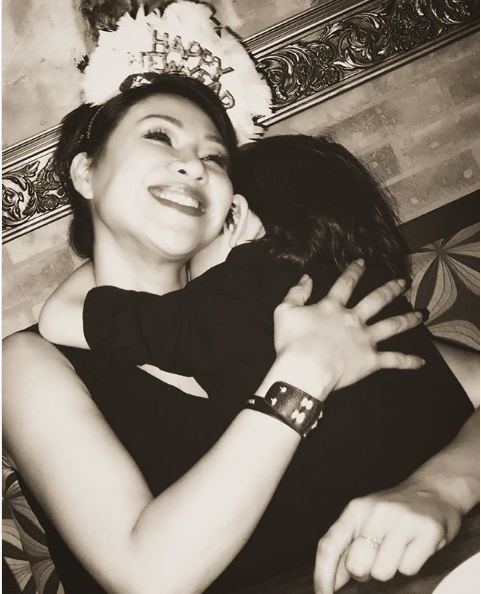 Veronica de la Cruz wishes son Hartley Eric on his 5th birthday on 13 March 2018 (Photo: Veronica de la Cruz's Instagram)
On 14 March 2018, she Instagrammed an adorable picture with her son and wished him for his 5th birthday.
Similarly, on 27 March 2018, she Instagrammed the picture of herself with her father enjoying her day in Boracay, Philippines. Despite the absence of the partner in her life and the challenges of raising a son as a single mother, Veronica has proved herself to be a strong woman.
Veronica De La Cruz's Bio
37-year-old Veronica was born on 13 August 1980 in Northern California but, she grew up in Canada.
As of her parents, Veronica's father is Jewish and hails from a family Germany and France. Her mother was of Chinese and Filipino background. She deceased on May 20, 2016, due to illness.
Veronica, who belongs to Filipino-American ethnicity,  grew up hearing multiple languages at home.
Career
Standing at the tall height, Veronica began her career as an anchor and news reporter at an NBC affiliated in Yuma, USA, covering numerous stories on U.S.-Mexico border issues, the nation's nursing shortage, and the plight of the migrant farm worker
After that, in 2003 she joined CNN alongside Arwa Damon and anchored live coverage of major breaking stories like the tsunami in Southeast Asia, and the death of former President Ronald Reagan.
Veronica left CNN in 2008 and joined NBC/MSNBC with Jose Diaz-Balart.
She was an alternating anchor on both Early Today on NBC and First Look on MSNBC and served as a correspondent for NBC News from 2010 to 2014. She also filled in as the news anchor on Today.
Currently, she serves as the evening anchor at CBS San Francisco alongside David Rhodes, anchoring the 6 p.m. news on KPIX 5 and hosting Bay Area Nightbeat on their sister station, KBCW, at 10 pm.
Being an anchor and reporter, Veronica earned a hefty amount of income from her career. However, she has not disclosed the exact figure of her net worth. Talking about the average salary of a CBS anchor is $70K.
Veronica's Concussion Results Severe Photophobia 
On 9 May 2018, Veronica through her Instagram revealed that she had an accident that day while driving fast. She also disclosed that she suffered from a concussion (a traumatic brain injury that affects your brain function).
The accident caused Veronica to have issues with speech and vision while feeling dull and constant vertigo. So, to overcome the diseases, she was kept in the hyperbaric oxygen chamber.
The oxygen therapy worked, and Veronica felt fine. She even returned to work in June 2018. But for her disappointment, she got sick within a half hour of being in her office. The studio lights and the motion of the TelePrompTer dizzied her and brought her back to the first stage of her illness. 
Afterward, Veronica consulted a neuro-ophthalmologist and found out that her concussion had lead to severe photophobia.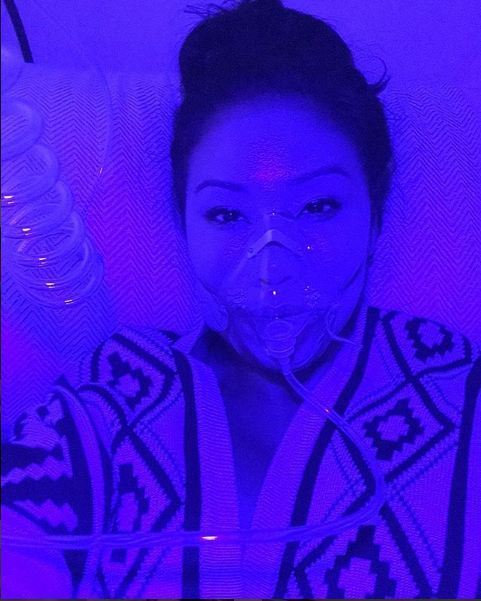 Veronica de la Cruz undergoing oxygen therapy for her photophobia on 22 June 2018 (Veronica de la Cruz's Instagram)
Since then, Veronica has been spending a lot of time receiving oxygen therapy. She wears sunglasses both outdoors and in and takes a high diet rich in healthy fats.
Moreover, she takes brain boosting supplements to keep her stress level down. She is also into meditation and cranial sacral therapy.
Read Also: Maryam Nemazee Married, Husband, Family, Height, Salary
Apart from her recovery process, Veronica also advises her followers to wear a helmet, seatbelt and protect their little ones. She believes that without health nothing else makes sense.