A famous face in the American Television, Uma Pemmaraju serves as an anchor for Fox News Channel's America News Headquarters. She is the first Indian-American anchor to appear regularly in the national Television.
Talking about her roots, Uma is from Rajahmundry, Andhra Pradesh, India. Baptized as Uma Devi Pemmaraju, she was born to a research scientist father and a housewife mother. Her parents migrated to San Antonio, Texas when she was at a very young age. So, she grew up in Texas and earned a Bachelor of Arts Degree in Political Science from Trinity University.
Uma Pemmaraju Married, Who Is Husband?
In the past, Uma Pemmaraju was a married woman. Well, she was married to Andrew Petkun, a millionaire. Starting from their first meeting, Uma and Andrew dated for several years before wrapping their love with wedding vows.
Interestingly, it was Uma, who wanted to make her wedding an extraordinary function. Such that, she made sure to assimilate numerous traditions in her marriage. There was the presence of a Tibetan monk, a rabbi, and an Islamic priest to solemnize her marriage.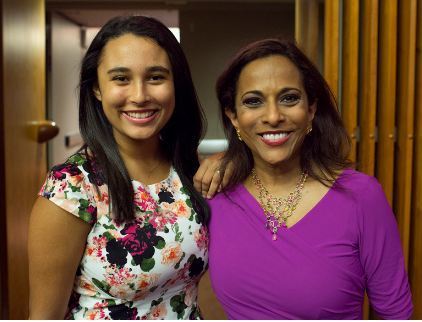 Uma Pemmaraju (left) with her daughter, Katrina at the screening of Private Violence back in 2014 (Photo: unwomenforpeace.org)
Blessed with bliss, Uma and her husband celebrated parenthood after the birth of their first daughter, Kirina Alana Devi.
Though the pair became parents, their marriage could not last long. And, they eventually parted ways via divorce. However, the duo decided to maintain silence over the reason of divorce. 
Though time became complex for Uma after divorce, her patience helped her to pass the phase. As of current days, she is living happily with her daughter as a family. Plus. there is no confirmation of Uma dating anyone after her split with husband. Perhaps she wants to dedicate her time to her daughter only. 
Her Career
Uma made it big in the American news industry with Fox News. Before her association with the Fox News Channel, she worked in several stations. She worked as a news anchor and special correspondent at KTVT-TV (CBS 11) in Dallas, Texas, and also in WBZ-TV (CBS 4) in Boston. And she was even a producer for the show, The Evening Magazine.
Besides her television career, she also served as a correspondent for San Antonio Express-News and taught journalism at Emerson College and Harvard University. Uma became part of Fox News Channel since its launch. In her initial days with Fox, she was associated as a New York-based reporter.
Don't Miss: Terrell Brown Has Wife Or Partner? Married, Wedding, Family & More
As a hard-working journalist, Uma covered up daring incidents like the aftermath of EF5 Tornado in Moore, 2004, 2008, and 2012 presidential elections, the bombing of Boston marathon and covered live on the murder trial of George Zimmerman.
As of now, she is serving as an anchor for Fox News channel's America News Headquarters.
Uma Pemmaraju Net Worth
Bagging successful career in hand, Uma, who has an average height, had a series of achievements in her list that includes her name as '20 Intriguing Women of 1998' on Spotlight Magazine. Adding to the list, she earned numerous Emmy awards for her excellence in journalism and was also named as 'Boston's Best Anchor".
With a prominent professional life, she has a good amount of fortune in her hand. She grabs a handsome salary of around $ 63K and sums up a huge sum of money as her net worth from her job.