The Daily Blast Live host Tory Shulman has a blissful married life with Brooks Palmer, with whom she has been married for over seven years. Taking to her social handles, she often uploads fond memories with her husband, showing her undeniable affection for him.  
Joyous Married Life of Tory Shulman and Brooks Palmer
Married in 2013, Shulman and Palmer took their vows on a beautiful venue at Bel-Air Bay Club. Reminiscing her wedding day, Shulman took to her 'gram to upload her wedding pictures on October 27, 2020, on the occasion of her seventh marriage anniversary. 
"Life is better with your best friend. That's why I married mine. Happy lucky 7 my love," she captioned her anniversary post. 
She gave us glimpses of her big day through her' gram post. The beautiful wedding was held outdoors under the beautiful clear sky that looked out to the serene ocean view making the perfect wedding backdrop.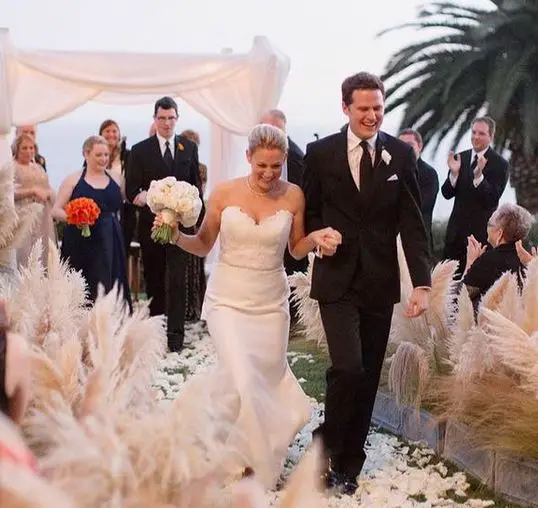 Tory Shulman and her Irish Catholic husband, Brooks Palmer, walk down the aisle holding hands after taking their vows. (Source: Instagram)
Looking beautiful on a white sweetheart-necked dress, holding a rose bouquet with one hand and holding her spouse's hand on the other, Shulman looked extremely excited to jump into the next chapter of her life. 
And, her excitement still shines through whenever she is seen with her husband in her social media posts. 
Moreover, it seems as the couple had dated for almost three years before they got married. Shulman's post from October 31, 2020, where she shared her picture with Brooks, dressed up like President Joe Biden and the first-lady Jill Biden on the 2010 Holloween, suggests that the pair had been dating for years. 
Although the pair has been married for seven years, they don't have children yet. Rather they are parents to their fur babies, seemingly a poodle and a chihuahua. 
A Short Bio: Family and Career
As much as Shulman shares about her husband on her socials, she also shares her mom, dad, and sister, with whom she is very closely bonded.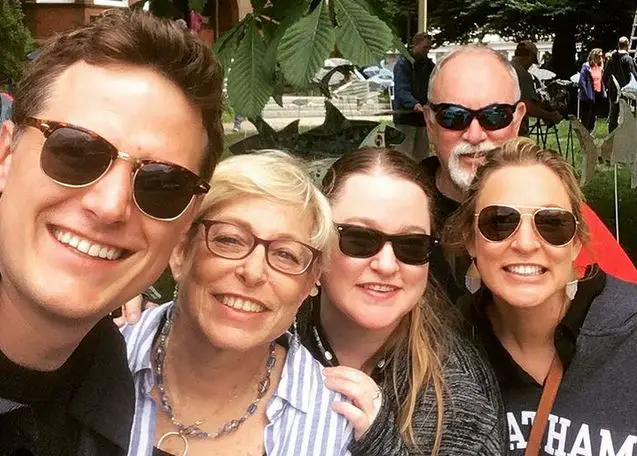 Tory Shulman, on vacation with her husband, mother, father, and sister in Massachusetts. (Source: Instagram)
Celebrating her birthday on January 12, the 1982-born has reached 39 as of 2021. While at the age of 18, she joined the University of Michigan for her bachelor's education in art history and English. 
On graduating from the university, the tv and radio host started her career as a tv host at REELZ in Los Angeles. Similarly, after acquiring experience working at MSN, Deca Technologies, BiteSize Network, and a few more places, she eventually landed on Fox Broadcasting Company as a pop culture correspondent.
Serving at Fox for over four years, the host took on a job at LATalkRadio as a morning show co-host. Presently, Shulman is a host of Daily Blast Live, where she presumably has an annual salary of over 50 thousand dollars, with a hefty net worth garnered throughout her career.