American TV personality, Sunny Anderson is widely well recognized as a Food Network personality. She currently serves as host of How'd That Get On My Plate? She previously served as co-host with Marc Istook of the Food Network program, Gotta Get It.
Apart from her professional career, Sunny has kept her personal life out of the limelight. Since she is not very open about her private matters, a lot of questions arose regarding her personal life as to whether she is still single or dating any boyfriend.
Is Sunny Already Married? Or Leading A Single Life?
Unlike many TV personalities, Sunny prefers to maintain her personal life under the radar. As Sunny is an active user of the social account, looking at her tweets hints that Sunny is possibly single.
Back on 29 December 2016, Sunny tweeted a post replying one of the tweets, she said she had been enjoying her single life and dating life with no goals. She further said, till date her parents had only met her two serious boyfriends.
Back on 28 April 2009, in an interview with Delish, Sunny revealed that she was in a relationship and loves to hang with her boyfriend in her Brooklyn home. However, she has not disclosed the identity of her boyfriend.
Furthermore, when Sunny was being asked who are your favorite people to host at home? In response to the question, she replied her boyfriend was her favorite person and gave the following reason:
My boyfriend, because cooking for someone you love is the tops. I got lucky and found a guy who loves everything I make and will always try something new. I love nothing more than discussing what to make for dinner and seeing his eyes light up. Seems easy to find someone like that, but for a foodie like me it really isn't.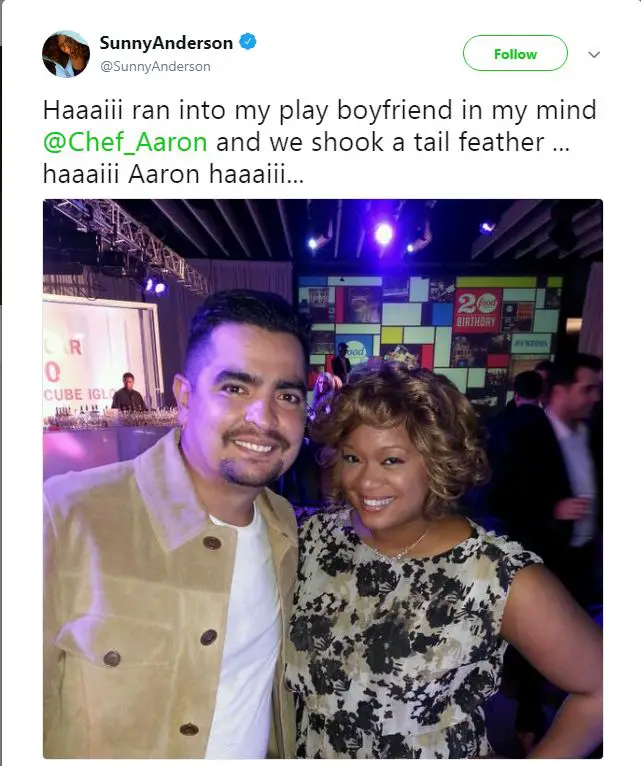 Sunny Anderson and Aaron Sanchez posing together posted on 17 October 2013 (Photo: Sunny Anderson's Twitter)
Sunny was also rumored to be dating Chef Aaron Sanchez in the past, but Sunny through her Twitter account denied the rumor and identified him as her play boyfriend.
As of now, it looks like she is enjoying her single life with her family and is waiting for a perfect husband to enter into her life.
Sunny Anderson Short Bio, Career, Net Worth
Sunny Anderson was born on 9 April 1975 in Lawton, Oklahoma, USA. She was raised along with her brother, who is three years older than her, in Oklahoma. She studied at Madison High School in San Antonio, Texas, and joined the United States Air Force in 1993.
Sunny grew up in a military family and later joined the Air Force. She earned the rank of Senior Airman and worked as a military radio host in Seoul, South Korea from 1993 to 1997; she has also had ulcerative colitis (inflammatory bowel disease (IBD) that primarily affects the digestive tract).
After that, Sunny joined at KCJZ and KONO from 1995 to 2001. Anderson got settled in New York City in 2001, and there she started working as a radio personality for HOT 97 (WQHT) in New York City from 2001 to 2003.
From 2003 to 2005, she became the owner of Sunny's Delicious Dishes, a catering company based in Jersey City, New Jersey. Then from 2006 to 2007, she joined the Hip Hop Weekly magazine as an editor. Later on, in 2014 she joined Food Network as a co-host.
Sunny has been a guest chef on several talk shows and morning news programs including Good Morning America, The Early Show, The View, The Talk, as well as The Wendy Williams Show.
The young and talented American media personality, Sunny has raised her popularity as a food personality over the years. She earns the massive amount of salary through her profession. Accordingly, she has an estimated net worth of around $5 million.