Shally Zomorodi is known for her career in journalism. But more than that, she is recognized as a pageant queen. She started competing in pageants from the age of 16. Eventually, Shally was crowned Miss Orange Country in 2001. From there, she headed to for the title of Miss California. Unfortunately, she did not succeed in the round.
During the competition, she received an award from Fox for a behind-the-scenes look at the studio. The tour turned to an internship, and Shally landed her first journalistic job as a news assistant. 
Shally Zomorodi Husband, Married
Shally is happily married to her husband, Brucie. She has kept the details of her husband hidden. However, she is open about sharing the details of her relationship. Shally started dating her husband in July 1999. The two dated for six years and finally took the big step ahead in her relationship.
You May Also Like: Fox 11 Zohreen Adamjee Wiki: From Age, Married Life To Family Info
The anchor had a unique concept of a wedding as she married Brucie thrice. She even wore three different gowns for the three weddings. In 2005, she threw a big Persian wedding with more than 300 family members and friends. She and her husband were so caught up in the wedding that they forgot to sign and file for a marriage license. So they decided to have a second wedding in Vegas with her close family and friends. This time, they officially signed and filed the papers.
The couple is now blessed with three children, Arshia, Arshan, and Shyla. Once when the children were watching the wedding album, they asked her why they were not invited to her wedding. For the sake of fulfilling her children's wish, Shally and her husband threw a surprise party and invited their friends and families to renewed their wedding vows.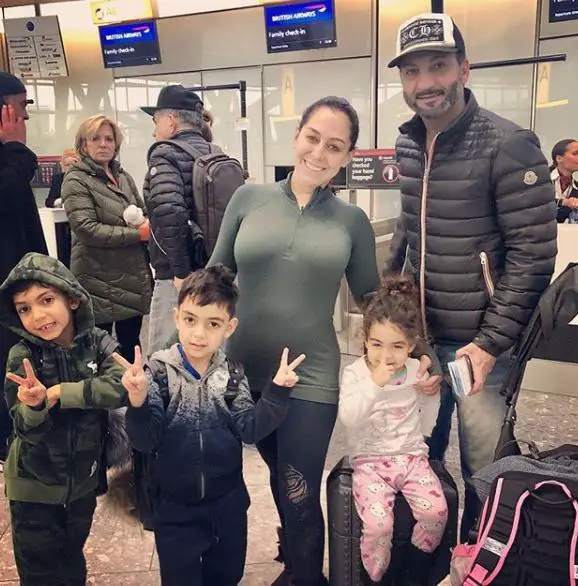 Shally Zomorodi goes to England for vacation with her family on 7 January 2019 (Photo: Shally Zomorodi's Instagram)
Shally perfectly balances her professional life and her family time. After finishing her work, she returns to her home to her amazing husband, two sons, and a daughter. During her free time, she enjoys cooking, belly dancing and hanging out with her family. 
Her Bio, Age & Height
News anchor Shally Zomorodi was born on 7 February 1983 in the United States with the horoscope sign, Aquarius. She holds American nationality at the age of 35. As a former model, Shally stands at an average height of 5 feet 4 and a half inches (1.64meters) as per her bio.
Maintaining her educational background, she graduated from California State University with a degree in Political Science and Journalism with high honors.
Also Read: Fox 59 Britt Baker Bio: Age, Married Life, Parents, Parents - Details
Shally Zomorodi Career, Salary / Income
As her job demands, Shally wakes up at 2 am to co-anchor the FOX 5 Morning News from 6 am- 10 am alongside Raoul Martinez and Chrissy Russo. Before working at FOX 5, Shally anchored DAYBREAK OC, a 2-hour live morning show, Good Morning Southeast Texas at the ABC affiliate in Beaumont. She also worked as a video journalist for Voice of America, and as a reporter/host for City View Channel 35.
During her career, she has involved herself in many fields through which she has made an income worth a million. As a co-anchor of FOX 5, Shally earns an average salary of $56K per annum.