Born in 1985 Connecticut, Sarina Morales stands at a tall height. She is at the age of 33 and celebrates her birthday every 29 March.
She graduated from Syracuse University in 2008 earning a bachelor's degree in journalism. In her mid-teens, Sarina was highly interested in sports and played all-male baseball league in high school for ten long years.
She was encouraged by her family at her young age, especially her dad who was no less than a cheerleader for Sarina.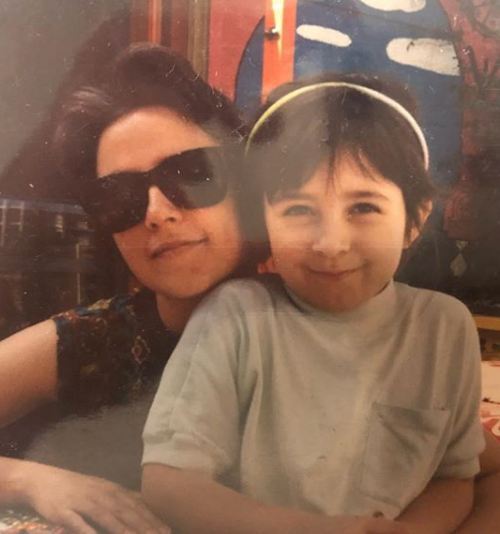 Sarina Morales shares a vintage picture with her mom on 11 October 2018 (Photo: Sarina Morales' Instagram)
As she had a blissful childhood, Sarina is seen sharing vintage pictures with her parents and family members on her social media.
Her Career Plus Salary
Sarina initiated her broadcasting career as an Onsite producer for Verizon FiOS until July 2010.
Then, she served at Nike where Sarina won the title of the national contest to be the 2009 Nike Field Reporter. Moving forward with her career, Sarina worked at the Oktane media as a producer. After ten months.
Recommended: Eilidh Barbour Married, Boyfriend, Partner, Age, Family, Bio
Sarina's other significant achievement includes her year of accounting managing in Addiction Entertainment and nearly two years of experience in National Geographic Channel.
Her fame elevated after she joined ESPN Network in January 2015 as a correspondent. Adding more of it, she now works as an LA Rams Team reporter at National Football League.
As a sportscaster like Kelly Nash, Sarina is estimated to make an average salary of 60K dollars.
Sarina Morales Leaves ESPN After Three Year
Sarina had been a familiar face in ESPN via her commendable works in the network. But her journey with ESPN could not last that long as Sarina left the channel after three years.
According to thespun.com on 5 December 2017, ESPN did not agree to renew Sarina's contract, after which she said she wouldn't be part of the channel from January 2018. Eventually, Sarina left ESPN but not was happy at all as she dreamt of dedicating herself much more than three years.
While talking to sportingnews on 7 December 2017, Sarina told that losing her job was a major heartbreak for her as her father was super proud of her achievements.
However, she added stating that she is grateful to ESPN for the time in Bristol and respects the vice-president, Rob King for delivering her news in person rather than farming it to the HR department.
Is Sarina Morales Married?
Speaking of Sarina's love life, the 32-year old has safely kept the details out of the public and made her fans confused if she is married or not.
Though Sarina is speculated to be not married, she indeed has maintained a good relationship with one of her colleagues, Jaymee Sire. While talking to sportingnews on 20 January 2017, Sarina said that she feels wonderful to have another woman in the show and praised her of being a professional and great. 
As there is no news about her love life to date, it is unsure if she has a husband or is relishing her singlehood as an independent woman.